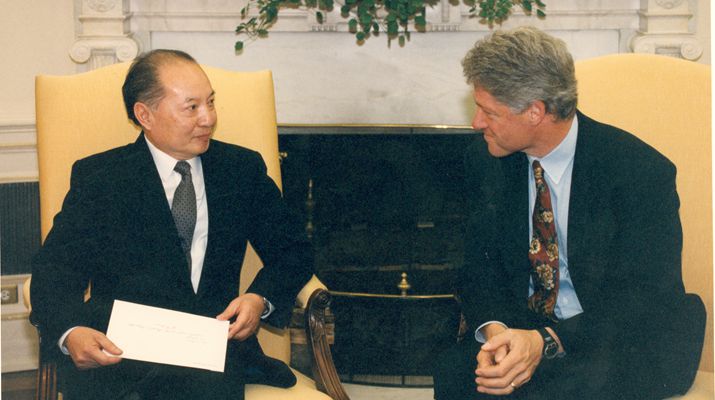 Ambassador Li Daoyu talks with U.S. President Bill Clinton at the White House in June 1993 (COURTESY OF LI DAOYU)
Li Daoyu, former Ambassador to the United States from 1993 to 1998, witnessed dramatic change in the aftermath of the end of Cold War, as well as ups and downs of China-U.S. relations. Li shared some memories of his ambassadorial posting with Beijing Review to shed light on the development of China-U.S. ties during his tenure.
The year of 1993 was a critical year not only for China-U.S. relations, but also for me. As soon as I assumed my new post of Chinese Ambassador to the United States that year, I faced a major challenge. The then newly elected U.S. President Bill Clinton adopted a tough stance against China, threatening to abolish the United States' most-favored-nation treatment of China if the latter would not make concessions over the so-called human rights issues.
The Clinton administration also caused other troubles in China-U.S. relations. The U.S. Navy warships tailed after a Chinese cargo ship and interfered in its sailing in international waters from late July to August. Washington alleged the ship was carrying chemical weapons to Iran, an allegation that was later proved false and groundless. Washington also encouraged members of the U.S. Congress in opposing Beijing's bid to host the Olympic Games in 2000.
In contrast with the Clinton administration's hardline policy on China, however, state governments in the United States preferred to strengthen connections with China in order to improve bilateral economic and trade prospects. Governance in the United States relies not only on decision making by top government officials, think tanks, entrepreneurs, the media and a diverse range of other organizations also exert significant influence on U.S. politics. Thus, undertaking public diplomacy was an important task for me. As ambassador, and to promote China in the United States, I traveled all over the nation, delivering more than 200 public speeches during my tenure.
In August 1993, good news came about a possible warming of China-U.S. relations. The then U.S. National Security Adviser Anthony Lake told me that President Clinton hoped to talk with the then Chinese President Jiang Zemin during the first APEC summit meeting, which was scheduled to take place in Seattle in November of that year. I emphasized that while the APEC meeting was an informal event, the meeting between the two leaders would have to be formal and official. Jiang's U.S. visit was successful, and in meeting with Clinton, the Chinese leader focused on how China-U.S. relations could be developed in the 21st century.
During the Clinton administration, though, U.S. policy toward China often changed course, which adversely affected the bilateral relationship.
In April 1994, I met Lake at the funeral of former U.S. President Richard Nixon. Lake said the White House had decided to send a special envoy to Beijing for talks on the United States' most-favored-nation treatment of China. In this way, President Clinton would engage directly with Beijing on the issue. In the end, the Clinton administration continued to apply most-favored-nation treatment to China and also supported China's entry into the World Trade Organization.
During my tenure as ambassador, the worst problem to affect China-U.S. relations was when Washington allowed the then Taiwan leader Lee Teng-hui to visit the United States in 1995. As a result, China-U.S. relations hit rock bottom. From June to October 1995, China recalled itself ambassadors. Only after the U.S. Government promised to abide by the one-China policy, did I return to Washington D.C.
Over the past two decades, the nature of China-U.S. relations has basically not changed. Despite the two nations' many differences, their common interests have continued to grow, with economic and trade interdependency reaching unprecedented levels. The two governments have also cooperated in political, military, security and cultural affairs.
Particularly in recent years, the heads of state of China and the United States have frequently met one another, underpinning the steady and healthy development of bilateral relations. The atmosphere is very different from what I experienced while I was ambassador. Although new disputes and problems between China and United States have emerged, the two governments are capable of controlling and managing them.
In my opinion, the key to developing China-U.S. relations further is for the two peoples to realize that China's economic growth is a fact and China-U.S. relations are beneficial to both countries. China has repeatedly made clear that China is becoming richer and stronger but has no intention of challenging others. Instead, China is willing to share development opportunities and benefits with other nations.
The China-U.S. relationship is one of the world's most important diplomatic relationships. Steady progress in bilateral ties will undoubtedly benefit the world at large.
Copyedited by Chris Surtees
Comments to liuyunyun@bjreview.com