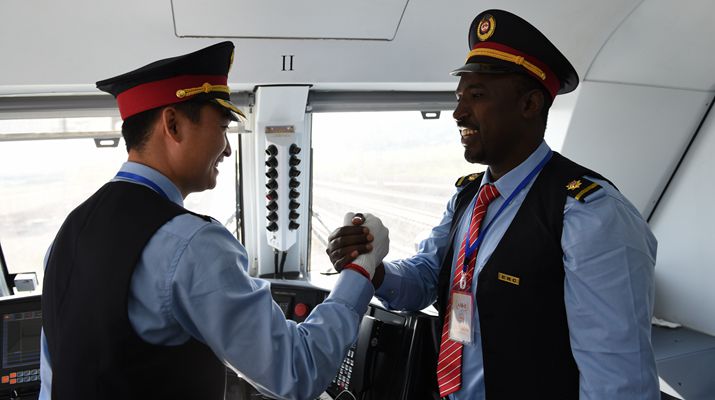 Chinese train driver Liu Ji and an Ethiopian counterpart shake hands before the inauguration ceremony of the China-built Addis Ababa-Djibouti Railway in Addis Ababa, Ethiopia, on October 5, 2016 (XINHUA)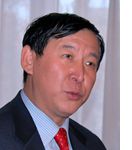 Yu Hongjun, former Vice Minister of the International Department of the Communist Party of China Central Committee and presently a senior consultant at the Pangoal Institution, a Beijing-based think tank, analyzed current world issues and China's foreign policy in a recent interview with Caixin Weekly. This is an edited excerpt of the interview:
Caixin Weekly: The ongoing change in global politics may unsettle the world. How will China deal with such challenges?
Yu Hongjun: Since the end of the Cold War in the early 1990s, several waves of radical changes have altered the world's power structure. During the first wave, the Soviet Union disintegrated and drastic changes occurred in many East European countries. China adopted the policy of not interfering in their internal affairs and respecting the choices made by the people of these countries. China has established a comprehensive strategic partnership of coordination with Russia, and today, the China-Russia relationship has grown stronger.
The second wave of change took place in the Middle East and North Africa, featuring the restructuring of bilateral relations and security reconstruction. Most significantly, in some regions, armed conflict has lasted for years. In face of the geopolitical change, China has acted to uphold international fairness and justice and opposes any action that is in violation of the UN Charter and international law. It has unswervingly developed diplomatic relations with all legitimate governments in the region.
Despite changes in administration in states such as Tunisia, Egypt, Iraq and Libya, China has maintained healthy relations with those countries.
The ongoing third wave of change features rising isolationism and populism in some Western countries caused by their domestic problems. There are major challenges ahead for the European Union (EU) following the Brexit referendum in 2016. Many EU countries will hold presidential or general elections this year. China adheres to the position of supporting EU integration and a bigger role for the EU in both regional and world affairs. It will also continue to enhance its strategic partnership with the EU and adjust its policy based on new developments.
What do you think of China's peripheral security environment?
Of all the major countries in the world, China's security environment is the most complex, especially in the Northeast Asian region. The security situation on the Korean Peninsula is becoming more tense as North Korea sticks to its nuclear program and South Korea allows the United States to deploy the Terminal High Altitude Area Defense (THAAD) anti-missile system on its territory that may affect the regional strategic balance.
China will spare no effort to ease the tension by promoting dialogue and negotiation. No country should make trouble or incite war in a neighboring country of China, or stoke tension by reinforcing military alliances to turn Northeast Asia into a "hotbed of war." If we look at the history of the Korean Peninsula in the 1930s, we can say that the situation in Northeast Asia is heading down a dangerous path. Efforts must be made to prevent new wars.
The fundamental way out of the current tension lies in negotiation. We will be glad to see any dialogue between Washington and Pyongyang. China will continue to play its role in promoting peace on the peninsula.
Relations between China and South Korea have become strained recently due to Seoul's decision to deploy THAAD, which will have a severe impact on China's national security. China urges South Korea to adjust its policy, push China-South Korea relations back on the normal track and maintain peace on the peninsula through dialogue. China has an unswerving stance on the denuclearization of the peninsula.
The situation in the South China Sea has been volatile over the past several years due to the arbitration unilaterally initiated by the former Philippine Government. The Chinese Government has refused to recognize the ill-founded award. The new president of the Philippines has shown a willingness to resume dialogue with China, resulting in a thaw in bilateral relations.
However, the dispute remains unresolved. Although the White House has a new president, the United States is unlikely to stop intervening in the South China Sea issue. It will continue to expand its presence in this region. Resolving the South China Sea issue will require a long-term process.
Also, China faces security risks from terrorism while promoting the Silk Road Economic Belt and 21st-Century Maritime Silk Road (Belt and Road) Initiative that aims to build a trade network connecting Asia, Europe and Africa. We must be politically, militarily and economically prepared to tackle security challenges.
How will the China-U.S. relationship develop vis-à-vis China-Russia ties?
Any bilateral interaction will have a subtle, or sometimes huge, influence on the other country.
There is no possibility of a Russia-U.S. alliance against China. Common interests between China and the United States far outweigh those between Russia and the United States. It's the same with people-to-people exchanges.
China has been friends with Russia for a long time, much longer than the United States. What we need to do is to further develop China-Russia relations and deepen our strategic partnership. Currently, our bilateral relationship has reached its peak.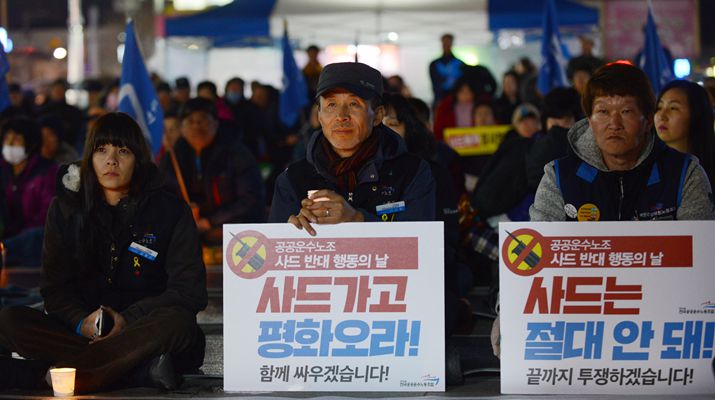 Protesters express opposition to the plan to deploy the Terminal High Altitude Area Defense (THAAD) system at a rally in Jimchon-shi, South Korea, on March 8 (XINHUA)
Some countries are calling on China to shoulder greater international responsibility and lead international cooperation and development.
It has been debated as to whether China should take the lead with the United States retreating from the international arena. In China's diplomatic philosophy and policies, there is no such concept as "leader of the world." We have not even thought about it. What we want is to be a responsible nation, shouldering our due responsibilities commensurate with our strength.
China is committed to promoting the building of a new international order and the establishment of a human community with shared destiny by expanding the convergence of the development and security interests of different countries.
What should China focus on to facilitate implementation of the Belt and Road Initiative?
The Belt and Road Initiative is an innovation with no precedent. We are feeling our way forward amidst difficulties, risks and challenges. The landscape of the world is changing rapidly, especially in our surrounding region. Latent security risks abound. We should communicate with countries along the Belt and Road routes to align development strategies. In essence, all projects under the initiative should be mutually beneficial. As for the possible conflicts and disputes occurring during cooperation, we should address them through negotiation.
China should learn how to deal with potential challenges and safeguard its investment and personnel abroad. Chinese companies, although equipped with money, technology, standards and capabilities to provide services, may still lack knowledge about local laws, regulations and markets. They might encounter setbacks and losses if they just blindly copy their practice at home.
While collaborating with the surrounding developing countries, China follows a policy of upholding justice and pursuing shared interests. When thinking about our own interests, we should also take into account the interests and feelings of our partners. No matter how good our intentions are, we shall never impose them on others.
Copyedited by Sudeshna Sarkar
Comments to liuyunyun@bjreview.com