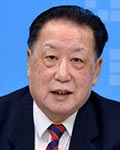 Chinese President Xi Jinping will attend this year's G20 Summit in Hamburg, Germany, on July 7-8.
Before Xi's trip, Premier Li Keqiang and German Chancellor Angela Merkel held the annual China-Germany prime ministers' meeting in Berlin on May 31. During their talks, Li stressed the need to elevate the all-round strategic partnership between the two countries to a new stage. The two governments also signed cooperation documents in the fields of the economy, trade, new-energy vehicles, finance and artificial intelligence during Li's visit.
It is rare for two Chinese leaders to land in Germany in less than two months. It shows that the two countries enjoy a close relationship and broad prospects in promoting a mutually beneficial partnership.
The global situation is complex as a result of growing anti-globalization sentiment and protectionism. As the second and fourth largest economies in the world and important members of the G20, China and Germany respectively are making great endeavors to ensure that the G20 Hamburg Summit bears new fruit based on what has been achieved in the 2016 summit in China's Hangzhou. Both countries are also striving to send a clear, strong and positive message concerning international economic cooperation and global economic governance, and push robust economic growth to enhance world peace, stability and development.
As Chinese Foreign Minister Wang Yi said during a press conference with German Vice Chancellor and Foreign Minister Sigmar Gabriel in Berlin on April 26, the two countries could carry out cooperation centering on "inheriting the past" and "ushering in the future."
"Inheriting the past" means achieving "seamless matching" between the Hamburg and Hangzhou summits. The Hamburg Summit will maintain consistency and coherence with the Hangzhou Summit in terms of its topics, outcomes and other fields.
"Ushering in the future" denotes that by considering the latest international developments, China will intensify coordination with Germany and maintain communication and cooperation with all parties to advance the Hamburg Summit to keep pace with the times. The cooperation will also result in new consensus and new outcomes from the summit, improve and strengthen global economic governance, and accelerate the transformation of the G20 from a crisis response mechanism into a long-term governance platform.
Global economic stability is expected to dominate this year's G20 Summit. Germany has chosen"shaping an interconnected world" as the theme of the Hamburg Summit. The agenda of the Hamburg Summit rests on three main pillars: ensuring stability, improving viability for the future and accepting responsibility.
It is the G20 nations' job to ensure that globalization benefits everyone. The German Government is thus setting a course diametrically opposed to isolationism and nationalism.
Germany also intends to strengthen the G20 as a community of responsibility. A priority concern is to achieve sustainable economic progress in Africa.
China and Germany can work together on the Hamburg Summit because they have common interests in and similar perspectives on world economic governance. Both of them are manufacturing superpowers and large exporters, which requires an open world economy and effective multilateral trade mechanisms.
History has shown that China and Germany joining hands can not only bring concrete benefits for them, but also drive the progress of the comprehensive strategic partnership between China and the EU, which will bring positive impact on the world economy.
Undeniably, China and Germany have divergence of opinion on some issues due to their different ideologies, social and political systems, histories, cultures, traditions and development levels. But as long as the two manage their differences based on the principles of mutual respect, equal treatment, seeking common ground while shelving differences, and win-win collaboration, and not harm each other's core interests and major concerns, they can continuously deepen and expand their all-round strategic partnership.
Bilateral trade between China and Germany reached $170 billion in 2016. China has become the top trading partner of Germany. Investment has been upgraded into a two-way street and is enjoying sound momentum. Efforts in aligning the Made in China 2025 program with Germany's Industry 4.0 initiative are making new progress. Innovation has become the new engine for bilateral economic cooperation. In addition, both countries are exploring new cooperation grounds in promoting development in the continent.
At a joint press conference with Li in Berlin on June 1, Merkel urged the EU to fulfill its obligations under Article 15 of the Protocol on China's Accession to the World Trade Organization (WTO), which requires all WTO member nations to stop using the surrogate country approach to conduct anti-dumping investigations against China as of December 11, 2016. She also said the 28-nation bloc's new trade policies will conform to the WTO's principles and rules and not be discriminatory against China. The remarks are worth appreciating, and China expects Germany will put them into practice and achieve concrete results.
The author is former Chinese ambassador to Germany
Copyedited by Bryan Michael Galvan
Comments to liuyunyun@bjreview.com