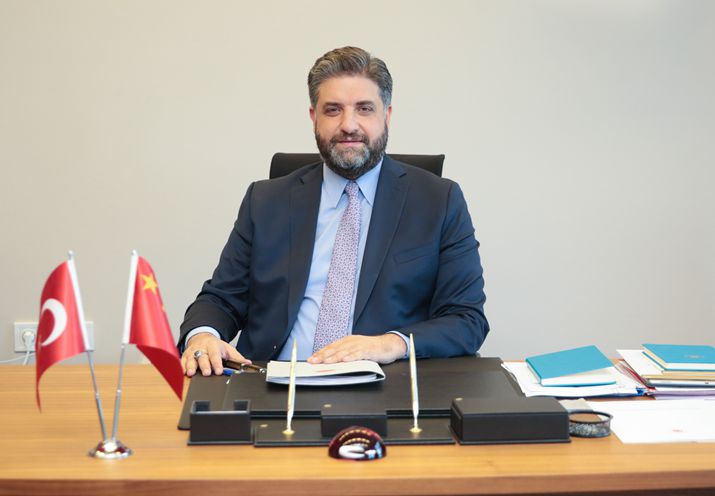 Abdulkadir Emin Onen, Turkish Ambassador to China (COURTESY PHOTO)
The 2018 Turkish Tourism Year in China kicked off in Beijing on April 17. On April 23, Abdulkadir Emin Onen, Turkish Ambassador to China, spoke with Beijing Review reporter Li Nan about how to attract more Chinese tourists to Turkey. An edited excerpt of this conversation follows:
Abdulkadir Emin Onen: The Turkish tourism sector has set a target of 50 million tourist arrivals and $50 billion in tourism revenue by 2023, the centennial of the foundation of the modern Turkish Republic.
We are aiming to become among the top five countries in the world in terms of attracting tourists.
Turkey's tourism revenue rose to $26.3 billion in 2017 with a nearly 19-percent year-on-year increase, driven by a significant rebound in the number of foreign arrivals with 77.4 percent of this revenue earned from foreign visitors.
In 2017, the number of tourists increased 23.1 percent compared with the previous year, reaching 38.6 million.
Due to the fact that 130 million Chinese tourists traveled abroad last year, they will undoubtedly contribute to boosting Turkey's tourism sector.
Statistics show that tourists coming to Turkey are mostly from Russia, Europe, the Middle East, Caucasia and the United States. We are looking forward to increasing the percentage of Chinese tourists in this already varied demographic.
Chinese tourists tend to have a deep interest in historically, culturally and geographically significant places. Many of these are to be found in Turkey: The city of Istanbul is a treasure in itself, ancient cities like Ephesus, Troy and Hattusa have been meticulously restored through many years of archaeological work, and natural and geographical wonders like Cappadocia and the valleys of the eastern Black Sea area are waiting to be explored.
A visa free policy for both sides is our ultimate goal.
Chinese tourists can easily receive their Turkish visas online at evisa.gov.tr in less than three minutes. Chinese tourists can access evisa.gov.tr from their homes, offices or while sipping coffee on the go, and print their own entry visas without visiting our diplomatic missions around the globe. Visa fees can also be paid with different payment methods including AliPay.
So the Turkish visa regime for Chinese tourists is fast, easy and user-friendly. Moreover, holders of diplomatic, service and official Chinese passports are visa-exempt.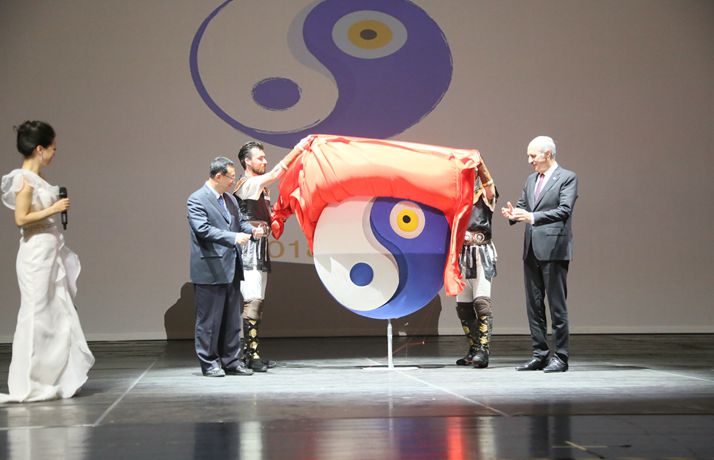 The 2018 Turkish Tourism Year in China kicked off in Beijing on April 17 (COURTESY PHOTO)
This year is celebrated as the Turkey Tourism Year in China. The official inauguration ceremony of the Turkey Tourism Year in China was held in Beijing on April 17, with a live performance by the world-renowned Turkish dance group Fire of Anatolia. The ceremony was honored by Numan Kurtulmuş, Turkish Minister of Culture and Tourism as well as Luo Shugang, Chinese Minister of Culture and Tourism. It was a memorable evening with over 800 spectators.
Throughout the Tourism Year, Turkey will be organizing more than 60 events showcasing the country's tourism and culture. These events will also comprise tourism sector interactions between private Turkish and Chinese companies.
Turkey is the sixth most popular tourist destination in the world, well on its way to attracting more than 40 million tourists annually within the next couple of years, and offers many opportunities for Chinese tourists. First, Turkey is one of the most exciting and surprising destinations in the world. Secondly, it offers unique cultural, social, historical and culinary experiences throughout the whole year.
With cities steeped in history, beaches, beautiful countryside, and rich cultural, culinary and natural wonders, Turkey promises a unique vacation experience to all visitors.
The tourism sector in Turkey is efficient and experienced in hosting foreign guests. It offers many alternatives for tourists with different expectations and with varying budget allocations. For the tourism sector in Turkey, customer satisfaction is the prime goal. Customer rights are upheld in every sector, including tourism, and official tourism authorities oversee all commercial establishments, hotels and restaurants, to ensure the highest standard of service.
Turkish Airlines, one of Turkey's biggest companies, is successfully investing in China, operating 28 direct flights between Beijing, Shanghai, Guangzhou, Hong Kong and Istanbul each week. Therefore, obtaining a visa and traveling to Turkey is very easy.
For tailored travel experiences, we are organizing events to bring together Turkish and Chinese tourism operators to explore ways to offer the best service to Chinese tourists at a reasonable price.
We are working on increasing the number of Chinese-speaking personnel in the tourism sector, while Turkish tourism companies are adjusting their programs and travel packages according to the interests and requirements of Chinese tourists. In this respect, tourists from China may find more options tailored to their specific demands in popular places like Cappadocia, Pamukkale, Ephesus and Istanbul.
Copyedited by Laurence Coulton
Comments to linan@bjreview.com