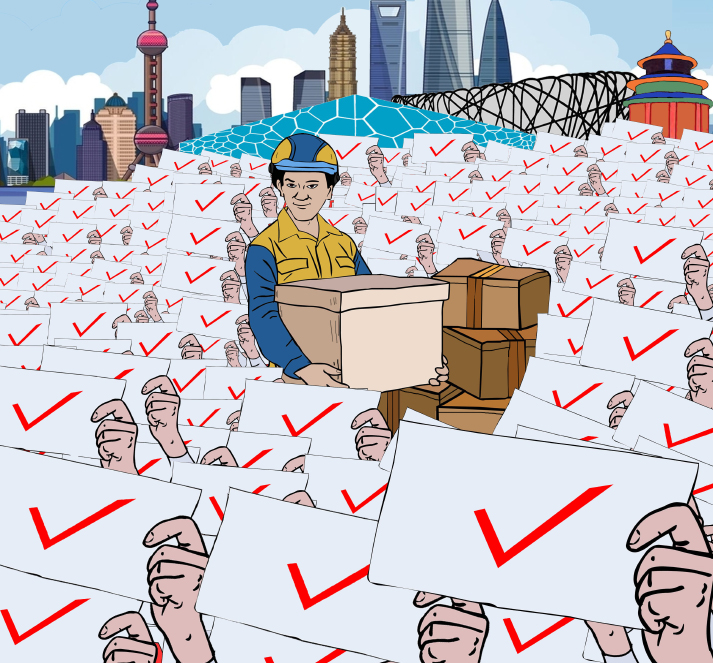 (LI SHIGONG)
In the last few days, 25-year-old deliveryman Li Qingheng has become an Internet celebrity. Li works at the Hangzhou sector of express delivery company STO Express, and gained widespread attention after winning an express delivery professional skill competition in Zhejiang Province in east China last year. Hangzhou, capital city of Zhejiang, is where online commerce giant Alibaba's headquarters is located, and also a center of the Internet Plus industry.
This success earned him the title "Zhejiang Provincial Technological Expert" from the Zhejiang Human Resources and Social Security Department. More recently, he was named Hangzhou's leading talent, making him eligible for a 1-million-yuan ($141,000) housing subsidy when he purchases his first house in the city, in addition to welfare benefits including medical insurance and children's education.
The news that a deliveryman had won the title of leading talent and professional technological expert was widely applauded online, promoting a great deal of discussion.
While some have praised this young man's hardworking spirit and devotion to his job, others doubt whether a deliveryman is deserving of the title of talent. In most people's minds, talent is reserved for those who have a higher education diploma and work in scientific or hi-tech fields. However, some argue that we need a more diversified assessment of what constitutes talent, instead of focusing exclusively on degrees. It's not that degrees are unimportant, but people without a university education can also prove their value to society, and different sectors need different types of talent.
Updated concept of talent
Mei Like (hbrb.hebnews.cn): Express delivery is a job that many people despise, but Li Qingheng is doing the job with pride. In the past five years, he shuttled down Hangzhou's lanes and still took time to refine his skills in parcel delivery. His success shows that no matter what sector you work in, perseverance and hard work will help you achieve more than if you idle away the days.
Express delivery is labor-intensive, manual work. While most people acknowledge his success and the great effort he puts into his job, others still doubt the professional technological title he has been awarded. For them, the deliveryman is too far from their conventional idea of talent. Talent traditionally refers to those who possess some form of higher education. But this is an outdated concept of talent, and it places too much emphasis on qualifications.
Recent years have seen China's express delivery sector boom, with more than 3 million couriers working across the country. They have gradually become an integral part of our everyday life. Especially during the epidemic, when it has been commonplace for deliverymen to maintain normal operations in cities. Their diligence has provided some stability to residents by delivering essential items bought online. It is therefore unfair to judge their value and contribution to society by formal qualifications.
Hangzhou's innovative move is praiseworthy. A broader assessment of talent will help deliverymen further their careers by providing them with more channels of upward social mobility. It also shows society's respect and gratitude to delivery people, and can persuade more hesitant young people to join the trade, especially if express delivery no longer carries the same social stigma.
Society is moving forward. With the birth of new industries and professions, the ways we assess talent must change as well. Judgement should not be limited to whether or not someone has a higher education. Diversified and inclusive talent assessment mechanisms can better tap into working people's potential and make them feel valued in society. We expect to see more Li Qinghengs in other industries soon.
Si Hanhan (www.ycwb.com): In many people's eyes, couriers do low-skilled, strenuous work. Their line of employment has little to do with talent. Since Li Qingheng's story emerged, there has been a lot of talk about his title as provincial technological expert and his receipt of a 1-million-yuan housing subsidy.
The limelight has also been cast on the express delivery sector, and this is a huge boon for the industry. A survey conducted by the State Post Bureau last year revealed that the majority of China's deliverymen were born in the 80s and 90s, with 76.3 percent from rural areas. The fact that a previously obscure courier has been adjudged to be the city's leading talent will make this group feel honored and encourage many young people to join this cohort and improve the service of this sector in the future.
Today, express delivery services are an inseparable part of people's daily lives, with delivery networks expanding ever wider. Express delivery is not an easy job; it requires couriers to toil from dawn to dusk, rain or shine. Still, many hard-working people are throwing themselves into this sector, so that they and their families can live a better life. They deserve society's respect.
Now that a courier has been named a city's leading talent, it is time for other industries and sectors to work out their own incentive policies. This can help attract and retain more talent, and ultimately push the whole industry to a new level.
Numerous ways to success
Tang Wei (www.gmw.cn): Awarding Li the title of technological expert is confirmation of his personal abilities. It is not easy for a young man to win the provincial express delivery professional skill competition, and this success is a huge milestone in Li's life. He also got a housing subsidy of 1 million yuan, getting him closer to his dream of buying a house in Hangzhou. This should serve as great encouragement and an incentive for other deliverymen who might cherish the same dream.
Why has this news been such a hot topic? Apart from the 1-million-yuan housing subsidy, it comes down to the fact that Li is a deliveryman. If he were a top science or technology expert then no one would pay much attention to his title as the city's leading talent. Most people see the work of deliverymen as low-end, requiring little talent and totally incomparable to work in high-end sci-tech industries. This is a misunderstanding of what talent is.
There are numerous ways for people to grow and succeed. The fact that a courier can be considered a technological expert means that anyone who works hard enough, and makes valuable contributions to his or her field, is a genuine talent, no matter the perceived status of the industry.
There are different metrics for assessing success in different sectors, but the way that success is achieved is similar. Whether you are engaged in scientific research or technical work, you must devote yourself entirely to whatever you do in order to be the best you can.
This example points to a positive direction for social values, and it will act as inspiration for various sectors. It is important to confront misunderstanding of the word talent by casting off biases against certain professions. Every profession deserves respect. Many ordinary people will be spurred on by the success story of this hardworking courier. There is no use in complaining. If someone is incompetent, even if they hold a prestigious position, they can still fail and cause damage. However, if people can objectively judge their own capabilities and try their utmost to improve their skills, future opportunities will be theirs.
We need richer incentive mechanisms for talented people of all kinds, with different levels and varieties, so that more of us can have the opportunity to succeed.
Zhou Zhihong (www.voc.com.cn): The stereotypical definition of talent conjures an idea of formal qualifications, but Li Qingheng took a job soon after graduating from senior middle school, without ever setting foot in a college. He has now been working in the express delivery sector for five years. Before taking part in Zhejiang's express delivery professional skill competition last year, he spent a lot of time learning the trade from experienced deliverymen. He is clearly very devoted to his job, always pushing himself to learn more. Li believes that by doing so he will achieve great success, no matter his line of work.
Li won the title of technological expert to a large extent thanks to Hangzhou's innovative practice of selecting talent, and its favorable policies toward people in various sectors. Yet ultimately it is a result of his own diligence. Worthy of further praise is the fact that Li has remained grounded since receiving the technological expert title and the housing subsidy. He plans to go to college to improve his education and then get a technical title for couriers, so that he can go further in the industry.
Hangzhou's talent system makes it possible for top talent to stand out from the crowd, a model worth imitating by other sectors around the country. Hopefully more talented people will emerge from all walks of life in the years to come.
Copyedited by Madhusudan Chaubey