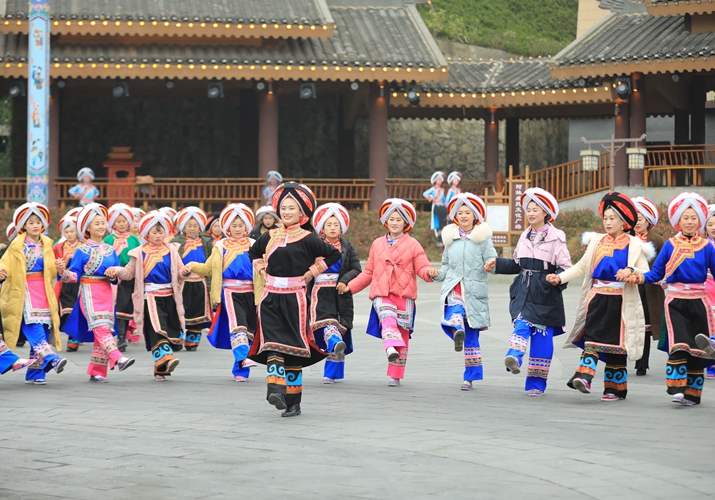 Villagers dance to celebrate the New Year in Qianxinan Bouyei and Miao Autonomous Prefecture, Guizhou Province, on December 31, 2020 (XINHUA)
It's hard to disassociate President Xi Jinping and his philosophy on governance from China's rapid development. After reading Xi Jinping: The Governance of China, I have up-to-date understanding of China's development in the new era, the development philosophy of the Communist Party of China (CPC), and the development blueprint for this big country with a population of 1.4 billion people. In recent years, the entire world has paid close attention to China. As a government official, I have earnestly followed China's development.
Last October, I had the good fortune of receiving an English edition of Xi Jinping: The Governance of China Volume III compiled by China's State Council Information Office, the Research Institute of Party History and Literature of the CPC Central Committee and China International Publishing Group (CIPG). The book has been distributed in many countries around the world and has been well received. It vividly illuminates Xi Jinping Thought on Socialism with Chinese Characteristics for a New Era and encapsulates the wisdom of Chinese leaders on building a community with a shared future for humanity. Indonesians from all sectors of society, including those interested in China and eager to learn from the Chinese experience in development, can gain important theoretical guidance for action from this book.
After reading the first two volumes of Xi Jinping: The Governance of China, I was anticipating publication of the third volume. Because of the raging pandemic, I had to wait. Thanks to support from the CIPG, my friends overcame difficulties to mail us the new third volume.
Publication of the English edition is especially significant at this special moment. I've read the book twice already and learned a lot. Xi's philosophy on governance has exerted a great influence on many Indonesian politicians, scholars, experts, entrepreneurs, and people from all walks of life who care about Indonesia's national development. I believe more and more Indonesians will start reading Xi's books for theoretical guidance on Indonesia's national economic development.
Xi's ideas on governance have provided guidance for China to grow into the world's largest developing country with the strongest comprehensive strength. Its rising global prestige and growing influence in international affairs have positioned it as an important player on the international stage. We see China as a developing country with rapid economic growth and a fairly strong defense force. China is a permanent member of the UN Security Council, the only developing country to have a seat at this table. The Chinese Government has actively used the UN podium to uphold fairness and seek justice, playing an increasingly important role globally.
"I've met with President Xi several times in recent years, during which we reached broad consensus through in-depth exchange of views on the development of bilateral relations," Indonesian President Joko Widodo said. "I'm happy with the development of our bilateral relations. The two countries should maintain high-level exchange and promote pragmatic cooperation for greater development of bilateral relations."
In recent years, frequent exchange of high-level visits and increased political mutual trust between Indonesia and China have injected momentum into our comprehensive strategic partnership. We will work conscientiously with the Chinese to implement the important consensus reached by the leaders of the two countries, forge greater synergy between our development strategies,
promote bilateral pragmatic cooperation, strengthen cultural exchange, and lift Indonesia's relations with China to new heights.
Xi's books on governance have helped us understand how China became a highly regarded country with great global influence by always pursuing an independent foreign policy of peace and firmly following the socialist road with Chinese characteristics through reform and opening up.
Economically, China has accumulated a wealth of experience that should be valuable to other developing countries for eliminating poverty.
Politically, China has made important contributions to the cause of opposing hegemony and maintaining peace by strengthening political unity and cooperation with other developing countries. China's achievements would not be possible without the leadership and decision-making of Xi and other state leaders.
The third volume of Xi Jinping: The Governance of China vividly tracks the continuous progress China has made on an array of undertakings in the new era, opening a window for readers to better understand China's success. Since the founding of the People's Republic of China more than 70 years ago, the country has led its people to create a miracle of rapid economic development and long-term social stability—a success story that attracted global
attention.
Faced with an onslaught of risks and challenges as the world undergoes profound changes unseen in a century, Xi made a series of scientific judgments and major decisions with a strategic vision and long-term perspective. He has led Chinese of all ethnic groups to engage in great struggles with new historic characteristics and advance the great cause of socialism with Chinese characteristics in the new era. These efforts have contributed to building a community with a shared future for humanity and opened a new chapter of China's success.
Reading this book provides an understanding of the essence of socialism with Chinese characteristics and helps decode China's success. Comprehensive answers to the most common questions can be found in the book. The essential key has been Xi's commitment to the original aspirations and mission of seeking happiness for the people and rejuvenation of the nation.
Publication of this series of Xi's books has attracted attention from readers from all walks of life around the world. It has become one of the most influential works by a contemporary global leader, opening a door for the international community to understand the achievements, motivation and prospects of China's development.
Publication of the third volume provides a reliable theoretical basis for people from all over the world to gain a sound understanding of China's success.
(Print Edition Title: Commitment Is the Key)
The author is an official at the Indonesian Coordinating Ministry for Maritime Affairs and Investment. The article was first published in China Report ASEAN
Comments to yanwei@bjreview.com