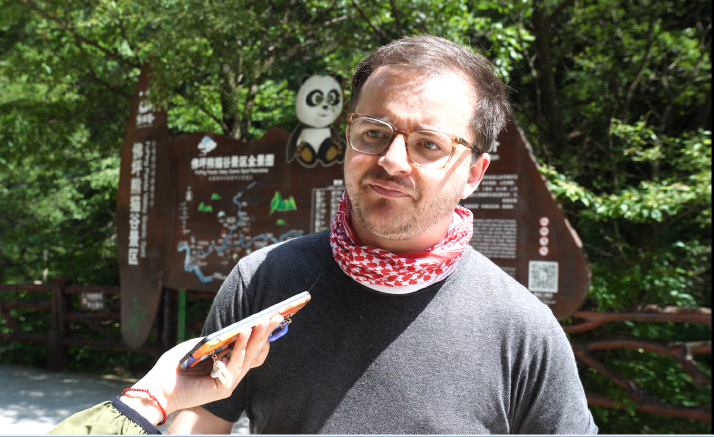 Jesse Ridolfo, a teacher with Xi'an Langjiatan International School, Shaanxi Province (ZHANG WEI)
Jesse Ridolfo is a teacher with Xi'an Langjiatan International School, Shaanxi Province, from the United States. He shared his experiences in his home country and China during the pandemic with Beijing Review reporter Li Nan in a recent interview. This is an edited excerpt of his views:
I was supposed to come back to China in August of 2020. But because of the COVID-19 situation, China was being very careful about letting people in. I had to teach online. It was until February that I made sure it was safe for me to return.
I'm very glad to be in China. The American response to the COVID-19 pandemic was just terrible and awful in every measurable way. And the human cost in America was just completely avoidable.
It proved challenging to travel to China during the COVID-19 pandemic. The embassy websites were not updated as frequently, so trying to figure out how to return to China was a little bit difficult. I had all the tests done. But as long as everyone was going through that same process to come in,I was happy with it. Because that meant I would be safe too.
It's just that the process of coming back was a little frustrating, but I do still think it's the appropriate response to the pandemic. In China, they manage to stop the spread of the virus very effectively, so they've been able to have more freedom. Things are coming back to normal.
My family members in America are vaccinated now, but for months on end, they had to be very careful when going out and doing anything because the virus was so widespread.
In America, there are a lot of people who don't want to wear masks, but for me wearing a mask helps other people stay safe. It's not just about protecting myself,it's about ensuring that the community stays safe. For me, it's not about denying my own personal freedom.
Copyedited by Elsbeth van Paridon
Comments to linan@bjreview.com