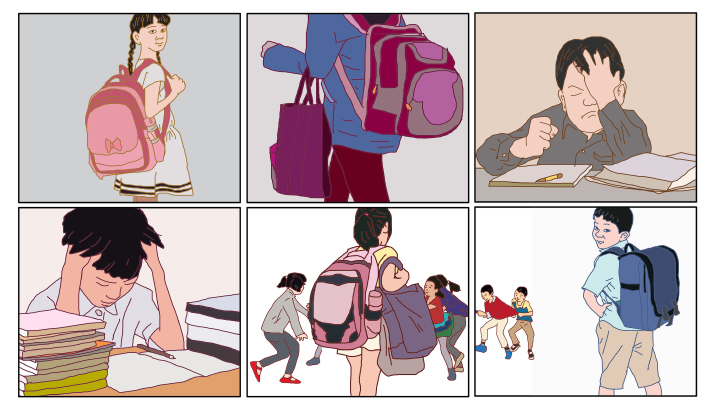 (LI SHITONG)
Excessive burdens placed on the shoulders of young primary and secondary school students have long been a prominent issue in China's education system. In response, the Central Government recently released a document intended to relieve students of some academic burdens. In sum, tutoring institutions will be brought under severe scrutiny, newly established ones will not receive permits, and for-profit institutions will be banned.
As for the toughest ban on tutoring thus far, public opinion is divided. Some believe the ban will help students out of their endless after-class tutoring sessions as well as save their parents huge sums of money. The opposing camp, then, believes that a sweeping ban is simply unacceptable, as some students do need tutoring to catch up, let alone keep up, with their peers.
Bai Jingjing (www.thepaper.cn): For so many years, primary and middle school students have been stripped of the joys of just relaxing during their summer and winter vacations, as they had to take tutoring classes. Even if they themselves did feel
reluctant to attend these, their parents, whose anxiety is aggravated by said tutoring companies' exaggerated advertisements on the disadvantages and potential risks of falling behind other students, will force them to take classes.
The document explicitly bans tutoring institutions to offer training on school subjects during legal holidays, as well as during the additional winter and summer holidays. If the students' extracurricular time is all occupied by taking these classes, they will have no time left to explore the wider world and develop the necessary social skills.
There is also some worry that these tutoring companies will try to continue in the name of quality education, or repackage their courses, or simply go underground. As for such countermeasures, the relevant authorities must remain alert. The mission of alleviating student burdens can only be successfully achieved through continuous efforts.
Chen Limin (www.people.com.cn): The biggest sin of these tutoring companies is their stirring up a sense of angst among students and parents alike, a cause directly responsible for the excessive competition among students. Parents even compete with each other in terms of the amount of courses that they have bought for their children.
The huge academic burdens are not only clipping students' wings and curbing their creativity, but also nibble away at their health. According to recent statistics from the National Health Commission, in 2020, 52.7 percent of the country's adolescents were myopic and 20 percent obese.
When tutoring companies are forbidden to sell their classes, schools must stand up to play their due role. Education must not be taken advantage of by a small fraction of investors and startup founders to make easy, big money, but should return to its original role of imparting knowledge to every member of society. In equal manner.
Editorial (Xinhua Daily): It's necessary to regulate the tutoring institutions, but a sweeping ban is not a rational policy. As the document pointed out, those which are unqualified, or engage in illegal practices such as colluding with schools to make big profits and create false advertisements, and so on, are to be shut down. However, not all tutoring institutions are bad. To shut all down in one go would be unfair to these institutions and to those students who are really in need of after-school tutoring sessions.
Currently, all students, whether they can catch up or not, will have to attend the same class. Some may find the class too hard to understand, while others may feel it's too easy. In this case, if the former can make use of the holidays to acquire the knowledge they missed out on during school hours through tutoring, their performance will improve when they return to school. Extra training on the school curriculum is a helpful supplement to school education, as long as it is qualified.
Copyedited by Elsbeth van Paridon
Comments to dingying@bjreview.com