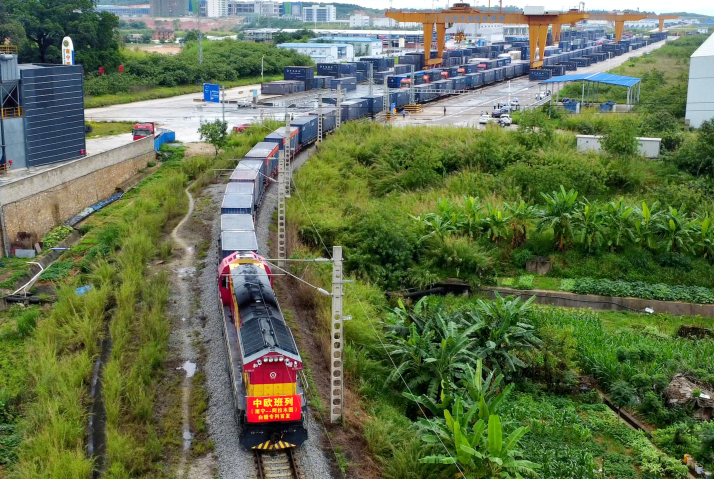 A China-Europe freight train carrying sugar bound for Kazakhstan leaves Nanning International Railway Port in Guangxi Zhuang Autonomous Region on May 15, 2022 (XINHUA)
It is undeniable that China has experienced an unprecedented modernization boom since the implementation of its reform and opening-up policy in 1978. By connecting with the world through trade, China has gained the economic power to transform its own internal regions and rural areas. Peaceful integration into the world economy as a producer, consumer, builder and, more recently, a technological innovator, has allowed China to achieve remarkable economic growth rates and aggregate national power.
This enabled China to declare its elimination of absolute poverty in February 2021. The construction of over 1 million km of rural roads and the provision of fast Internet to over 95 percent of Chinese villages were instrumental in achieving this feat. The World Bank in 2022 stated that over four decades, China's poverty eradication efforts had contributed more than 75 percent of global poverty reduction in the same period. In 2017, United Nations General Secretary António Guterres highlighted China's targeted poverty reduction method as the only way toward success, offering a valuable lesson for all developing countries.
Infrastructure giant
In just a few decades, China has transformed its national infrastructure into one of the most advanced in the world. The total length of roads, including expressways, in China has surged from 3.6 million km in 2007 to 5.2 million in 2020, with an additional 110,000 km of high-quality expressway. The 13th Five-Year Plan (2016-20), issued by the National Development and Reform Commission (NDRC) and ratified by the National People's Congress, the highest state organ of power in China, in 2016, committed the Chinese leadership to building a transport system connecting national and international routes, covering metropolitan as well as rural areas. Since then, China has not only upgraded its basic economic infrastructure but also added unique megaprojects that make it stand out globally, such as the Hong Kong-Zhuhai-Macao Bridge, Beijing Daxing International Airport, and the Yangshan Deepwater Port off the coast of Shanghai, which operates the world's largest fleet of automated guided vehicles.
China's high-speed rail sector has crossed the 40,000-km threshold, reaching a global market share of more than 65 percent, far surpassing Japan, France and Germany. A recent experiment in Henan Province had two new CR450 high-speed trains safely pass each other at 435 km per hour. By comparison, the United States, which has declared a "systemic rivalry" against China, only runs a single high-speed train connection: the 735-km Boston-New York-Washington Northeast Corridor, at a maximum speed of 322 km per hour.
Global connectivity
However, China's national economic build-up is neither in opposition to any other country or self-declared "rival," nor is it a policy of isolationism as some Western commentators have put it. On the contrary, China wants to build a comprehensive and multidimensional transport network for efficient connectivity with the rest of the world.
The China Academy of Transportation Sciences presented a plan to the international community in October 2021, proposing the National 1-2-3 Travel Circle, which will make it possible to commute anywhere within a single city within one hour, between cities in city clusters within two hours and between major cities within three hours. The Global 1-2-3 Logistics Circle will enable the delivery of express packages inside China within one day, to neighboring countries within two days, and to major cities worldwide within three days. The academy's plan envisions that by 2035, China's transportation network will reach 700,000 km, with 27 major coastal ports and 400 civil commercial airports. This would make China a world leader in terms of infrastructure size and quality, serving as a central global hub for transport technology, trade, industry, tourism, culture, and civilizational exchange. Partners in this plan are not only developed countries but also many developing countries.
On October 14, 2021, Chinese President Xi Jinping delivered a speech at the Second United Nations Global Sustainable Transport Conference in Beijing. He emphasized the crucial role of transport in the economy, acting as a common bond between civilizations and transforming the world into a closely connected global village through transport networks. Xi reaffirmed China's commitment to an open and inclusive system of global connectivity across land, sea, air and the Internet. He also announced the establishment of a global innovation and knowledge center for sustainable transport to share China's experiences and technologies with other countries.
Breakthroughs in space
April 24 is China's Space Day, as the nation's first satellite, Dongfanghong-1, was launched on that day in 1970. At that time, the United States and the Soviet Union were already far ahead. It wasn't until 1992 that China defined manned spaceflight as a medium-to-long-term goal, but since then it has achieved amazing progress and even historic breakthroughs. In 2003, the Shenzhou-5 spacecraft launched the first Chinese astronaut into Earth's orbit. The landing of the Chang'e-4 lunar probe with its accompanying Yutu-2 rover on the far side of the moon in 2019 was one such historic precedent. It even had plant seeds, yeast and fruit fly eggs on board as biological experiments. The Chang'e-4 mission was already an example of international cooperation, as Russia, Sweden, Germany, Saudi Arabia and the Netherlands were all involved in the project.
In June 2021, President Xi visited the Space Control Center in Beijing to communicate with the crew aboard the core module of China's Tiangong space station, which had been placed in orbit 390 km above the Earth's surface. By the end of 2022, two large space laboratories were docked to the core module to form what is currently the most advanced research facility in space. Hundreds of international research projects in fields such as astronomy, biotechnology and material testing will be carried out in the coming years.
To this end, China has begun extensive cooperation with the United Nations Office for Outer Space Affairs to coordinate international undertakings for scientific experiments, as well as cooperation in space science and technology application. It has also signed cooperation agreements with 19 countries and regions, as well as with several multilateral institutions such as the Shanghai Cooperation Organization, the BRICS group (Brazil, Russia, India, China and South Africa), and the Asian Pacific Space Cooperation Organization.
Peaceful dialogue
These are just a few examples of how China's modernization has contributed both to the country's national strength and to fostering a better global community for common development. China is also restoring its cultural relics, compiling traditional texts and artworks to reaffirm its 5,000-year-old traditions and roots. Rediscovering and popularizing its own civilizational origins give China a clear self-understanding to communicate and exchange with other cultures and civilizations on an equal footing and with mutual respect. For example, in May 2018, the International Alliance of Museums of the Silk Road was established as a platform for exchanges in countries along the ancient Silk Road to create a bond of friendship and promote cross-cultural exchange. Another mechanism to promote mutual learning and instill a strong sense of harmonious coexistence among cultures is the Conference on Dialogue of Asian Civilizations, which was attended by 1,300 representatives from 47 countries in May 2019.
China's strategy of reform and opening up has always been consistent. The modernization of China's economy, whether in infrastructure, technology or culture, has always gone hand in hand with international cooperation and peaceful integration for the benefit of both China and the international community. Any claim to the contrary lacks evidence. China is fully aware that only through a continuous process of dialogue, integration and cooperation can it achieve its own goals of becoming a fully developed, modern, strong and beautiful nation.
The author is a researcher with German think tank the Schiller Institute
Copyedited by G.P. Wilson
Comments to ffli@cicgamericas.com