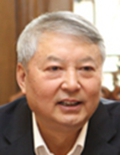 How can China effectively push forward SOE mixed ownership reform? How should the nuclear industry develop? And what difficulties do Chinese enterprises face in tapping into the overseas market? These questions are on the minds of policymakers as well as corporate leaders.
"Now, The China National Nuclear Corporation (CNNC) is carrying out mixed ownership reform in two ways—getting listed and partnering with local enterprises in the application of nuclear technologies," said Wang Shoujun, Chairman of CNNC and a member of the 12th National Committee of the Chinese People's Political Consultative Conference, told Beijing Review.
"The implementation of mixed ownership reform needs coordinated efforts, so does the nuclear industry," said Wang, noting that China's nuclear industry is still in its infancy, with nuclear power accounting for a mere 2 percent of the country's total power consumption, while in France, the ratio is as high as 80 percent.
As to the nuclear leakage accident in Fukushima, Japan, Wang explained that Japan's nuclear power equipment is outdated--therefore, it can't represent the level of nuclear power production in other countries.
Wang stressed that Chinese-made nuclear power is "100 percent safe," and in the future, China won't be able to do without nuclear power.
According to Wang, compared with private-funded enterprises like Huawei, SOEs are less flexible in handling issues in regard to going abroad. "SOEs have much to learn from private firms, such as their strong capability in fusing with local culture in overseas markets," Wang suggested.
Copyedited by Dominic James Madar
Comments to zhouxiaoyan@bjreview.com