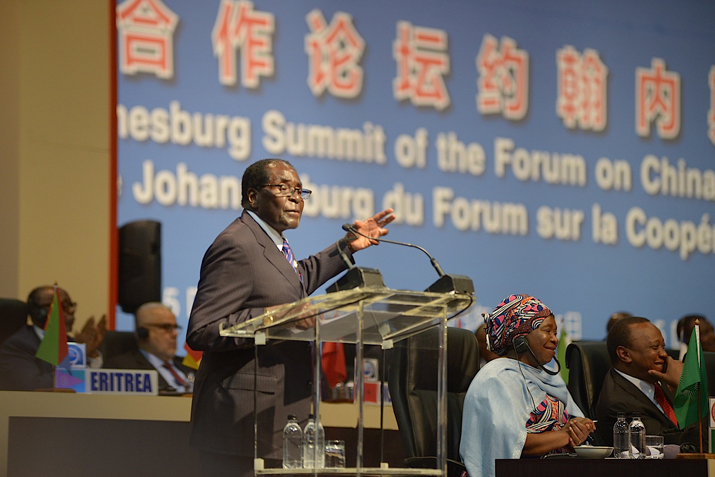 African Union Chairperson Robert Mugabe brings laughter and applause during his address at the opening ceremony of Forum on China-Africa Cooperation (FOCAC) Summit 2015 (FRANCISCO LITTLE/BEIJING REVIEW AFRICA BUREAU)
African Union Chairperson and Zimbabwe President Robert Mugabe is well known for his critical comments and sharp wit about Africa's colonial past. Addressing more than 50 heads of state from the continent along with hundreds of delegates at the opening ceremony of the Forum on China-Africa Cooperation (FOCAC) Johannesburg Summit 2015, Mugabe brought spontaneous laughter and applause when he said of Xi, "Here is the representative of a country once called poor. A country which never was our colonizer... If they have ears to listen, let them hear," he said taking a swipe at Western detractors.
Mugabe spoke after Xi had put forward a five-point proposal detailing plans to broaden win-win cooperation between African and the world's second-largest economy along with a $60-billion aid package.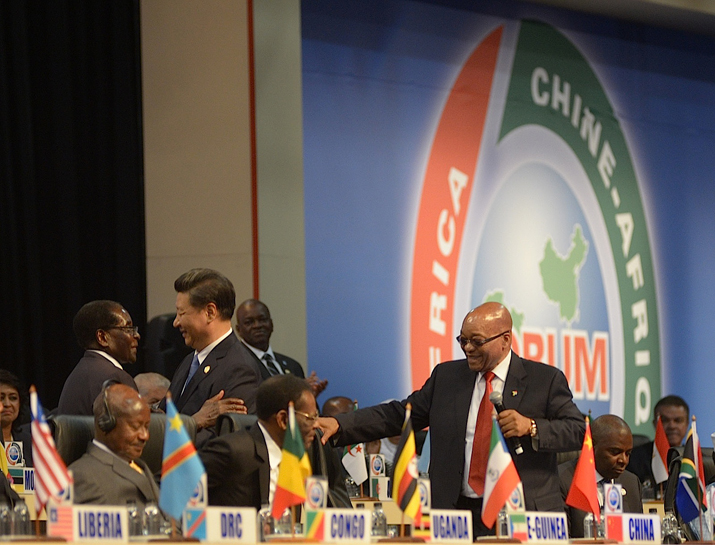 Chinese President Xi Jinping embraces Robert Mugabe after his opening ceremony speech at FOCAC Summit 2015, while South African President Jacob Zuma looks on in delight (FRANCISCO LITTLE/BEIJING REVIEW AFRICA BUREAU)
Mugabe went on to tell his appreciative audience that critics of the China-Africa relationship were insistent on describing these ties as purely commercial in nature, propelled by the thirst for natural resources. "The reality does not conform to this distorted, imaginative picture," Mugabe said, explaining that there was a much deeper element to the way the two sides saw each other, that was cemented by genuine win-win cooperation and the desire for peaceful development on both sides.
"God bless China," Mugabe said in conclusion, before being warmly embraced by an appreciative Xi.
(Reporting from South Africa )