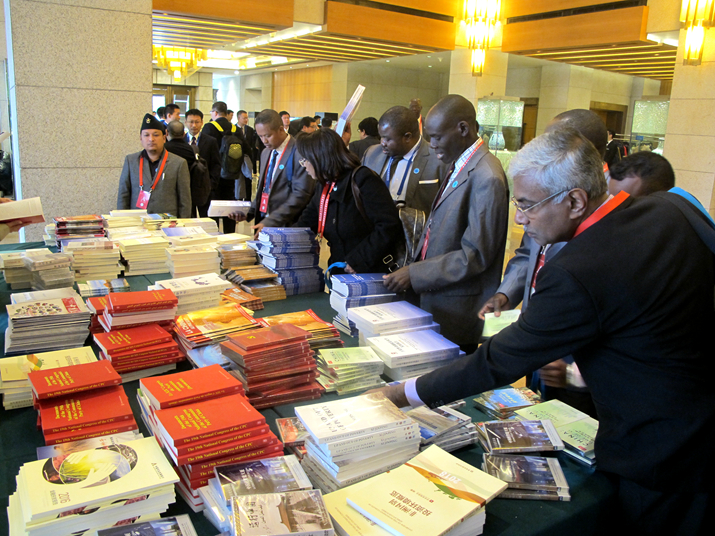 Convention attendees browse the extensive selection of books on China's development, in Beijing on November 2 (LU YAN)
"In the past 40 years, more than 800 million people in China have worked their way above the poverty line, which has contributed to the global poverty alleviation effort," said Liu Yongfu, Director of the State Council Leading Group Office of Poverty Alleviation and Development, during the opening ceremony of an international forum on poverty reduction in Beijing on November 1.
The International Forum on Reform and Opening up and Poverty Reduction in China, with the theme of International Cooperation on Poverty Reduction: Building a Community with a Shared Future for Mankind, was attended by more than 400 representatives from governments, business and academic circles from 51 countries and 11 international organizations.
According to Liu, the number of people living in poverty in China is expected to be reduced by 80 percent by the end of the year.
He also said that the country will comprehensively eliminate rural poverty by 2020, 10 years ahead of the poverty reduction goals set by the United Nations 2030 Agenda for Sustainable Development.
"Reaching the goal means that China will historically eradicate absolute poverty," Liu said.
"It is remarkable that a nation could manage to lift hundreds of millions of people out of poverty when its entire economy 40 years ago was smaller than that of the Netherlands," said Achim Steiner, Under-Secretary-General of the United Nations, when addressing the forum.
He noted that China has done something unprecedented in human history, which merits a discourse with the international community that could, through China's own development path, address challenges that shape the global development agenda.
"What my country could learn from China's experience is that a country can set up targeted goals and policies that are suitable for its own national condition, which is very efficient," Ibrahima Niang, Executive Director of the Institute of Asian and African Studies of Sahel from Senegal, told Beijing Review.
"It is also impressive that China has adopted the idea of helping the weakest and letting them fly first," Niang added.
Zaw Oo, Executive Director of the Center for Economic and Social Development of Myanmar, said that China's emphasis on industry is very important in helping with poverty relief, noting that it was a weak point in Myanmar which has much room for improvement.
During the day and a half forum, three round tables were held, providing a platform for participants from the international community to exchange ideas on various issues such as the role of China's reform and opening up in poverty alleviation, innovative practices in poverty relief in the new era, and world poverty reduction and development.
Copyedited by Rebeca Toledo
Comments to luyan@bjreview.com