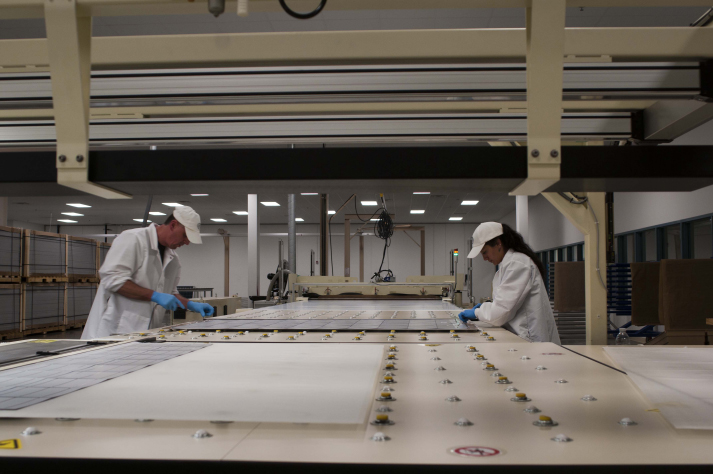 A solar panel workshop of Wanxiang America, the U.S. subsidiary of Wanxiang Group, China's largest auto parts company, in Chicago on June 8, 2015 (XINHUA)
Based in Chicago, Illinois, Wanxiang America, the U.S. subsidiary of Wanxiang Group, China's largest auto parts company, has been a member of the local business community for almost three decades. From a three-person team with $20,000 in cash investment to transforming into a $4-billion company that employs 20,000 people around the world, Wanxiang America is an example of Chinese companies that have their roots in the U.S. and are thriving.
After the novel coronavirus disease (COVID-19) pandemic hit the Midwest region, Pin Ni, President of Wanxiang America, donated 250,000 masks and 30,000 face shields to Chicago in May. "Surely there is a future, and your hope will not be cut off," read the tag on the boxes containing the personal protective equipment.
Ni, as a Chinese business leader in the U.S., joined an American business leader, a political scientist and a government official at an online event hosted by the China General Chamber of Commerce-Chicago on June 11 to exchange insights into the future trade and investment development between China and the U.S. in the aftermath of COVID-19. The event showed the commitment of businesses on both sides to continue bilateral communication and improve the business environment at a time when the global economic fallout, triggered by the unprecedented public health crisis, is demanding cooperation between the world's two largest economies.
Warren Clark, a partner at global audit firm Grant Thornton, said some U.S. companies are looking at a "China+1" strategy, diversifying their supply chains and adding Mexico and Southeast Asian and European countries, rather than withdrawing from China.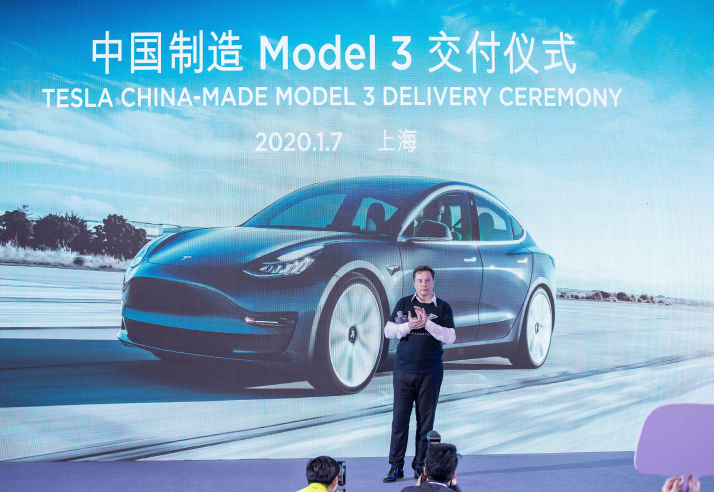 Tesla CEO Elon Musk attends the delivery ceremony of the China-made Tesla model 3 in Shanghai on January 17 (XINHUA)
"The China market is still huge, I don't think we will see companies pull out of China. That's not the consideration," Clark said.
The 5.8-percent rise in foreign direct investment in China in 2019, according to the Ministry of Commerce, backs up his point. There are many examples. Electric carmaker Tesla poured $5 billion into a gigafactory in Shanghai in 2019. U.S. investment company Bain Capital put $570 million into Beijing Qinhuai Technology, a Chinese cloud computing startup.
Clark, who has spent over 20 years in China assisting U.S. companies in investing and operating in the country, is in communication with his clients in China and is optimistic that the China market will continue to develop.
The long line of people waiting in downtown Shanghai last month for a bite of Popeyes chicken, the signature dish of the U.S. fast food chain, would have boosted the confidence of U.S. investors. On May 15, fried-chicken lovers in masks stood in the sun for hours on the debut day of the chain from Louisiana. Popeyes plans to open 1,500 stores across China over the next 10 years.
Clark saw both risks and potentials in investing in China. "It is just like you buy low and sell high," he said.
Dali Yang, a political scientist at the University of Chicago, said the pandemic in many ways has prompted policymakers to respond fast, but sometimes "without finesse," resulting in collisions. In the aftermath of COVID-19, the two countries "need to communicate more and find common interests."
With 30,000 employees in the U.S., mostly Americans, Wanxiang America has overcome the cultural barrier and differences between the two countries. Ni believes in order to weather the current political and economic storm, a company needs to adjust both internally and externally. Instead of measuring individual key performance indicators, his company shifted to team coordination and collective achievements to adjust to the new reality.
Ni said it is also critical to "get involved in and give back to the community." Besides the donation of masks, Wanxiang America continued to operate and support essential businesses in Chicago after the state announced an economic halt.
After months of draconian measures to curb the spread of the virus and sacrificing economic activities, countries around the globe have started to reopen and provide stimulus to prop up their economies. Hu Yingzhi, Commercial Counselor at the Chinese Consulate General in Chicago, recommended foreign investors find business opportunities aligned with China's plan of building new infrastructure.
During the annual legislative session in May, Premier Li Keqiang highlighted the term "new infrastructure," which encompasses 5G, artificial intelligence, big data centers and beyond, in his Report on the Work of the Government. Experts have seen this move as critical for digital industrial development and unleashing economic growth potential after the pandemic. From manufacturing to the public health sector, organizations emerging from the COVID-19 crisis, large and small, have seen the dire need to embrace these new technologies.
"We are on the way to smart manufacturing, but this pandemic definitely accelerated that trend," Ni said. "Cloud computing and artificial intelligence are both going to help us."
(Print Edition Title: Putting Heads Together)
Copyedited by Sudeshna Sarkar
Comments to yanwei@bjreview.com