In U.S. President Joe Biden's first presidential address to Congress on April 28, "win the 21st century in the competition with China and other countries" became the main theme. Throughout his speech, China was the most often mentioned foreign country. But this was by no means the first time Biden had publicly highlighted competition with China. Indeed, it seems the world in general is fixated on this topic, some observers having gone as far as to predict exactly when China will surpass the United States. Chinese Foreign Ministry Spokesperson Hua Chunying hit the nail on the head about China's attitude in this regard at a regular press conference on March 26, by saying, "The U.S. said it won't allow China to out-compete the U.S. I must point out that our goal is not to out-compete the U.S., but rather to out-compete ourselves and constantly make progress."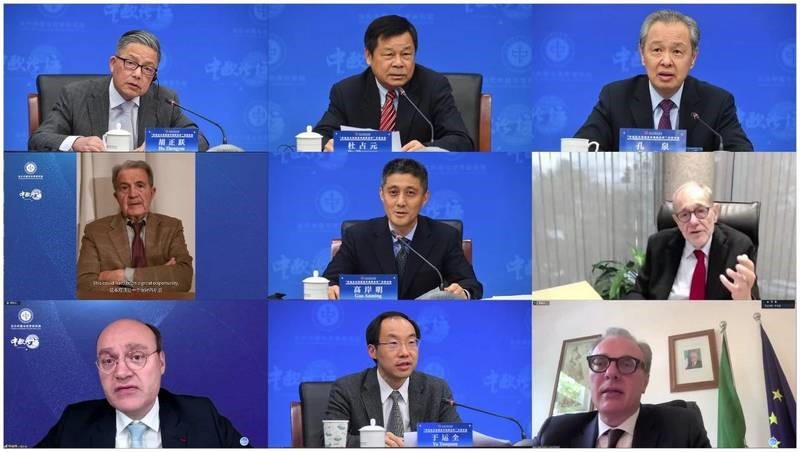 The Online Seminar on Multilateralism and China-U.S.-Europe Cooperation is convened on April 29, co-hosted by Academy of Contemporary China and World Studies and Europe-China Forum. (DONG NING)
In view of such major-country competition, and the volatile and complex world landscape further mutilated by the COVID-19 pandemic, the global challenges that threaten the future of humanity as a whole now render cooperation based on multilateralism imperative. Thankfully the Online Seminar on Multilateralism and China-U.S.-Europe Cooperation, co-hosted by Academy of Contemporary China and World Studies and Europe-China Forum on April 29, which gathered influential think tanks, experts, and politicians from China, Europe, and the United States, came just at the right time.
The Defining Features of Multilateralism
As Chinese President Xi Jinping observed at the World Economic Forum Virtual Event of the Davos Agenda on January 25, 2021, the problems facing the world are intricate and complex; the way out of them is through upholding multilateralism and building a community with a shared future for mankind.
President of China International Publishing Group (CIPG) Du Zhanyuan gives a speech at the seminar.
However, certain countries have exhibited different ideas as to what multilateralism actually is, and how it may be put into practice in global affairs and governance. Among attendees of the seminar on multilateralism was President of China International Publishing Group (CIPG) Du Zhanyuan. Du stated that China advocates a multilateralism of openness and inclusiveness on the premise of countries respecting each other's sovereignty, and opposes the forming of small circles and selective multilateralism. Du called for deepened communication and dialogues among countries towards achieving greater consensus on the specific connotations of multilateralism in the new era.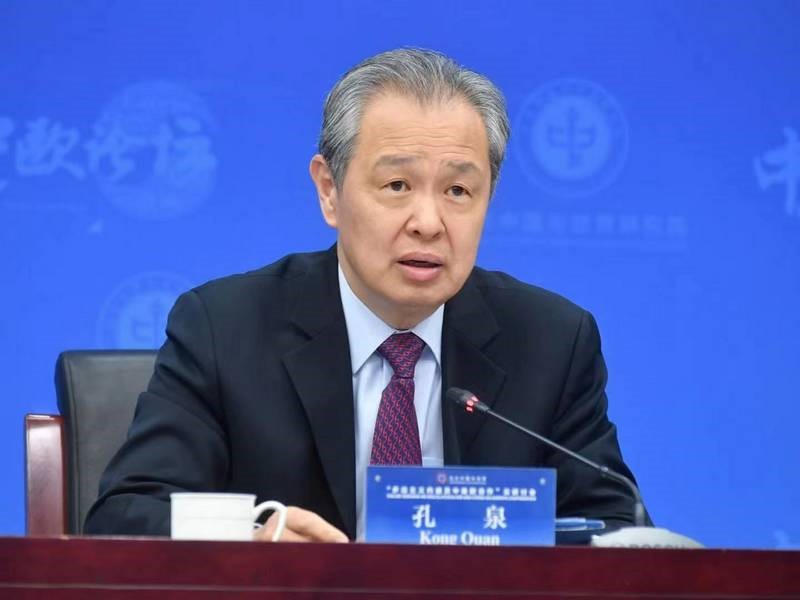 Kong Quan, deputy director of the Foreign Affairs Committee of the 13th National Committee of the Chinese People's Political Consultative Conference, addresses the seminar.
Kong Quan, deputy director of the Foreign Affairs Committee of the 13th National Committee of the Chinese People's Political Consultative Conference (CPPCC), raised the ancient Chinese philosophical concept of harmony in diversity, and its value in upholding multilateralism. "We should rise above ideological prejudices and differences in social system and culture by sticking to the common values of humanity, including peace, development, equity, justice, democracy and freedom, so as to maintain world peace and advance the common development of human society," Kong said. He also highlighted the fundamental role of international law in practicing multilateralism. "International law embodies the consensus and wisdom of mankind in pursuing rationality, fairness, and justice, and thus should become the basic norm in global governance. The international system with the United Nations as the core and the international order based on international law have been an important guarantee for maintaining overall peace in the world since the end of World War II, and therefore should be resolutely upheld," Kong said.
Despite endorsements by ever more leaders of state, however, multilateralism is under serious threat. Chen Dongxiao, president of Shanghai Institutes for International Studies holds that it is evident in three forms. The first is unilateralism, represented by former U.S. President Donald Trump's "America first" concept, whereby a country focuses solely on what benefits it, meanwhile ignoring comprehensive international interests and trashing international agreements. The second is scapegoating, where state rulers shift the blame for their failure to resolve domestic problems on external factors by seeking external enemies, or exaggerating foreign threats. Such behavior undermines the foundations of international cooperation and multilateralism. The third is the forming of small political cliques, according to alliances based on similar values, or the so-called "clash of civilizations." This fundamentally deviates from the multilateralism of equality, openness, and cooperation. Chen contended that the principles of extensive consultation, joint contribution, and shared benefit should be followed in upholding multilateralism, which is moreover the only way of preventing the world from splintering into divisions and the onset of a "new Cold War."
Cooperation Prevails over Confrontation
"We're now in a very difficult time," former President of the European Commission Romano Prodi observed at the forum, in reference to the complex relationship among China, the U.S., and the Europe Union in regard to certain contentious issues. He was nevertheless confident that the parties concerned could find common ground through communication. "For example, environmental problems constitute a huge field that can be instrumental to improving our relationship," Prodi said.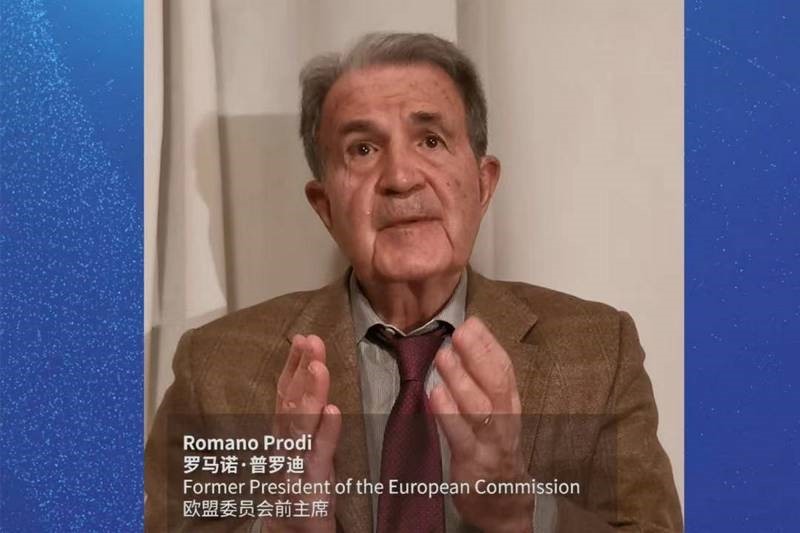 Former President of the European Commission Romano Prodi delivers a keynote speech via video link.
Former Secretary General of NATO Javier Solana shared the same optimism regarding the trilateral relationship. He said, "Many people in Europe are trying to recuperate the strategic trust between the EU and China. It's also possible to recuperate the strategic trust between the U.S. and China." Solana held that the trilateral relationship is fundamental to maintaining world peace, and consequently that inclusive multilateralism will prevail. He also observed that the time when one big power could impose a set of rules on others is long gone. "Now it's a different situation, and we can handle the new circumstances through old friendships, confidence, and trust between both China and the United States and China and the European Union," Solana said.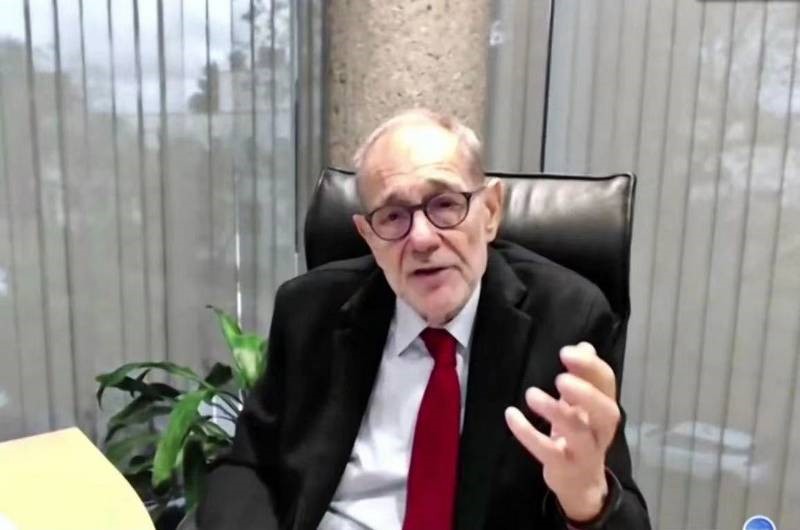 Former Secretary General of NATO Javier Solana joins the seminar via video link.
With regard to China-EU relations, a document titled EU-China – A Strategic Outlook published by the European Commission on March 12, 2019, refers to China as a "cooperation partner" but also as an "economic competitor" and "systemic rival."
It has consequently stirred considerable contention. "Many people in the Western world would agree that China can be at the same time, a partner, a competitor, and in some cases, rival. There is divergence about the proportions we should give to the three components," Luca Ferrari, Ambassador of Italy to China, said at the forum. "So far, we see China mostly as a partner, and I believe most European countries are still ready to engage and cooperate," he added.
When commenting on the so-called cooperative, competitive, and rival nature of relations between China and the EU, former Spanish Ambassador to China Eugenio Bregolat held that China and the EU can be competitors, but never enemies; to solve their differences, the EU should be on the negotiating table with China instead of imposing unilateral sanctions. He construed the true meaning of "systemic rival" as Europe's engagement and peaceful coexistence with China despite their different political and economic systems.
Key Fields for Multilateral Cooperation
In regard to fields for multilateral cooperation, attendees of the forum highlighted such priorities as climate change, technology, WTO reform, and COVID-19 vaccine.
"The participation of President Xi Jinping in the Leaders Summit on Climate at the invitation of President Biden has confirmed that common priorities, such as climate change, can represent a common ground for fruitful engagement and cooperation among Europe, the U.S. and China, notwithstanding friction on other topics," Luca Ferrari said. The Italian ambassador further observed that, in addition to climate change, health and economic and trade policies could also be issues for mutual discussion. Referring to certain regional issues like the unrest in Myanmar, the Korean Peninsula's peace process, and stability and security in Africa and the Middle East, he said, "The EU, China, and the U.S. share common goals and interests. In this context, Europe is ready and waiting to cooperate with China on global and regional issues. In addition, trade and economic exchanges will continue to represent a major purpose of interest. Trade between most Western countries and China has been increasing."
Founding director of the French Institute for International and Strategic Affairs (IRIS) Pascal Boniface underlined the importance of the EU's keeping to its own direction instead of blindly following the U.S's lead. In his words, the EU does not seek to dominate the world, which is probably the goal of the U.S., but rather to pursue universal prosperity and safety, which necessitates EU cooperation with China.
President of Shanghai Institutes for International Studies Chen Dongxiao insisted that in jointly coping with global challenges, the three sides should also advance global inclusive development. Uneven, inadequate development is a root cause of division and confrontation in the world today, Chen said. "While advancing the building of an open global economic system and improving the global governance system, the international community should promote common prosperity. And the most urgent task now is to overcome nationalism in vaccine distribution. Meanwhile, under the G20 framework, a systematic plan should be formed to alleviate debts of those developing countries mired in their struggle to cope with the COVID-19 pandemic and its economic impact, and help them ride out the plight," Chen said.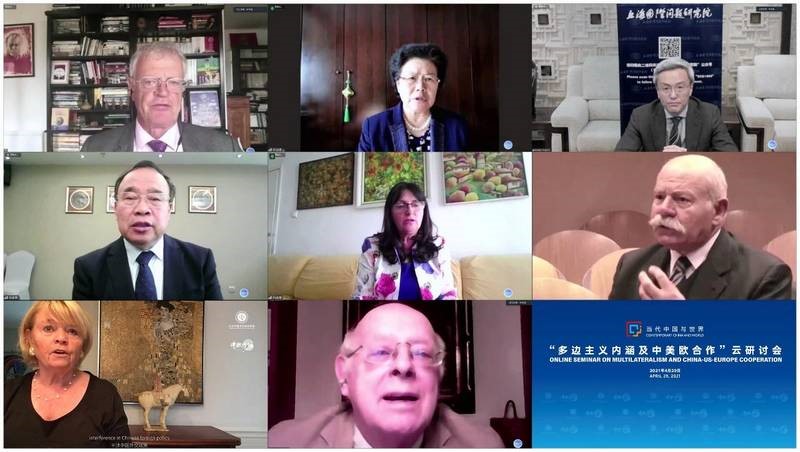 Attendees of the seminar have in-depth discussion about multilateralism and China-U.S.-Europe cooperation.
Decoupling — No Way
To contain China's rise, voices calling for decoupling have at times gathered momentum in the Western world. As Pascal Boniface observed at the forum, China's rise is undoubtedly a challenge to the U.S.'s dominant position in the world. Having grown accustomed to its decades-long global leading status, for many American politicians competition from China is unacceptable, hence the din about the China threat and decoupling.
Given China's economic volume and growth momentum, as Luca Ferrari observed, "It is impossible to ignore or decouple from China. On the contrary, I believe it's time to work with China to restart our globalization, and to create a business environment wherein to sit down to review rules, governance, the WTO, and world trade."
Former Under Secretary for International Trade in the U.S. Department of Commerce Joan McEntee suggested that although complex and multi-dimensional, the relationship between China and the U.S. is "far from ending. Business between the two countries has indeed continued." She referred to the recent welcome that the Chinese leadership extended to foreign companies, including those from the U.S., to participate in China's modernization process and reform, and its positive implications for economic cooperation. McEntee also raised suggestions for cooperation towards encouraging growth, including abolishing tariffs, removing travel restrictions, and lifting restrictions on academic and student exchanges. "As the world becomes more complex, economic issues can lead to devices for positivity," she said.
Humanity has learned lessons the hard way. "To build small circles or start a new Cold War, to reject, threaten or intimidate others, to willfully impose decoupling, supply disruption or sanctions, and to create isolation or estrangement will only push the world into division and even confrontation. We cannot tackle common challenges in a divided world, and confrontation will lead us to a dead end," President Xi's words earlier this year accentuate the necessity for multilateralism, and the urgency of putting it into practice.