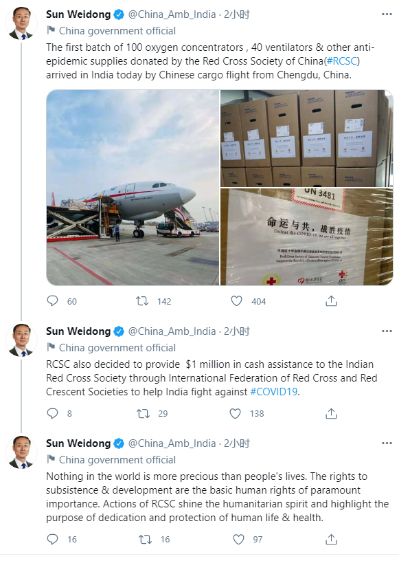 A screenshot of tweets by Chinese Ambassador to India Sun Weidong
Anti-pandemic supplies including oxygen concentrators and ventilators donated by the Red Cross Society of China (RCSC) arrived in India on May 9.
The shipment from the southwestern city of Chengdu, Sichuan Province, was the first batch of supplies donated by the RCSC to India, Chinese Ambassador to India Sun Weidong said in a tweet.
Sun also said the RCSC will provide $1 million in cash to the Indian Red Cross Society through the International Federation of Red Cross and Red Crescent Societies to fight against the COVID-19 pandemic.
"In the past two weeks, 61 cargo flights have been in operation from China to India, transporting various urgently needed medical supplies for India," Sun tweeted on May 8.
India became the second country after the United States to record more than 20 million COVID-19 cases, crossing 22.6 million on May 10, according to the Government of India's COVID-19 dashboard. The death toll rose to 246,116.
President Xi Jinping sent a message of condolence to Indian Prime Minister Narendra Modi on April 30, saying China is ready to strengthen anti-pandemic cooperation and provide support. Only through solidarity and cooperation can all countries across the world defeat the pandemic finally, he said.
A video footage the Chinese ambassador posted on social media showed Chinese companies, including Shanghai-based Fosun Pharma, producing and packing up medical equipment for India.
On May 2, Fosun's first batch of donated medical protective supplies arrived in Mumbai, west India. The company told Xinhua News Agency that 150 ventilators donated by its subsidiary Gland Pharma were to be delivered to Hyderabad in south-central India. The company would also provide over 20,000 oxygen generators.
In the video, a group of Fosun staff shouted: "Stay strong, India."
Guo Guangchang, Chair of Fosun International, said on his social media account: "Today... countries have extensive converging interests and are mutually dependent. Together let's join hands to fight the pandemic."
In another video clip shared by Sun, workers of a Chinese oxygen generator manufacturer, Zhengzhou Olive Electronic Technology, were seen producing and packing generators during the May Day holiday.
According to Qu Yunping, sales manager of the company, they received orders for 18,000 oxygen generators from India at the end of April. To meet the need, Zhengzhou Olive added another production line with workers operating overtime to manufacture more than its daily production capacity of 700.
An Junhong, in charge of quality supervision in the factory, said they were working from 8:00 a.m. to 8:30 p.m. each day. The 40-year-old said she learned about the COVID-19 situation in India by browsing on her mobile phone. "So it is not just about doing our job," she said. "It is a matter of life and death. I think we help save lives."
Many Indians took to social media to thank China for the support.
"Thank you very much for doing overtime work for India and making quick supplies," a user calling himself Pankaj Trivedi commented on the Chinese ambassador's account.
Another person, Vikram Singh, wrote that "a close neighbor is better than a distant relative," adding, "We must enhance mutual understanding, trust and goodwill, driving relations forward."
"Thanks, China," wrote a third user calling himself Aditya. "Hope this help paves way for the recovery of the relationship of neighbors." BR
This is an edited excerpt of reports by Xinhua News Agency
(Print Edition Title: A Neighborly Act)
Copyedited by Sudeshna Sarkar
Comments to yanwei@bjreview.com