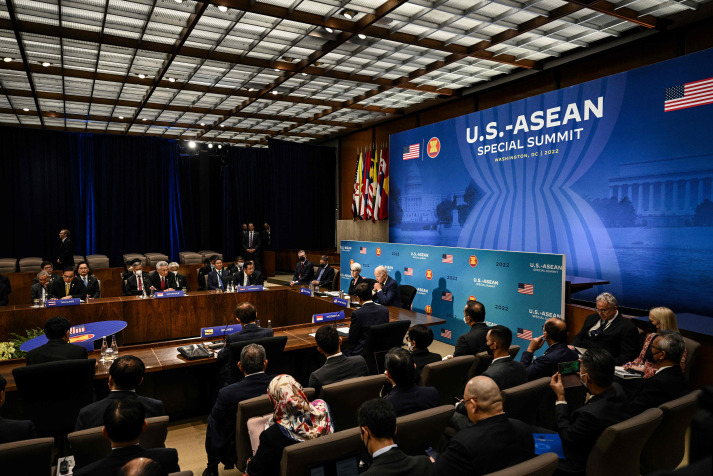 The U.S.-ASEAN Special Summit takes place in Washington, D.C. on May 13 (VISUAL PEOPLE)
In the words of U.S. President Joe Biden, his first summit in Washington, D.C. with leaders from the Association of Southeast Asian Nations (ASEAN) marked the launch of a "new era" in the U.S. relationship with the 10-nation bloc.
The gathering, taking place on May 12-13, officially commemorated 45 years of U.S.-ASEAN ties. It was set for late March but was postponed due to scheduling issues. However, except for being present at a welcome dinner, Biden spared just two hours for a group meeting with the eight visiting Southeast Asian leaders. There were no bilateral meetings. Philippine President Rodrigo Duterte skipped the summit because his country is in a political transition. Myanmar's leader was excluded from the meeting over its domestic problems.
In a joint statement released after the meeting, the two sides took what analysts called a symbolic step of committing to uplift their ties to a comprehensive strategic partnership at the 10th ASEAN-U.S. Summit, to be held in Cambodia in late November.
The timing itself speaks about why the summit was held. "It is being held as war rages in Ukraine, demonstrating that the U.S. has not lost its focus on the Indo-Pacific," read a recent article in Foreign Affairs magazine, continuing that "Biden seeks to better position his country in the wider geopolitical competition with China."
Staying cautious
The importance of Southeast Asia to the U.S. so-called Indo-Pacific Strategy is self-evident. By enhancing its relations with these nations, the U.S. aims to strengthen its presence and influence in the region, and try to drive a wedge between China and ASEAN, Liu Lin, a researcher with the Academy of Military Science of the People's Liberation Army, said.
In a media briefing on April 16, then White House Press Secretary Jen Psaki said the summit would demonstrate the United States' "enduring commitment to ASEAN, recognizing its central role in delivering sustainable solutions to the region's most pressing challenges."
However, ASEAN countries as a whole remained cautious. Indonesian President Joko Widodo said before the meeting, "Indonesia expects this special summit will produce a partnership that can contribute to peace, stability, and regional welfare."
In his speech in Washington, Vietnamese Prime Minister Pham Minh Chinh said, "Between independence and dependence, our choice is always independence… Between negotiation and confrontation, we choose negotiation. Between dialogue and conflict, we choose dialogue. And between peace and war, we choose peace. Between cooperation and competition, we choose cooperation."
ASEAN countries "would continue to find a balance point" between the U.S. and China, Sourabh Gupta, a senior fellow at the Washington, D.C.-based Institute for China-America Studies, told China Daily.
The U.S. has been unable to exert pressure on ASEAN over the ongoing Russia-Ukraine conflict, with most of the 10-member bloc abstaining from voting in favor of a resolution to suspend Russia from the UN Human Rights Council on April 7, Azmi Hassan, a senior research fellow at Nusantara Academy for Strategic Research, told Xinhua News Agency. Long adhering to an independent foreign policy, ASEAN members have called for the crisis to be solved through negotiation and dialogue.
During a visit to China in April, Thai Deputy Prime Minister and Foreign Minister Don Pramudwinai said he appreciates China's objective and fair position on the conflict, adding that "Asian countries should maintain peace and stability in the region, jointly resist unilateral sanctions and long-arm jurisdiction that have no basis in international law, and prevent attempts to create tensions and replicate crises in the region."
Hassan echoed Gupta's sentiments, saying the U.S. will find itself unable to make any headway among ASEAN members, especially after Malaysia and Indonesia voiced concerns over the Australia-UK-U.S. security partnership, saying it could lead to a major arms race in the region.
Taking sides?
Biden pledged $150 million to ASEAN members for areas including infrastructure, security, pandemic preparedness and clean energy at the recent summit. "Still, U.S. spending pales in comparison to that of China," commented one Reuters report.
In November 2021 alone, China pledged $1.5 billion in development assistance for ASEAN over three years to fight COVID-19 and fuel economic recovery.
Jack Midgley, the principal of global consultancy Midgley & Co and an adjunct associate professor in the Security Studies Program at Georgetown, told China Daily that $150 million was "just a very small amount of money spread across a lot of different programs."
The primary concern of the summit was ensuring a so-called "free and open" Indo-Pacific, said Lee Pei May, an expert at the International Islamic University Malaysia.
If the Biden administration wants to advance its vision, it has to get ASEAN countries on the U.S. side, according to Lee. "Such moves can be interpreted as challenging China's position in the region and hindering peaceful progress between China and ASEAN countries," she said.
Cambodian Prime Minister Samdech Techo Hun Sen, however, has made it clear that "we don't have to choose between the U.S. and China."
Last October, Biden announced during the East Asia Summit that the U.S. will explore the development of an Indo-Pacific Economic Framework (IPEF) that will define shared objectives around trade facilitation, standards for the digital economy and technology, supply chain resiliency and other areas of shared interest.
"Some regional partners expressed concern that the IPEF is primarily a political endeavor meant to counter China, rather than a sincere and thoughtful economic policy integration initiative," said a report by the U.S. Center for Strategic and International Studies in April.
The U.S. did not release more details about the IPEF and did not mention it in the joint statement, indicating that there are still differences between the U.S. and ASEAN on this issue, Liu stressed.
"ASEAN countries do not want to see conflicts between the U.S. and China, nor are they willing to take sides. Instead, it tends to adopt a relatively balanced policy while maintaining close ties with both countries. This approach is in the best interests of its member nations," Sun Xihui, a researcher with the Chinese Academy of Social Sciences, said.
The trade volume between the U.S. and ASEAN in 2021 was $379 billion, while that between China and ASEAN in the same period reached $878.2 billion. China is the bloc's largest trading partner, and all its members have signed cooperation agreements with China under the Belt and Road Initiative.
"Playing small clique politics and forcing others to take sides—Washington's old tricks to gain geopolitical interests—work against ASEAN's will to uphold regional peace and stability and to realize sustainable economic development," read a Xinhua commentary.
(Print Edition Title: Balancing or Dividing?)
Copyedited by G.P. Wilson
Comments to mamm@cicgamericas.com