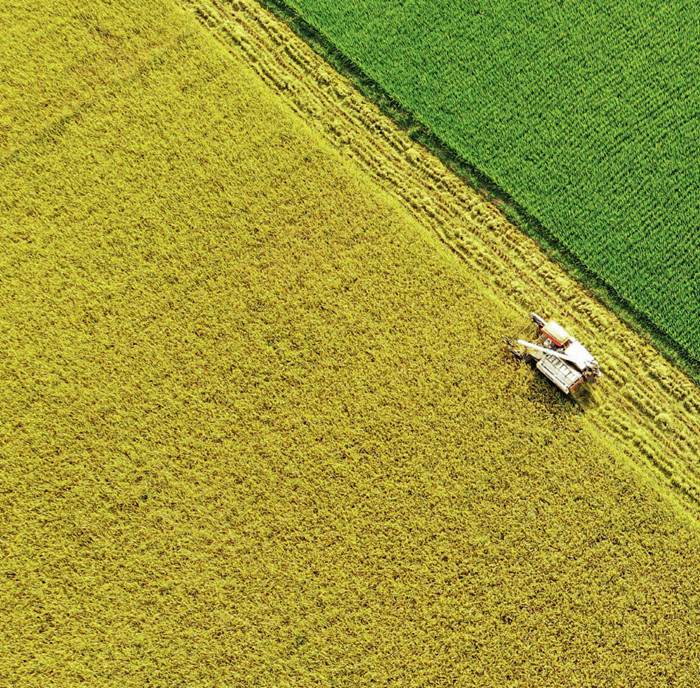 Villagers drive a harvester to reap high-quality rice in Yongzhou City, Hunan Province (VCG)
The effects of the conflict between Russia and Ukraine, known as the "breadbasket of Europe," are being felt at the supermarkets. According to the March bulletin of the UN Food and Agriculture Organization (FAO), the food price index has jumped to an all-time high. It is nearly 30 percent above the levels seen at this time last year and well above the 2011 record. The UN agency has warned that global food prices could rise by as much as 20 percent in the wake of the crisis. Global food security therefore has become a major concern.
The stakes are equally high for China, which must feed one-fifth of the world's population while having just 9 percent of the world's arable land and 6 percent of the world's fresh water. Indeed, food security has long been a top priority for the government. The Chinese Government has placed agriculture, rural development, and farmers top on its agenda for 19 years in a row in its "No.1 Central Document," the year's foremost policy document released in February. President Xi Jinping always underlines the importance of food security for national growth and the wellbeing of the Chinese people. According to Xi, this is one of the country's supreme interests and it is imperative to feed the Chinese people with the products of the country's own agriculture.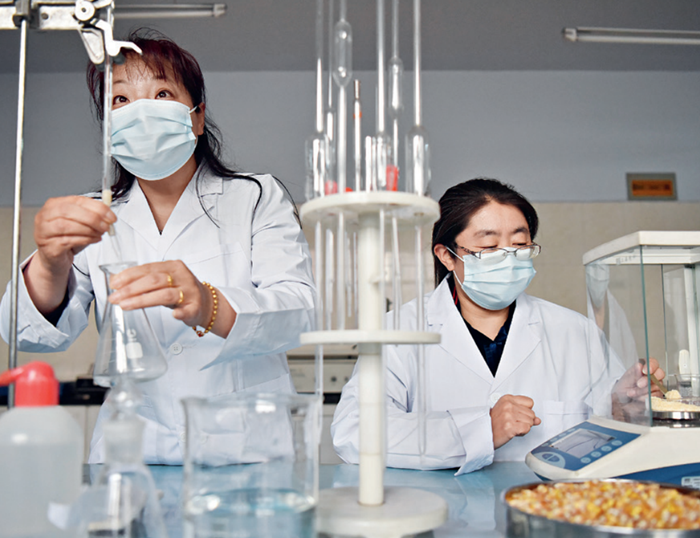 Laboratory workers test corns at Chenfeng Grain Reserve Co. Ltd. in Xuanhua District of Zhangjiakou City, Hebei Province, on April 20 (CNSPHOTO)
A high level of autonomy
"Both Ukraine and Russia are sources of China's imports of agricultural products and materials for China; however, the impact of their conflict on China's basic grain market is limited," Qian Jingfei, an assistant researcher at the Institute of Agricultural Economics and Development of the Chinese Academy of Agricultural Sciences, told ChinAfrica. Statistics from the National Bureau of Statistics show that China's grain output in 2021 exceeded 680 million tons, surpassing the 650-million-ton mark for the seventh year in a row. Its self-sufficiency rate of the three main grains – rice, wheat and corn - has now topped 98 percent, and has accounted for more than 95 percent of consumption every year since 2005, meeting the basic grain self-sufficiency criteria. According to the General Administration of Customs, China's wheat imports from Russia accounted for barely 0.5 percent of the country's overall imports. While Ukraine and Russia supplied 30 percent of China's corn imports, they were mainly utilized for animal feed processing.
Nonetheless, according to Qian's predictions, feed grain and vegetable oil costs will grow. Indeed, the country imported 3.21 million tons of barley from Ukraine last year, or 26 percent of its total imports; of the 1.27 million tons of sunflower oil China imported in 2021, a total of 890,000 tons came from Ukraine and 360,000 tons from Russia.
The conflict is also likely to increase the cost of agricultural materials, the expert predicted. In China, fertilizer and machinery account for more than a third of the total cost of grain production. Last year, the country imported 30 percent of its potash fertilizer from Russia, the world's largest fertilizer producer and exporter. The shortage of supply in the global fertilizer market due to the crisis will drive up fertilizer prices, reducing income from agricultural activity.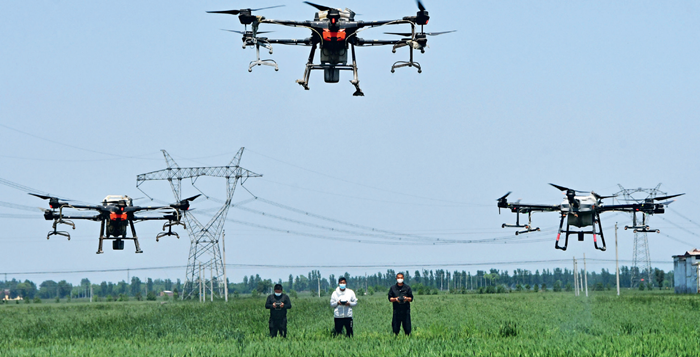 Drones spray pesticide above a wheat field in Yongnian District, Handan City, Hebei Province, on May 13 (CNSPHOTO)
A firm response to external uncertainties
While China maintains a high degree of food self-sufficiency, it does rely on the international market to some extent to guarantee its supply, as researchers have revealed. Figures from the General Administration of Customs show that last year, the country imported 165 million tons of grain, making it the world's largest grain importer. Soybeans account for the majority of its agricultural imports, totaling 96.5 million tons, with a 90-percent reliance on imports.
Faced with a worldwide supply chain disruption, President Xi stressed the need of stabilizing the agriculture industry and ensuring the country's food security. "It is wrong to think that food supply is no longer a problem in an industrialized society, or to count on the global market to solve the issue," he said. Thus, he called for greater efforts to optimize geographical distribution and stabilize basic grain production, while expanding soybean and oilseed production.
In response, the Ministry of Agriculture and Rural Affairs released an action plan on expanding soybean and oilseed planting in April. According to the plan, the country will plant more than 973,300 hectares of soybeans and 300,000 hectares of oilseeds, including rapeseed, sunflower and peanuts, on state-owned farms this year, mainly in the northeast of the country. At the same time, a project to plant soybean and corn on a trial basis in 16 provinces of the country will be implemented this year.
Corn production is expected to reach 273 million tons by the end of this year, nearly the same as in 2021; soybean production is expected to reach 18.48 million tons, up 18.8 percent year on year; and vegetable oil production is expected to reach 29.25 million tons, up 1.1 million tons from last year, according to the ministry's forecast.
In March, the Ministry of Finance announced a 20-billion-yuan ($2.95 billion) fund to help grain farmers. It is aimed at offsetting the impact of higher planting costs due to rising agricultural material prices and reinvigorating farmers' enthusiasm for grain production. At the same time, 1 million tons of national potash fertilizer reserves have been released on the market to stabilize the spring planting.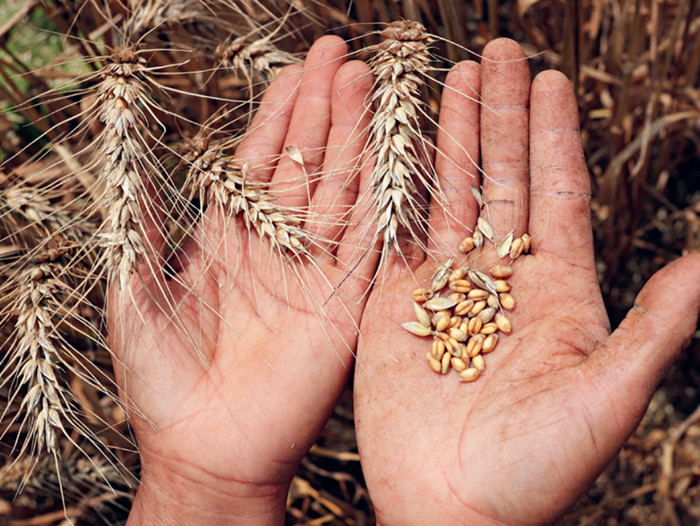 The high-quality wheat plantation in Zhongfang Village, Renhe Town, Shehong City, Sichuan Province, ushers in a bumper harvest in May (CNSPHOTO)
A global vision for food
While President Xi emphasizes the necessity of preserving a red line of 120 million hectares of cultivated land and assuring yearly grain output of more than 650 million tons, he also wants to promote a global food vision.
According to Cheng Guoqiang, a professor of agricultural development at Shanghai Tongji University, as China's GDP per capita rises above $10,000, grain demand is expected to decline in the future, with a corresponding increase in demand for livestock products such as meat, eggs and milk, as seen in developed Asian countries such as Japan and the Republic of Korea.
These changes in the food structure have prompted the government to carry out supply-side structural reform in agriculture since 2014, to improve the nutritional quality of food rather than just seeking to increase grain production. The holistic view of food was first put forward at a conference on rural work in Beijing in 2015, before being included in the "No.1 Central Document" the following year, as a primary component of supply-side reform. At this year's session of the National Committee of the Chinese People's Political Consultative Conference in March, President Xi reiterated its importance in meeting people's aspirations for an ever more diverse diet.
He believes it is critical to secure both grain supply and the effective provision of diverse foods, such as meat, vegetables, fruits, and aquatic products, all of which are necessary.
The fight against food loss and waste
Whether the harvest is good or bad, food security, a top priority in China, is reflected in a strong agricultural development policy and many concrete actions on a daily basis. One example is the anti-waste campaign. President Xi announced the campaign in mid-August 2020, with the goal of balancing increasing urbanization with food security at a time when China is embracing green and sustainable development.
Restaurants throughout the country are now taking steps to encourage and reward customers who complete their meals, request smaller servings, or restrict their orders.
"Given its limited arable land and huge population, it is difficult for China to significantly increase its food production continuously," Cheng Guangyan, Director of the Policy Research Center on Animal Food and Nutrition of the Institute of Food and Nutrition Development (IFND) of the Ministry of Agriculture and Rural Affairs, told ChinAfrica. "Therefore, there is a need to adapt our traditional mindset and prevent food loss and waste during harvesting, transportation, storage, processing and consumption."
According to IFND's estimation, food loss rate in China stands at 14.7 percent, close to the world average (13.8 percent), lower than in South and Central Asia (20.7 percent), and higher than in some developed countries such as Australia and New Zealand (5.8 percent).
"The next 15 years represent a critical period for advancing the Healthy China initiative and modernizing our agricultural system," Cheng said. "Faced with increased resource fragilities and growing population demand, intensifying efforts to prevent and reduce food loss and waste would bring many economic and environmental benefits that will ultimately contribute to building a modern socialist country in a comprehensive way."