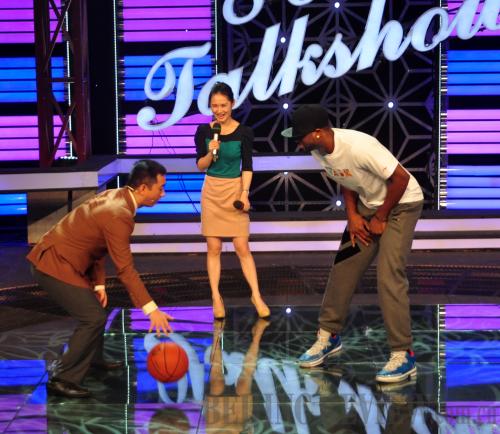 GAME ON: Wang Zijian (left) plays basketball with guest Dwyane Wade from the United States on Tonight Talk Show by Post 80s in Shanghai on July 8, 2013 (CFP)
Xi Jiangyue, (real name Mu Dequan), is a man with big dreams—bringing Western-style stand-up comedy to the Chinese people who are stressed out from keeping the world's fastest-growing economy running. And his dream is nearing fruition: The Beijing Talk Show Club he founded is currently the biggest stand-up comedy club in China.
Xi, 32, was born in northwest China's Gansu Province. He graduated from a local university with a degree in civil engineering. Afterwards, he started a business in house renovation and interior decoration. But when his company went bankrupt several years later, Xi took a new direction and founded a stand-up comedy club in 2010 in Beijing and became a comedian himself.
"I'm actually more of a literature-and-arts kind of person, and in university I started an amateur drama club," Xi said to Beijing Review. "In 2004, I started following various U.S. television talk shows online. Eventually I decided to try to make a new life through the performance style."
In 2006, Xi came to Beijing to put his ideas into action. He and a friend staged a few stand-up comedy performances at bars. In the beginning, few people showed up to watch. Before long, Xi's partner left him.
To draw attention from the public, Xi spread his idea of starting a stand-up comedy club and his own performing experiences on the Internet. His story resonated with many other comedy fans, many of whom supported his plan.
Since last year, Xi recruited about 40 amateur stand-up comedians through social networks to join his organization, dubbed the Beijing Talk Show Club. They made Hot Cat Club one of their regular sites to perform stand-up shows for free as a part of their promotional efforts.
"The hardest time has passed," Xi said. "Currently, we organize four to six gigs every week, which have attracted a lot of young professionals and college students."
Laughing it up
Although stand-up comedy originated in the United States, Chinese white-collar workers in metropolises such as Beijing are particularly interested in it.
"Most of our performers and audience members are young professionals," Xi said.
Yang Shaohua, 27, works in Beijing and is a member of Xi's club, where he often shares funny stories at regular gigs.
Yang told Beijing Review that he joined the club in order to help deal with his own depression caused by overwork.
"Personally, I'm not really a big talker; and I don't usually tell others when I'm upset," Yang said.
Yang eventually went to a hospital for insomnia, where the doctor told him to be more social in order to help manage the stress. It was then that he made the move to enter the stand-up community.
Yang contacted Xi and became a member of the club. Even as a newcomer, Yang was soon asked to get on stage to perform.
"Talking to strangers is really a challenge for me, but I wanted to test myself," Yang said. "I was so nervous when I did my first five-minute set that my hands were sweating."
To prepare for his debut, Yang spent several days writing down his jokes, thoughts, and embarrassing moments that had happened to him.
"Generally, it was good. At least I did it, and I was able to stay relaxed," Yang said.