The 19th World Congress of the International Federation of Translators (FIT) was held in San Francisco from August 1-4. Huang Youyi, Vice President of China International Publishing Group, has just completed a term as FIT vice president. At the conference site on August 1, Huang talked to Beijing Review on his role in the FIT, as well as the development of the language service industry in China.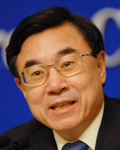 (WEI YAO)
Beijing Review: You served nine years as council member of the FIT and six years as its vice president. Could you summarize your achievements when working for the international body?
Huang Youyi: The world knew almost nothing about China's translation and interpretation community before we joined the FIT in the 1980s. As China's reform and opening up deepened and globalization gained force, the country's translation and interpretation services have grown rapidly. We have been working hard in the past few years to introduce China's translation activities to the world.
It was unimaginable so many people in the field of translation and interpretation around the globe were trying to understand China, even visiting China for this purpose. The most salient moment for China's translation and interpretation field was when Shanghai hosted the last FIT World Congress in 2008. Through joint efforts, our counterparts abroad are fostering interest in the development of China's market in translation and interpretation. Meanwhile, Chinese professionals in the industry are getting to know global practice better and benefiting from the development of international translation and interpretation.
What is worth noting is when we take part in the FIT, we are not only engaging in regular international exchanges, but also participating in decision-making on the rules of play. That is a breakthrough, as the FIT is quite European-centered, since it was established in Europe. More than half of its members are European countries.
How will you continue to play a role in promoting translation and interpretation services after your retirement from FIT?
I will continue to do my bit for the industry within the framework of the Translators Association of China (TAC). Translation and interpretation act as bridges between different cultures. I enjoy doing this.
Huang Changqi, Assistant to the President of the TAC, was appointed council member of the FIT at this congress, winning 42 of 43 votes. She will work at the front, and we will support her. With this working mechanism, China's bond with the international translation and interpretation field will be further strengthened, and we can better present China's culture to the world.
The TAC is the only national association in the fields of translation and interpretation in China. How does it carry out its work?
The TAC promotes the development of the industry of translation and interpretation. It conducts industry research and publishes industry information. The TAC set up the Institute for China Translation Development jointly with a leading university in Beijing in June 2011 to conduct industry research on a regular basis and provide reports on the various aspects of the language service industry.
The association also trains the trainers and helps identify qualified professionals as trainers. We will continue the CATTI (China Accreditation Test for Translators and Interpreters) qualification program. In the meantime, we will expand training and certification schemes to cover not only translation and interpretation in specialized fields such as finance, law and medicine, but also language-related knowledge and skills such as localization and project management.
The TAC also organizes forums and conferences to promote discussion and exchange. Each year, TAC organizes or co-organizes a number of national and international events to facilitate exchanges between players in the industry.
What is the biggest challenge facing China's translation and interpretation industry?
Nowadays, there is no clear specification in the translation and interpretation market. Many practices are not standardized. A lot of jokes about poor translation are popular, both among foreign visitors and ourselves. That is because many are doing work they are not qualified to do.
TAC has called for setting up entry requirements to ward off unqualified service providers. This can only be achieved through legislation. Therefore, TAC will advocate and lobby for a law on translation. This will be a long-term task, but TAC has begun by making an investigation of translation-related legislation around the world, and submitting a proposal to the Chinese People's Political Consultative Conference, the country's top advisory body. TAC has also drafted three standards on the provision of translation services, interpreting services and the quality of translated text, and has been promoting standards among its members.
How has the development of translation and interpretation in China contributed to the country's reform and opening up in past decades?
Without the efforts of translators and interpreters, there would have been no reform and opening up at all. The core of the reform and opening-up drive in early stages is to acquire advanced knowledge, technology and management experience from developed countries. Almost everything is realized with the help of translation and interpretation.
China is playing an increasingly bigger role on the world arena. Translation and interpretation will continue to help in this regard. Mastering these skills, many people can better exchange ideas with foreign counterparts and present themselves to a global audience, and more Chinese enterprises investing overseas can go further with the help of translators and interpreters.
More and more foreigners are learning Chinese. Will the trend lower the need for translation and interpretation?
I don't think so. Many may learn everyday Chinese. But to read academic books, to watch movies or TV programs, to understand technical terms demand quite good knowledge and practice of the Chinese language.
As more people learn Chinese, more foreign people can help to introduce China to the world. Understanding Chinese, they can do a much better job than we can. They have the advantage of understanding Chinese and being able to express it in their mother tongues.
Therefore, the trend of greater numbers of people learning Chinese will only promote translation and interpretation between Chinese and foreign languages.