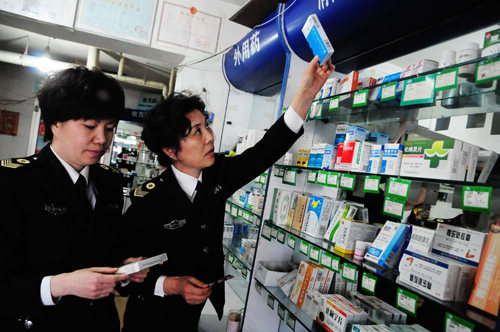 VITAL INSPECTIONS: Drug safety regulators inspect a drug store for unsafe capsules in Qingdao, east China's Shandong Province, on April 16 (YU FANGPING)
Blog posts explaining how to take pills without eating the shells of pharmaceutical capsules recently went viral on the Internet in China. Those taking capsules are advised to bury the contents of the capsule inside a piece of bread, cucumber or banana and then swallow the whole thing. One post suggests making glutinous rice balls, a popular snack with sweet fillings, with the capsule's contents as filling.
These novel ways of ingesting medication aren't simply a fad or some new online amusement. Rather, they are serious measures being taken by Chinese consumers to protect themselves from being poisoned after a toxic gelatin capsule scandal was revealed by the media.
A total of 13 commonly used drugs were found to be packed into gelatin capsules made from industrial gelatin, which contains a much higher degree of chromium than edible gelatin, China Central Television (CCTV) reported on April 15 in a program on quality standards.
Edible gelatin, which is more expensive than industrial gelatin, is made from animal bones and leather. Gelatin for industrial use is made from waste leather products, such as shoes and handbags, which are usually highly contaminated by chromium, as a result of the tanning agent used when processing leather. Chromium can be toxic and carcinogenic if ingested in excessive amounts.
The Chinese Pharmacopoeia, a code representing the national standard for drugs, has set a clear standard for capsules and requires drug makers only to purchase capsules from manufacturers with appropriate drug-making licenses.
The code stipulates that the content of chromium in capsules and the gelatin for making them must be no more than 2 mg per kg, or 0.0002 percent. According to the CCTV report, some of the most contaminated capsules contained 181.54 mg of chromium per kg or more than 90 times the upper limit.
An employee with a capsule factory in Xinchang, Zhejiang Province, said that industrial gelatins, secretly used by local producers, could significantly reduce the costs and were thus very popular despite the fact that its chromium content exceeds the national standard, according to the CCTV report.
Amid the public uproar, a gelatin factory involved in the scandal resorted to arson in hopes of covering up the truth.
Police in Fucheng County, north China's Hebei Province, said that Liu Aiguo, a staff member of the Xueyang Glair Gelatin Factory, set the office building of the factory on fire on April 15 after its name appeared in the CCTV report on toxic capsules. Song Jianxin, a former local official and brother of the legal representative of the factory, allegedly masterminded the arson, in an attempt to destroy computers, account books and files in the factory.
The factory produced about 280 tons of gelatin a year and employed 32 workers. Its products, mainly industrial gelatin, were sold to other factories or customers in Beijing and coastal Jiangsu, Fujian as well as Zhejiang provinces.
The arsonist initially escaped through the back gate of the plant, but he was later apprehended by the police. Both Song and Liu are in police custody pending further investigations, the police said.
Online rumors said that industrial gelatin may also have been used in the production of solid yogurt and puddings, but major dairy producers have dismissed the allegations as forged.
The State Food and Drug Administration (SFDA) issued an emergency notice on April 15 and ordered 13 medications produced by the nine pharmaceutical companies named in the CCTV report to be suspended from distribution and use until they are cleared by an authorized lab analysis. In the same notice, the administration ordered provincial-level food and drug safety watchdogs concerned to investigate the cases and examine the drugs mentioned in the CCTV report.