Painter Made Academician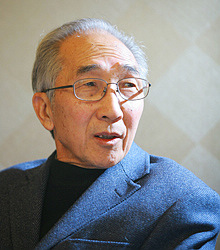 (CFP)
Jin Shangyi, one of the representatives of China's contemporary oil painting artists, was chosen among the first group of 16 academicians of the Academy of Traditional Chinese Paintings (ATCP).
Selecting its first group of academicians in the areas of culture, art and social sciences was a courageous experiment to enhance the international influence of the art of China's painting, said ATCP President Yang Xiaoyang.
Jin, 77, graduated from the China Central Academy of Fine Arts (CAFA) as a post graduate majoring oil painting in 1957 and began teaching in CAFA's oil painting department in 1962. He became CAFA's vice president in 1983 and president in 1987. He is now honorary president of the Chinese Artists Association and a CAFA professor.
As one of China's first generation of oil painters, Jin is known for his works of revolutionary and history subjects. His artistic ideas and practice have influenced a large number of the country's oil painters and brought about changes in the oil painting industry in China since the 1980s.
Jin's masterpieces, including The Bride of Tajik and Qu Qiubai, are now collected by many national-level domestic and foreign museums and institutions.
Young IT Star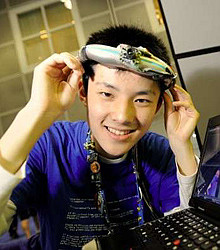 (FILE)
Xue Lai, a senior middle school graduate in Chengdu, Sichuan Province, won the Best of Category Award in Computer Science at the 2011 Intel International Science and Engineering Fair (Intel ISEF) on May 16 in Los Angeles, the United States. The Intel ISEF is the world's largest pre-college science fair competition and attracted more than 7 million high school students from around the world this year. This is Xue's third consecutive win at the event.
Xue, 19, showed great interest and talent in computer science at an early age. After winning an award at the 2009 ISEF with his teammates, he had a small asteroid named in his honor. On March 21, 2010, Xue was chosen as one of the World Most Influential Chinese People at the 2009-10 You Bring Charm to the World Awards Ceremony. Xue has received offers from prestigious universities in the United States.
Fraudulent Musician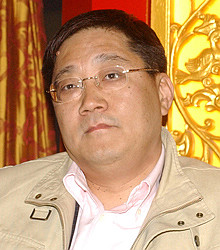 (CFP)
Su Yue, a well-known composer, pleaded guilty on June 20 to contract fraud in the name of a bogus Olympic tour involving 57.46 million yuan ($8.7 million). Su said the money had been spent paying back debt caused by poor management of his own company.
The charge in Beijing Second Intermediate People's Court said, from December 2007 to October 2008, Su forged materials purportedly arranging an Olympic tour to celebrate the 2008 Beijing Olympic Games and defrauded money from two companies and another person using counterfeited contracts. The court hasn't announced the verdict yet.
Su is a senior composer, musician and musical producer. He is a director of the Music Copyright Society of China and a member of the Chinese Musicians Association. During the 1980s, he wrote many popular songs and cultivated many popular singing acts.
"The disputes should be resolved through direct negotiations between the countries involved. Freedom of shipping in the South China Sea has never been affected by the disputes, and there has never been such a problem before."
Chinese Foreign Ministry spokesman Hong Lei, at a press conference on June 28 in Beijing
"The persistent U.S. discrimination against China is not in line with efforts to establish a cooperative Sino-U.S. relationship of mutual respect that benefits each other."
Yao Jian, spokesman of the Chinese Ministry of Commerce, on June 28 on the ministry's website saying China was deeply disappointed at the United States' decision to control exports of hi-tech products to China
"Taiwan sold commodities worth a total of $1.56 billion to the Chinese mainland in the five months after the Chinese mainland and Taiwan officially implemented the Economic Cooperation Framework Agreement on January 1."
Yang Yi, spokesman of the State Council's Taiwan Affairs Office, on June 29 in Beijing
"If I have a message to get across tonight for Greece, it is a call to Greek political opposition that it should join a national agreement with the present ruling party."
Christine Lagarde, newly elected Managing Director of the International Monetary Fund, on June 28 in Paris, calling on Greece to work toward a national agreement for an austerity budget to pass through parliament
"The most serious and immediate risk to the UK financial system stems from the worsening sovereign debt crisis in several euro-area countries."
Mevyn King, Governor of the Bank of England, on June 24 in London