Neurosurgeon Honored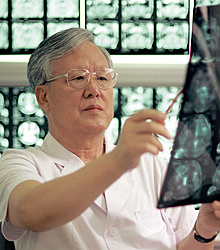 (XINHUA)
Wang Zhongcheng, China's distinguished neurosurgery expert, has been selected as one of the 50 outstanding members of the Communist Party of China (CPC).
Wang, 86, is now director of the Beijing Neurosurgical Institute and academician of the Chinese Academy of Engineering. As the pioneer of Chinese neurosurgery, he initiated the examination of cerebral angiography in the 1950s, making great improvements to diagnostic techniques in neurosurgery. In the 1980s, he took the lead in clinical and basic research on brain stem tumors and then in the therapy of intramedullary tumor, both advanced global achievements.
Wang had been honored with countless national and international awards for his outstanding contributions to the rapid development of neurosurgery in China. He was awarded the top State Science and Technology Award in 2008.
Football Sponsor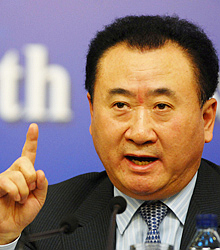 (CFP)
Wang Jianlin, Board Chairman and President of Dalian Wanda Group Corp. Ltd., has signed a contract with the Chinese Football Association, promising sponsorship of at least 500 million yuan ($76 million) in three years to revitalize China's football industry. The sponsorship is the biggest in the history of China's sport industry.
The money will mainly be used to recruit new young talent, said Wang.
Wanda Group is not new to the football scene in China. In 1993 the group established a professional team, called Dalian Wanda Football Club, the most successful one in China. But in 2000 the group withdrew from football games out of disappointment at the development of Chinese football.
Wang, 57, ranks 16th on Forbes' magazine's 2010 China Rich List.
He is also known for his generosity and devotion to charity. The website of Wanda Group says, over the past 20 years, 2.7 billion yuan ($410 million), either from Wang's personal wealth or company profit, has been given out in philanthropy. In November 2010, Wang donated 1 billion yuan ($152 million) from his personal finances for the restoration of the Dabaoen Temple in Nanjing, Jiangsu Province, the all-time largest donation from an individual on the Chinese mainland.
Goodwill Ambassador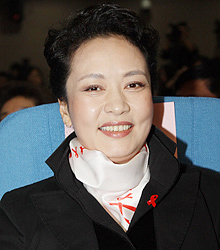 (CFP)
Peng Liyuan, a famous Chinese soprano, has been appointed as a Goodwill Ambassador for Tuberculosis and HIV/AIDS of the World Health Organization (WHO).
"Peng has long worked in areas ranging from the care of AIDS orphans to advocating the importance of HIV testing and taking appropriate protective precautions," said Margaret Chan, Director General of the WHO.
Peng is China's first master in national vocal music. With numerous honors bestowed on her nationally and internationally, Peng is a star with a huge and respectful audience of admirers.
Besides being a successful singer, she is also devoted to social welfare and charity causes. At the beginning of 2006, Peng became a volunteer of the Chinese Ministry of Health for advocating the importance of preventing AIDS. She was also appointed National Ambassador for Tuberculosis Control and Prevention in March 2007.
"Big lenders should develop financial products and increase support for small businesses, while city commercial banks, rural banks, rural credit cooperatives and small-loan firms should try to focus their efforts on serving small businesses, rather than focusing on expansion."
Chinese Vice Premier Wang Qishan, at a symposium on financial services to small businesses during an inspection tour in Shijiazhuang, capital city of north China's Hebei Province, on July 1-2
"The social insurance system is a crucial part of the country's social security net, and the Social Insurance Law has established a social insurance system which encompasses the old-age pension, basic medical care insurance, work-related injury insurance and unemployment insurance as well as maternity allowances."
Hua Jianmin, Vice Chairman of the Standing Committee of China's National People's Congress, speaking at the launching ceremony of a week-long national campaign to promote the new law in Beijing on July 4
"Anti-corruption is not simply the internal affair of a single country, but an issue that requires the attention and active response of all countries and their anti-corruption agencies."
Chen Lianfu, Director of the General Bureau of Anti-Embezzlement and Bribery with China's Supreme People's Procuratorate, calling on the international community to actively push forward bilateral and multilateral cooperation in the prevention and fight against transborder corruption during an interview with Xinhua News Agency on July 5
"China has been both more pragmatic and balanced. Given China's increasing role in the global economy, it's time for China's voice to be more strongly heard."
Joseph Stiglitz, a Nobel laureate in economic sciences and a professor at Columbia University, in an interview with Xinhua News Agency on July 5 when attending the 16th World Congress of the International Economic Association held at Tsinghua University in Beijing