Centenarian Scholar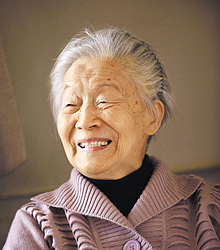 (FILE)
Yang Jiang, the famed Chinese translator and writer, celebrates her 100th birthday on July 17.
Yang graduated from Soochow University in 1932 and undertook further study in Britain and France from 1935 to 1938. After returning to China, she first taught in universities in Shanghai and Beijing, and then became a researcher at the Institute of Literature and the Institute of Foreign Literature under the Chinese Academy of Social Sciences.
During her long career Yang translated a number of books, but her most famous work is her translation of Miguel de Cervantes' masterpiece Don Quixote (1978). Her translation is regarded as a work of art in its own right.
Yang's fluency in English, French and Spanish, ensured the accuracy of her translation, and it remains the most widely circulated of all the translations of the Spanish classic.
Yang has also published a number of original scripts, novels and essays during her prolific life. Her late husband Qian Zhongshu was also one of the most famous writers and translators in China.
IMF Deputy Chief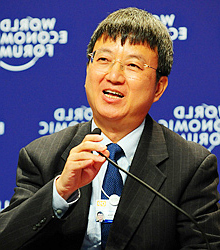 (REN YONG)
Zhu Min, current special advisor to the managing director of the IMF, was nominated the IMF's deputy managing director by Christine Lagarde, the IMF's newly appointed managing director, on July 13, 2011.
Lagarde has proposed that Zhu assume his duties in the new position on July 26. If the proposal is approved by the executive board of the IMF, Zhu will become the first Chinese to hold the post.
"Zhu has a wealth of experience in government, international policy making and financial markets, as well as strong managerial and communication skills. He has an excellent institutional understanding of the Fund, and I look forward to his counsel," said Lagarde.
Zhu, 59, graduated in economics from Fudan University in Shanghai in 1982. Between 1985 and 1990 he earned his master's degree and doctoral degree in economics from Johns Hopkins University in the United States.
Zhu worked as an economic consultant at the World Bank from 1990 to 1996. After working for the Bank of China from 1996 to 2009, where he was appointed assistant to the governor and deputy governor from 2003 to 2009, he joined the People's Bank of China, the central bank, and served as its deputy governor from 2009 to 2010. He was appointed special advisor to the managing director of the IMF in May 2010.
Record-setting Medalist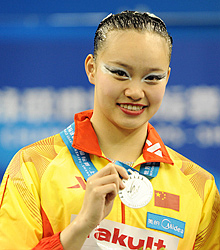 (YANG LEI)
Huang Xuechen, a Chinese water ballet swimmer, won a record-setting silver medal in the technical solo finals of synchronized swimming event at the 14th FINA World Championships in Shanghai on July 17.
Huang's silver medal is the first won by a Chinese synchronized swimmer.
"It's China's first solo silver medal at the world championships. She made history. It really encouraged us. Her dazzling performance gave the whole team a huge confidence boost for next year's bid for gold at the London Olympic Games," said Huang's personal coach Zhang Xiaolei.
Huang, 21, started training as a swimmer at the age of 6. From 2000, she started to learn synchronized swimming in Shanghai and entered the National Youth Team in 2005 and the National Swimming Team in 2006. She was the gold medallist for the solo synchronized swimming event at the 2006 FINA Youth World Swimming Championships.
"Speeding up development holds the key to resolving all issues in Tibet. The economic and social development of Tibet should always aim at safeguarding and improving people's well-being."
Chinese Vice President Xi Jinping, addressing the celebration conference marking the 60th anniversary of the peaceful liberation of Tibet in Lhasa on July 19
"We demand that the U.S. side seriously consider China's stance, immediately adopt measures to wipe out the baneful impact, stop interfering in China's internal affairs and cease to connive and support anti-China separatist forces that seek 'Tibet independence.' "
Chinese Foreign Ministry spokesman Ma Zhaoxu, in a written statement issued in Beijing on July 17 about U.S. President Barack Obama's meeting with the Dalai Lama
"China has long been a big player in providing foreign aid to Africa. To date, the country has helped build more than 2,000 km of railways, 3,000 km of highways, 100 schools and 60 hospitals on the continent, and reduced or remitted debt worth more than 20 billion yuan ($3.08 billion)."
Yao Jian, spokesman for China's Ministry of Commerce, at a press conference in Beijing on July 15
"Invading people's privacy by listening to their voicemail is wrong. Paying police officers for information is wrong. They are inconsistent with our codes of conduct and neither has any place in any part of the company I run."
Rupert Murdoch, Chairman and CEO of News Corp., testifying before a committee of the British Parliament in London on July 19 for a phone hacking scandal
"I can only deplore about it. From our part, we do and we will do everything not to let it happen."
Russian Prime Minister Vladimir Putin, during a meeting with representatives of Russia's civic organizations in Moscow on July 19, saying tension between Russia and Belarus is regrettable
"If you are politically responsible, and this is what the (German) government wants to be, you know that such a spectacular, single step cannot happen, including the (summit) on Thursday."
German Chancellor Angela Merkel, in a press conference in Hanover, Germany, on July 19, saying that the upcoming European Union summit could not bring about a "spectacular" solution for the Greek debt crisis and other euro zone problems