Fugitive Arrested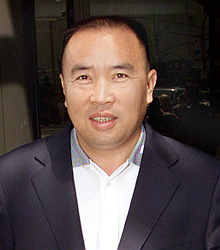 (CFP)
Lai Changxing, the chief suspect in a smuggling operation in Xiamen, Fujian Province, was arrested after being returned to China from Canada on July 23.
Lai, born in 1958, was the former head of the Yuanhua Group and a smuggling ring. An investigation found, from 1996 to 1999, through paying bribes and cultivating connections with local officials, Lai's gang managed to smuggle a range of goods valued at 53 billion yuan ($8.19 billion), from oil and cars to cigarettes, evading taxes of 30 billion yuan ($4.62 billion).
Lai fled to Canada via Hong Kong in August 1999 and tried to obtain refugee status there. He attempted to avoid deportation by claiming he could face the death penalty if he was sent back. But a Canadian court ruled Lai would not be at risk if he was returned to China.
Authorities have not announced charges against Lai, but the customs administration said it was conducting further investigations into the case.
Policeman Praised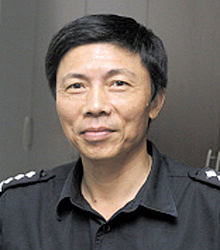 (FILE)
Shao Yerong, a captain of the regimental police division of the Wenzhou Public Security Bureau, is being highly praised by the public for his passion in a rail accident rescue and saving a young girl's life.
On July 23, a disastrous train crash happened near Wenzhou, Zhejiang Province, resulting in a death toll of 39 passengers with hundreds severely injured. Even after there was no sign of life when the accident site had been covered by detection instruments, Shao insisted on searching carriages for any possible survivors before the carriages were moved from the 15-meterhigh track on to the ground.
"At that time, we were not sure there was life or not. If by any chance there was, how could we just stop searching? And if we just stopped, what can we say to the families?" Shao said.
Shao and his team continued the search and rescue work. Twenty-one hours after the accident, they found a 2-year-old girl alive but unconscious in a badly damaged carriage.
Champion Swimmer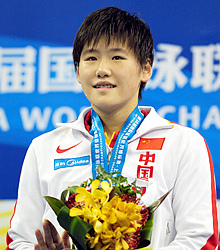 (YANG ZONGYOU)
Ye Shiwen, a teenage Chinese swimming sensation, won the women's 200-meter individual medley at the 14th FINA World Swimming Championships in Shanghai on July 25.
This is the first gold medal in swimming a Chinese competitor has won in this year's championships.
Ye, born in 1996 in Hangzhou, Zhejiang Province, started training as a swimmer at the age of 6. As early as 2008, when she was only 12, Ye won a gold, two silver and two bronze medals in the Zhejiang Provincial Games. After that, she joined Zhejiang Province's swimming squad and was later chosen as a member of the National Swimming Team.
Last year, at the 16th Asian Games, Ye won the women's 400-meter individual medley gold and 200-meter individual medley gold. The talented athlete is said to be a promising championship contender in these events at the 2012 London Olympic Games.
"The outlook for China's exports is uncertain for the rest of the year, and the government needs to keep policies flexible to maintain stable export growth."
Gao Hucheng, Vice Minister of Commerce, at a news conference in Beijing on July 26
"The debt crisis has exposed the structural problems in the Greek economy. It is therefore a must for the country to carry out structural reform and push forward the privatization process."
Chinese Ambassador to Greece Luo Linquan, in an interview with Xinhua News Agency in Athens, on July 24
"Further development of China-ASEAN relations is conducive to the East Asian region's stability and economic prosperity."
ASEAN Secretary General Surin Pitsuwan, during an interview with Xinhua News Agency after China and ASEAN nations reached an agreement in Bali on resolving territorial disputes in the South China Sea on July 21
"If we stay on the current path, our growing debt could cost us jobs and do serious damage to the economy."
U.S. President Barack Obama, warning in Washington, D.C. on July 25 that failure to raise the debt ceiling would severely harm the United States' economy as Washington is running out of time to avert an unprecedented default by August 2
"The euro is part of Germany's economic success. A Europe without the euro is unimaginable, and it is worth every effort."
German Chancellor Angela Merkel, at a press conference in Berlin on July 22, remarking on the new bailout package for Greece hammered out by euro-zone leaders the day before