Record Breaker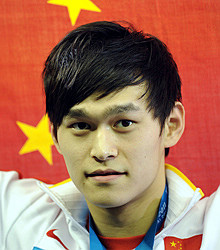 (XINHUA)
Sun Yang, a 19-year-old Chinese swimmer, reset the world men's 1,500-meter freestyle swimming record to 14 minutes, 34.14 seconds on the final day of the 14th FINA World Swimming Championships in Shanghai. The former world record of 14 minutes, 34.56 seconds was set by Australian athlete Grant Hackett in 2001.
Sun set the new record with a dramatic final push in the last 50 meters. At first, Sun trailed world record pace by more than two seconds before producing a searing final two laps. Sun's gold medal was the fifth gold won by China's swimming team. Sun altogether won four medals at this championship: two gold, one silver and one bronze.
In the Guangzhou Asian Games last year, Sun set an Asian record of 14 minutes, 35.43 seconds in the men's 1,500 freestyle.
Noted Musician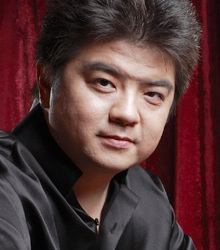 (FILE)
Li Biao, renowned Chinese-German percussionist will perform in the Mercedes-Benz International Music Festival 2011 to be held in Shanghai from August 18 to 21.
Born in Nanjing, Jiangsu Province, Li learned to play percussion instruments when he was only 5 years old. By the age of 7, he had performed as a soloist representing China in many countries. In 1988, Li became the first Chinese percussionist to study in Moscow at the Tchaikovsky Conservatory. He continued his music education in Germany after winning the Deutscher Akademischer Austausch Dienst scholarship.
Li is reckoned among a few outstanding solo percussionists in the world today. In 2005, he started his own percussion band, which is presently considered one of the best percussion groups in the world. The ensemble has performed at many famous arts festivals and musical events around the globe. In 2008, Li and his team were invited to perform at the closing ceremony of the 2008 Beijing Olympic Games, and recorded all the percussion music for the closing ceremony. Li was also the art director of the First Mercedes-Benz International Music Festival in 2010.
Official Sentenced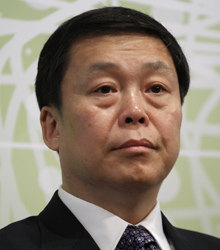 (CFP)
Zhang Chunjiang, former Deputy General Manager of China Mobile Ltd., has given up an appeal to a higher court for a suspended death sentence with a two-year reprieve for taking bribes handed down by the Intermediate People's Court of Cangzhou, Hebei Province, in late July. The court also ordered the confiscation of Zhang's personal assets and stripped him of his political rights.
Zhang, 53, took 7.46 million yuan ($1.15 million) in bribes from companies and individuals between 1994 and 2009 when he served as deputy director of Liaoning Provincial Postal Administration, general manager of China Netcom Group Corp. Ltd. and Party chief as well as deputy general manager of China Mobile.
"China's potential growth rate will remain at a high level in the future on the back of the deepening process of industrialization and urbanization, as well as accelerated economic restructuring, which will release huge domestic demand."
Li Pumin, spokesperson with the National Development and Reform Commission of China, in an interview with Xinhua News Agency in Beijing on August 2
"The work of Central Government departments is mainly about policy making. What the public cares about more is the local governments' expenditures on the three items, as the amount they spend on those items directly affects how much is spent improving people's livelihoods."
Xu Guangjian, Vice Dean of the Public Administration and Policy School of the Renmin University of China, remarking on Chinese Government departments' publicizing their spending on overseas trips, official vehicles and receptions, in Beijing on August 1
"Strategic mutual trust is the foundation for cooperation, exchanges and common security. It is also the precondition for greater transparency."
Zhang Qinsheng, Deputy Chief of the General Staff of the People's Liberation Army of China, calling on countries in the Asia-Pacific region to enhance strategic trust at the Seventh Pacific Armies Chiefs Conference held in Singapore from July 28 to 30
"While resources will remain a key component of our trade, there is growing demand for a range of other products and services that Australia is well-placed to supply."
Australian Federal Trade Minister Craig Emerson, speaking to reporters on Sino-Australian trade in Canberra on August 2 before his visit to China
"We support the renewal of the African Union/UN Hybrid Operation in Darfur to continue to implement the Security Council mandate ... We hope to attain early peace, prosperity and development in Darfur."
Wang Min, China's Deputy Permanent Representative to the United Nations, at the UN Headquarters in New York City on July 29
"The modern economy has been globalized, all countries depend on each other and the U.S. economy is one of the global economy's engines. If there is a system malfunction, there is nothing good."
Russian Prime Minister Vladimir Putin, speaking to an informal gathering of his supporters in Tver region, Russia, on August 1