Expelled Champion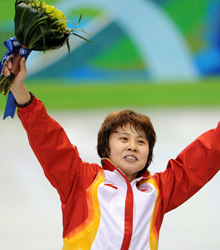 (XINHUA)
China's four-time Winter Olympic gold medalist Wang Meng has been expelled from the National Short Track Speed-Skating Team and banned from domestic and international competitions after she became involved in a drunken brawl with the team manager. The decision was made by the General Administration of Sport, China's sports governing body. Male speed skater Liu Xianwei was also expelled.
On July 24, Wang and five teammates returned to their training camp in Qingdao, Shandong Province, late and drunk, breaking a curfew and violating a team ban on drinking. They were seriously criticized by the team manager, which later led to a violent and bloody confrontation. Wang's expulsion has triggered disputes around the nation since she said the manager threw the first punch.
Wang is China's most crowned short track speed-skater. She won three gold medals at the Vancouver Winter Olympic Games in 2010 and a gold medal at the Turin Games in 2006. She was named China's Female Athlete of the Year for 2010 by national broadcaster CCTV.
Migrant Worker's Heroism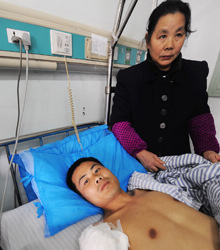 (XINHUA)
Pei Yonghong, a 31-year-old migrant worker, has been chosen as one of the 11 Outstanding Young Migrant Workers of Hunan Province in central China for his heroic deeds in preventing a train accident and saving thousands of people's lives.
Pei is a coordinator at a power plant in Hunan responsible for warning train drivers to slow down or stop when necessary.
On March 11, a train carrying 38 tanks of gasoline was backing into a shed on a rainy day. Pei was carefully observing the distance and ready to stop the train. He suddenly discovered his wireless intercom wasn't working and the train was about to crash into an oil depot, which could have resulted in the deaths of thousands of people nearby. Pei immediately shouted to the driver but his voice vanished in the heavy weather.
In order to prevent a disaster from occurring, Pei jumped from a train he was sitting on and rushed toward an instrument room for the backup wireless intercom. As the ground was slippery because of the rain, Pei fell on tracks and a train ran over him, severing his right arm from his body. Despite great pain, Pei dashed into the instrument room and successfully stopped the train in time.
Pei's heroic deed was widely reported around China and moved many people because of his strong sense of responsibility in his job. Although disabled in the accident, Pei retains an optimistic attitude toward life.
Award-winning Director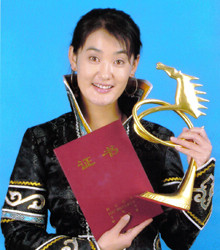 (FILE)
Nuominghuar, a young actress and director of the Mongolian ethnic group, has won the Best New Director Award at the eighth annual San Diego International Children's Film Festival for her new movie Horizon, which tells a touching story of a Mongolian father and his daughter.
Nuominghuar, 34, began her acting career early in 1996 and has been cast in nearly 30 TV series and seven movies. She has recently been devoted to directing and Horizon was the opening movie of the 2011 International Family Film Festival in Hollywood. She is also vice president of the Inner Mongolia Regional Film Association.
"Whoever threatens people's lives and property or engages in separatist activities must be resolutely dealt with in line with the law. We must severely punish and never tolerate those who are involved in terrorism, and never be soft on terrorists."
Meng Jianzhu, Minister of Public Security of China, speaking at a national anti-terrorism work conference in Urumqi, capital of northwest China's Xinjiang Uygur Autonomous Region, on August 4
"The current round of inflation is approaching a turning point after rising 25 months, and price rises will likely ease for the rest of the year."
Zhou Wangjun, Deputy Director of the Pricing Department of China's National Development and Reform Commission, remarking after China's consumer price index escalated to a 37-month high of 6.5 percent year on year in July
"We'd better pay more attention to the real economy of the United States, especially its economic data, rather than overreacting to the downgrade itself."
Qu Hongbin, an economist with HSBC Holdings, commenting on Standard & Poor's downgrade of U.S. credit rating in an interview with Xinhua News Agency in Beijing on August 9
"Even well before the unveiling of the first aircraft carrier, China did not hide its intention to improve its navy, which is still quite weak in defense capability."
Senior Colonel Chen Zhou, a researcher with the Academy of Military Sciences of the Chinese People's Liberation Army, remarking on the first sea trial of China's refitted aircraft carrier platform in Dalian on August 10
"This continued violence is simply not acceptable, and it will be stopped. We will not put up with this in our country. We will not allow a culture of fear to exist on our streets."
British Prime Minister David Cameron, while chairing an emergency meeting about the recent riot in London on August 9
"When these two laws pass, I want to implement what I have said I plan to do."
Japanese Prime Minister Naoto Kan, signaling to resign when attending a parliamentary committee meeting in Tokyo on August 10