New Head Coach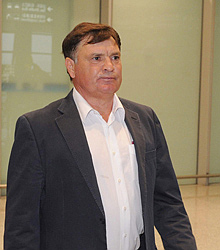 (LUO XIAOGUANG)
Spaniard Jose Antonio Camacho has taken over the role as the new head coach of China's national soccer team. He signed a three-year contract with the Chinese Football Association (CFA) on August 14.
"My (coaching) team and I are proud to join the Chinese national squad. Our goal for the moment is to try to qualify for the World Cup in Brazil. But we have a long-term plan for the future," said Camacho.
From 1973 to 1988, Camacho served in Spain's national team as one of its most famous players. He has coached Benfica, Espanyol, Osasuna, Real Madrid and Spain's national team since 1989.
Camacho will make his debut as the new head coach in the qualifying Group A opener of the 2014 Brazil World Cup against Singapore on September 2.
In years of miserable international performances and internal chaos, China's football has mired in many troubles such as corrupt senior officials, bribery, match-fixing, illegal gambling and crooked referees. It is also threatened by an ever-shrinking talent pool in recent years.
Camacho's appointment is widely recognized as part of the revival plan of the sport in China. The CFA expects Camacho to help instill a suitable playing style in the national team and also help improve China's youth talent training system.
Environmental Protection Advocate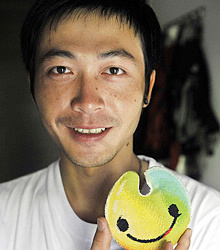 (CHEN YEHUA)
Zhou Ziqian, a graduate of Shenzhen University, who was the first to bring the torch of the 26th World University Games in Shenzhen into the stadium, impressed many Chinese these days.
Before the opening of the games, Zhou, 29, a Shenzhen native, bicycled across China to promote the Shenzhen Universiade and its green concept.
He traveled 29,230 km, covering 18 provinces, three municipalities of the mainland, Hong Kong and Macao, on his bicycle, for 400 days from March 31, 2010 to May 4 this year.
During the trip, Zhou took thousands of photographs of people he met on his grueling trip, smiling with UU, the mascot of this year's Universiade.
Patriotic Collector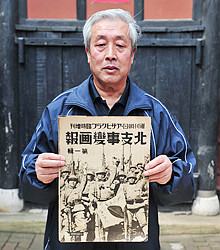 (YANG GUANG)
Wang Aifu, 72, a retiree in Shanxi Province, the original inspiration for the hero in famous director Feng Xiaogang's hit movie Assembly in 2007, touched Chinese people with his selfless deeds.
One day in 1996, Wang discovered an old book in a flea market in Taiyuan, capital city of the province. In the book, he discovered 84 unsent death notifications during the Taiyuan Campaign of the civil war in China from 1945 to 1949. In the next 10 years, Wang spent lots of time and money on finding and sending these certificates to the relatives of the dead soldiers.
In 2009, Wang invested 100,000 yuan ($15,650) of his personal savings in establishing a memorial about the war of resistance against Japanese aggression (1937-45) in Zuoquan County of Shanxi. More than 3,000 items related to the war he had collected over the years are displayed there.
"The accident cautioned us that safety is the priority for railway development. Starting safety checks is a pressing need to raise the government's credibility and also a key measure to ensure the safety of railway transport."
Chinese Vice Premier Zhang Dejiang, in Beijing, during a mobilization meeting on August 15 for safety checks on China's high-speed railways in operation and under construction
"If the trend in the ratio imbalance continues without intervention, it will put at risk the equality of the sexes, the development of girls, the lawful interests and rights of women and the nation's long-term development."
Li Bin, Minister of the National Population and Family Planning Commission of China, at a national teleconference in Beijing on August 16
"In the future, China's agricultural cooperation with Africa will focus on technology demonstration, personnel training, and infrastructure construction, promotion of agricultural production and trade, and food assistance."
Lu Shaye, Director General of the Department of African Affairs of the Foreign Ministry of China, pledging further support for food security in Africa in an interview with Xinhua News Agency in Beijing on August 16
"The most likely scenario we have to guard against right now ends up being more of a lone wolf operation than a large, well-coordinated terrorist attack."
U.S. President Barack Obama, warning against the threat of a lone wolf terror attack on the United States in an interview with CNN in Washington, D.C. on August 16
"Increasing trade and investment with China will be an important contribution to the Canadian government's top priority of creating jobs and completing the economic recovery. That is our No.1 focus."
Canadian Foreign Minister John Baird, in an interview with Xinhua News Agency in Ottawa on August 14
"Nowhere are high food prices, poverty and instability combining to produce tragic suffering more than in the Horn of Africa."
World Bank President Robert Zoellick, on August 15, after the latest World Bank's Food Price Watch was released