Scientist Misses Out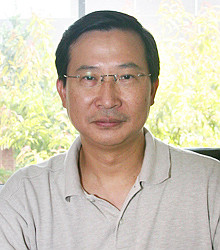 (FILE)
Rao Yi, Dean of the School of Life Sciences of Peking University and also a prestigious neuroscientist, attracted people's attention because he was not selected as an academician of the Chinese Academy of Sciences (CAS). Rao later said in his blog he would never apply for the title in the future.
Rao, 49, graduated from Shanghai Medical University with a master's degree in 1985, and from the University of California at San Francisco with a doctoral degree in neuroscience in 1991.
From 1996, he was a part-time researcher at the CAS. In 1999, he helped establish the Institute of Neuroscience at the CAS. In 2007, Rao came back from the United States to be the dean of the School of Life Sciences at Peking University and senior researcher at China's National Institute of Biological Sciences.
Rao is widely known for his controversial remarks on China's education system and the fraught atmosphere of scientific research. He once voiced the criticism that research funds are allocated based more on relationships than on the level of scientific research. He said this was a total waste of resources and would hamper creativity and innovation in science.
New Spokesman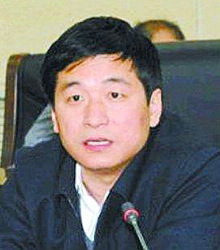 (ZHAO ZHONGZHI)
Han Jiangping, former Party chief of the Harbin Railways Bureau affiliated to the Ministry of Railways, has been appointed the new spokesman for the ministry.
Han's appointment was in the spotlight as it was made after a series of malfunctions in China's newly launched Beijing-Shanghai high-speed trains and the July 23 deadly train crash near Wenzhou in east China's Zhejiang Province, which triggered a torrent of public criticism.
The appointment is seen as an attempt by the ministry to restore its image.
Devoted to Welfare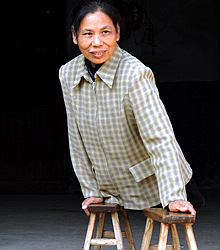 (FILE)
Xu Yuehua, a handicapped woman in central China's Hunan Province, has moved countless people to tears with her selfless deeds during the past three decades.
Xu, who was orphaned at an early age and lost both her legs in an accident at 13, has devoted herself to raising children in the social welfare institute that sheltered her. The 55-year-old woman has raised more than 130 children during the past 37 years in Xiangtan Social Welfare House in Hunan.
Xu is much beloved by the children she has raised. After leaving the social welfare house, all the children put Xu's name on forms as their mother.
Xu says she feels happy to take care of these children and never feels regret for doing it, saying it is her duty and pleasure to look after these children. After the news of Xu's selfless deeds was widely spread, many people visited her and the social welfare house, offering to be volunteers.
"While we are satisfying our needs for development, we should also take the development of future generations into consideration."
Chinese President Hu Jintao, saying China should implement a land-saving strategy and continue to implement strict regulations for the protection of arable land at a land management workshop in Beijing on August 23
"The so-called aircraft carrier is just a purchased hull China has been refitting for research and training purposes. The vessel is far, far from being a full-fledged aircraft carrier and China is well behind other countries in the field."
Chinese Vice Foreign Minister Fu Ying, in an interview with German magazine Der Spiegel in Beijing on August 17
"(We) hope the Libyan situation will stabilize at an early date so people there can live a normal life. China is ready to cooperate with the international community to play a proactive role in the reconstruction of Libya in the future."
Chinese Foreign Ministry spokesman Ma Zhaoxu, responding to a question on the civil war in Libya at a press conference in Beijing on August 22
"China aims to build a safe and reliable network infrastructure based on the development of various technology, including broadband and IPv6 (Internet Protocol version 6). Efforts will also go to developing the next generation Internet, the Internet of Things and cloud computing."
Miao Wei, Chinese Minister of Industry and Information Technology, at the 2011 China Internet Conference in Beijing on August 23-25
"The government is adopting various measures to increase financing to small and medium enterprises, which is the right decision, but the market shouldn't misread it as loosening overall liquidity."
Xia Bin, a member of the monetary policy committee of the People's Bank of China, or the central bank, at a forum on August 23, noting the direction of macro-economic control in China will not change