Benevolent Music Teacher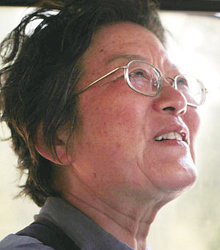 (FILE)
Deng Xiaolan, a volunteer music teacher in a remote, poverty-stricken village, is in the spotlight of China's media for her selfless deeds.
Deng, 68, has traveled to Malan Village, north China's Hebei Province, to teach children there music more than 10 times a year since 2004. She has also donated money to help improve infrastructure in the village.
Born in the village, Deng sees Malan as her hometown. Since her retirement in 1998, Deng started to visit the village and found it was quite poor and access for vehicles was difficult. Since then, she has set aside two thirds of her retirement pension to help the villagers, and also collected donations to rebuild classrooms for the village's school and to help construct roads to the village.
Deng found the villagers didn't know how to sing, not to mention play instruments. With her expertise in that area, Deng now spends most of her time with the local children, teaching them how to sing and play various instruments. Children there have now formed an ensemble, and from time to time Deng takes them to Beijing to perform.
Champion Discus Thrower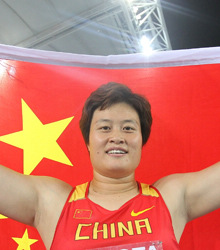 (LIAO YUJIE)
Chinese athlete Li Yanfeng won the gold medal in the women's discus final at the 2011 International Association of Athletics Federations (IAAF) World Championships in Daegu, South Korea, on August 28. She became China's first world champion in the event with a throw of 66.52 meters.
Success didn't come to Li easily. The 32-year-old was selected for China's national team in 2003 but only placed ninth in the 2004 Athens Olympic Games due to a serious cold. In 2005, Li suffered a serious injury to her right wrist, almost ending her career. She resumed throwing the discus at the end of 2006. Since 2007, her fortunes began to improve as her injury recovered and she improved her technique. She finished third at the 2007 National Championships and became champion at the 11th National Games in 2009.
Li is now training for the 2012 London Olympic Games and is quite confident of achieving a good result.
Top Nurse Honored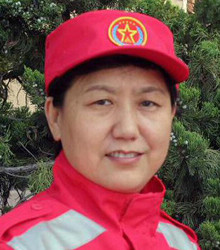 (FILE)
Zhang Liyan, Director of the Nursing Department of the General Hospital of the Chinese People's Armed Police Forces, is among the eight Chinese laureates of the 43rd Florence Nightingale Award given by the International Committee of the Red Cross to honor exceptional nurses and nursing aides.
During her 34-year career, Zhang, who is also the executive director of the Chinese Nursing Association, has in all organized 12 nursing teams to provide medical services in Algeria, Indonesia, Haiti and Pakistan, and in China's Sichuan and Qinghai provinces, in disaster and conflict situations. She has also been active in nursing education.
"Securing the stability of the global economy and the financial market is an important prerequisite for the success of the Cannes summit."
Chinese Vice Premier Wang Qishan, speaking on August 26 when he met with French Minister of Economy, Finance and Industry Francois Baroin in Beijing
"Given the progress of science and technology, it's normal for the Chinese army to develop and renew some weapons and equipment ...China demands that the U.S. views China's military development in an objective and fair manner."
China's Defense Ministry spokesman Yang Yujun, in a statement on a newly-released annual report by the Pentagon on China's military in Beijing on August 26
"China supports the Palestinian people and their cause. We also support the Palestinians' having United Nations' recognition of a Palestinian state on the lands occupied in 1967 with Jerusalem as capital."
Wu Sike, China's special envoy to the Middle East, in an interview with Xinhua News Agency during his visit to Ramallah, Palestine, on August 26
"The UN Security Council should play a leading role in handling the Libyan issue at the next stage, while other countries, international mechanisms and conferences should also play a supplementary role."
China's UN Ambassador Li Baodong, speaking after a closed-door consultation on Libya of the Security Council in New York on August 30
"We are afraid that the resolution could push the most radical Syrian opposition forces to more active operations to topple the government. Just because of that, we categorically do not accept the aims our Western colleagues try to attain with that resolution. We offer the alternative."
Russian ambassador to the UN Vitali Churkin, in Moscow on August 29, opposing a UN resolution on Syria
"After 2014, the term of the agreement [about leasing the Manas air base near Bishkek, capital of Kyrgyzstan] will expire and there must be a civilian hub. There should not be any military base."
Kyrgyz Prime Minister Almazbek Atambayev, talking to Russian reporters in Moscow on August 30