Ambitious Entrepreneur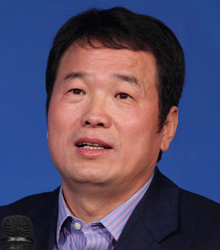 (CFP)
Huang Nubo, Chairman of Zhongkun Group, a real estate company in China, has reportedly planned to buy 300 square km of property in Iceland for around $8.8 million.
Huang plans to invest some $100 million to develop a luxury hotel and eco-tourism resort project in Iceland if the deal goes through. Icelandic officials have welcomed the purchase but the Icelandic Government is currently evaluating the deal.
Huang ranked as China's 161st richest man in Forbes in 2010, with a net worth of $890 million. He graduated from Peking University in 1981, and worked in Chinese Government organs before entering the business world and establishing his own business empire. Huang is also a productive poet. He has published many collections of poems. His works have been translated into English, French, Japanese and Mongolian. He also likes adventures and has traveled to the North and South poles and climbed Mount Everest.
China's Forrest Gump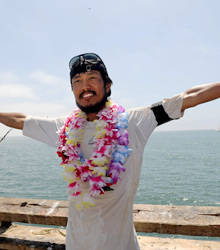 (XINHUA)
Wang Xuan, a Chinese student studying in the United States, walked across the U.S. continent, becoming the first Chinese to complete the magnificent feat.
Wang, a 33-year-old graduate from the Maritime College at the State University of New York, began his trip in New York on June 8. After 89 days of hard hiking, Wang arrived at Venice Beach in Los Angeles on September 4. He covered more than 3,000 miles (4,800 km) and crossed 13 states.
Born in Huaibei, east China's Anhui Province, Wang went to study in America in 2009. He graduated in May 2011 and decided to finish his dream of walking across the continent during the summer vacation.
Wang said that during this journey, he got a deeper understanding of the American people and society.
Referee Punished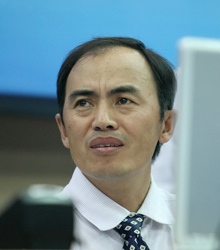 (FILE)
Shao Bin, a Chinese gymnastics judge, was downgraded by the International Gymnastics Federation (FIG) for breaking the rules during the Asian Games in 2010 by modifying scores to help a Chinese gymnast.
The FIG Disciplinary Commission announced recently that Shao will be downgraded from a category-two judge to a category-four judge and will be responsible for covering the legal cost of 7,200 Swiss Francs ($8,937) following a hearing held in April.
Shao, a former judge on the "D" panel, has said the FIG sanction is ridiculous and disappointing. Shao argued that FIG rules have a clause that a D1 judge has the right to "control" the final score and therefore he didn't break the rules.
According to the FIG statement, Shao has the right to lodge an appeal before September 9, but Shao said he would not appeal because he had clarified everything in the hearing in April.
"In light of the trend of international cooperation, it is necessary for China, Japan and South Korea to establish such a free trade zone. But before realizing the zone, the three countries need to further enhance mutual trust and create an atmosphere of expanding mutual economic cooperation."
Chen Zhou, Director of the Department of Asian Affairs under the Ministry of Commerce, on September 5 before the Seventh China Jilin Northeast Asia Investment and Trade Expo held in Changchun, Jilin Province, on September 6-11
"China has no difficulty in principle with the release of Libya's frozen assets, but in the spirit of being responsible to the Libyan people, China and some other members of the United Nations Security Council maintain that the use of assets and supervision mechanism be further specified."
Chinese Foreign Ministry spokeswoman Jiang Yu, at a regular briefing in Beijing on September 5
"No matter how the leadership (of the illegal Tibetan 'government-in-exile') changes, the key to improving contact with the Central Government is to sincerely abandon separatist moves."
Dramdul, Deputy Director of the China Tibetology Research Center, who is heading a delegation of Chinese Tibetologists and Tibetan living Buddhas to Japan, speaking at a press conference in Tokyo on August 31
"I believe this autumn will be a sensitive time for many of the major developed economies. It's an important time for all countries. All countries and technology systems need to be re-tooling their growth models."
World Bank President Robert Zoellick, warning of a "new danger zone" with threats including record food prices, volatility in commodity markets, and debt crises in the developed world, at a conference in Beijing on September 3
"Such an illegal occupation and blockade could not be legally accepted. Turkey will continue to fight in the international arena to end the illegal occupation."
Turkish Foreign Minister Ahmet Davutoglu, on Israeli occupation in Gaza and the West Bank, at a joint press conference with visiting Palestinian envoy Nabil Shaath in Ankara, Turkey, on September 5