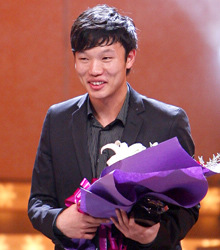 (FAN JUN)
Chinese football player Deng Zhuoxiang has been nominated for the Asian Football Confederation (AFC) Player of the Year 2011, according to the AFC's official website. The award will be presented at a grand ceremony on November 23, 2011, in Kuala Lumpur, Malaysia.
Deng is the only Chinese player in this year's 15-member candidate list and the third Chinese in history to be on the list after his teammate Li Weifeng was chosen for the award in 2009 and 2010.
Deng, 23, entered the national youth team in 2003 and the national team in September 2009. Since 2010, he has been serving the Shandong Luneng Team and won accolades for his performance.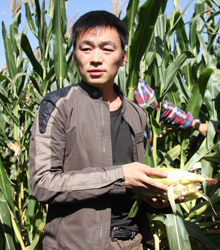 (CHEN LEI)
Chinese actor Wang Baoqiang was bestowed the Best Actor award at the 9th International Film Festival of Asian Pacific Countries in Vladivostok for his performance in Hello Mr. Tree, on September 16, 2011.
"I'm very excited and thrilled," said Wang. "This prize is a recognition for my acting."
Wang, 27, was born to a peasant family. He started practicing martial arts from the age of 6 and learned it in the Shaolin Temple from 8 to 14. At 16, Wang was chosen to star in the movie Blind Shaft and later won the Best New Actor award at the Taiwan Gold Horse Award in 2003 for his performance in the movie. In 2006, Wang was known to most Chinese for the smash hit TV series Soldiers Sortie. Wang's movie works include A World Without Thieves in 2004, Assembly in 2007, Little Big Soldier in 2010 and Lost on Journey in 2010.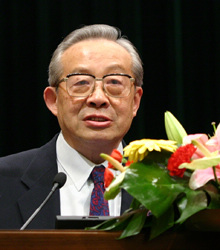 (FILE)
Shi Yuanchun, a retired professor and former president of the Beijing Agricultural University (predecessor of today's China Agricultural University), has been mired in a scandal for academic fraud and plagiarism.
In an open letter written by six persons including four professors at the China Agricultural University, Shi is accused of plagiarizing other people's work between 1987 and 1995. The letter says that four major academic achievements listed on Shi's application to the Chinese Academy of Sciences (CAS) for academicians were actually accomplished by other people.
Responding to that, Shi said the letter was "a complete libel that should bear legal responsibility." He demanded the people who wrote the letter apologize immediately.
Shi, 80, graduated from the Department of Agronomy of Beijing Agricultural University in 1953, and finished graduate studies at the Department of Soil Sciences and Agricultural Chemistry from the same university in 1956. As a famous pedologist in China, Shi was elected an academician of the CAS in 1991, the Chinese Academy of Engineering in 1994, and the Third World Academy of Sciences in 1995. He was president of Beijing Agricultural University from 1987 to 1995 and vice president of the China Association of Science and Technology from 1996 to 2001.
"All the parties concerned should seize these opportunities, maintain the momentum of dialogue, boost mutual trust and improve relations with each other's concerns in mind."
Chinese Foreign Minister Yang Jiechi, at a forum in Beijing on September 19 to mark the sixth anniversary of a joint statement reached in 2005 during the fourth round of the six-party talks on the denuclearization of the Korean Peninsula
"It's necessary to urge the U.S. to promptly discard the special safeguarding measures on Chinese tires and ensure a fair, competitive environment for Chinese enterprises."
Chinese Ministry of Commerce spokesman Shen Danyang, at a press conference in Beijing on September 20
"We are willing to work together with the new Japanese cabinet as well as persons from all fields in Japan to enhance dialogue, exchange and cooperation and to further advance strategic and mutually beneficial China-Japan relations in a healthy and steady way based on the principles of the four political documents between the two countries."
Chinese State Councilor Dai Bingguo, at a meeting with Takeshi Noda, visiting Chairman of the Japan-China Society, in Beijing on September 20
"We have to be realistic and we are not aimed at isolating Israel or de-legitimizing Israel. We want to isolate Israel's policy and de-legalize the occupation."
Palestinian President Mahmud Abbas, in a televised speech to the Palestinians on September 19, explaining the reasons for Palestine's campaign to seek full UN membership for a Palestinian state
"The United Nations is committed to continuing to deepen and strengthen our partnership as we tackle the many global challenges ahead."
Renata Lok-Dessallien, UN Resident Coordinator and UN Development Program Resident Representative in China, at the Seminar in Memory of the 40th Anniversary of the Resumption of Lawful Rights of China in the UN held in Chengdu, Sichuan Province, during September 19-21