Father of Hybrid Rice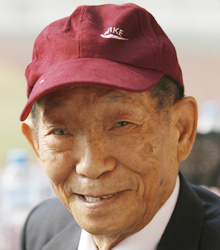 (NEWSPHOTO)
The yield of a hybrid rice breed developed by Yuan Longping, one of China's leading agricultural scientists, has exceeded 900 kg per mu (0.067 hectare), a new world record for rice output.
The rice breed, also called super rice, produced a harvest of 926.6 kg per mu during its trial plantation in Longhui County, central China's Hunan Province.
"I was delighted as it was very difficult to produce such a high yield of rice in such a large area," said 81-year-old Yuan. "This year's success showed China is leading the world in super hybrid rice research."
Yuan, dubbed China's "father of hybrid rice," started developing hybrid rice in the 1960s as part of the country's efforts to combat its starvation problem. He developed the first Chinese hybrid rice variety in 1974, which immediately increased grain output by 20 percent. His research team reached the target unit yields of 10.5 tons a hectare in 2000 and 12 tons a hectare in 2004, setting world records both times.
Yuan was awarded the World Food Prize in 2004 by the UN Food and Agriculture Organization for his contribution to creating a more abundant food supply that helps build a more stable world.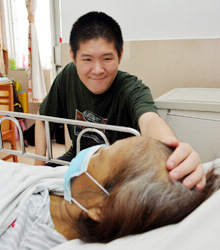 (LIU DAWEI)
Peng Si, a 22-year-old college student, has moved many Chinese with his filial piety as he saved his sick mother's life by donating 60 percent of his liver to her during an organ transplant surgery.
"I didn't think too much. My mother gave me my life. When her life was in danger, I had to do something to save her. It's the only thought I had after hearing of her illness. I never thought of how dangerous it could be," said Peng.
Peng was born in Guangzhou, south China's Guangdong Province. Due to his good performance at school, he became an exchange student for academic study in the United States when he was a third-year student in the senior middle school. In 2008, Peng was admitted into the Department of Accounting at the University of Northern Colorado in the United States. After receiving a phone call from his father about his mother's illness, he immediately flew back home to donate his liver to his mother, who was suffering from fulminant hepatitis. With 60 percent of his liver transplanted during a successful operation, he has saved his mother's life.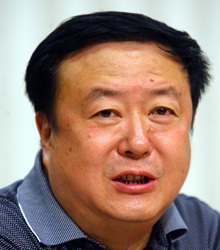 (CFP)
You Xiaogang, famous Chinese director, was given an artistic achievement contribution award by a delegation representing the California Senate and California House of Representatives visiting Beijing.
You was awarded for his contribution in cultural communication between China and the United States. You has directed several TV series about the secret history of the royal families in China's different dynasties, which was a huge success among Chinese people living in the United States, and has been translated into several other languages for other Asian communities, said the delegation.
You, 59, has been directing TV series since 1981. In 2002, The Secret History of Xiaozhuang, a TV series about the story of the Empress Xiaozhuang in the Qing Dynasty (1644-1911), achieved huge success. After that, he directed many other TV series on the secret history of famous ancient people.
"The UN should truly change the mindset of prioritizing treatment over prevention and the practice of prioritizing peacekeeping over mediation, and should devote energy to early warnings, conflict prevention and peace mediation."
Chinese Foreign Minister Yang Jiechi, at the UN Security Council meeting on the maintenance of international peace and security and conflict prevention, in New York on September 22
"The debt crisis in the EU and the United States means those markets will keep shrinking for at least five years, so it will be difficult for China to sustain its export-led growth…I hope people's consumption can be coordinated with the nation's production capability."
Chi Fulin, Director of the China Institute for Reform and Development, at a forum on China's reform and opening up and world economic growth held in Xiamen, Fujian Province, on September 24
"Advanced economies have to establish a clear and credible medium-term adjustment strategy on fiscal stability and economic growth to restore market confidence, and they should also resist trade protectionism."
Zhou Xiaochuan, Governor of the People's Bank of China, at the meeting of the International Monetary and Financial Committee in Washington D.C. on September 24
"China's rich have defied the global financial crisis with another record year of growth."
Rupert Hoogewerf, Publisher of the Hurun Report, a magazine that publishes the annual China Rich List, at a press conference in Beijing on September 22
"What is needed, and what certainly we hope to be able to help generate on the occasion of the annual meetings, is the political leadership."
IMF Managing Director Christine Lagarde, calling for political leaders to have a "sense of urgency" on the Euro zone debt crisis and show leadership in resolving the problem, at a press conference in Washington, D.C. on September 22
"I am sure that United Russia will win and Dmitry Anatolyevich Medvedev will be able to build a new, efficient and young team and lead the government so as to continue modernization of all aspects of our lives."
Russian Prime Minister Vladimir Putin, saying at the ruling United Russia Party's annual congress in Moscow on September 24 that he would run for president in 2012 and suggesting President Dmitry Medvedev become prime minister after the elections