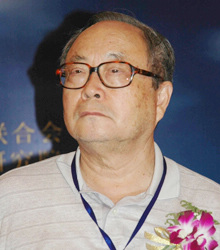 (CNSPHOTO)
Liu Jiyuan, a Chinese astronautics expert, was granted the Von Karman Award at the 62nd International Astronautical Congress (IAC) held in Cape Town, South Africa, on October 3, 2011, by the International Academy of Astronautics (IAA).
Liu is the first Chinese to receive the award, the highest prize presented by the IAA annually to scientists for outstanding lifetime achievement.
Liu, 78, was presented the award for his great life-long achievement in science. As an expert in carrier rocket and strategic missile technologies, Liu was the vice chief commander of China's manned space flight project from 1992 to 1999 and made major contributions to experimentation and design of China's early carrier rockets. He is an academician of the IAA and the International Academy of Sciences for Europe and Asia.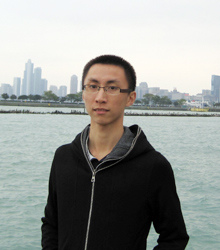 (NEWSPHOTO)
Liu Lu, a junior from the School of Mathematics and Computing of Central South University (CSU) in central China's Hunan Province, has won international fame by publishing a paper that solves a problem of reverse mathematics, namely the Ramsey's Theorem for Pairs, a conjecture put forward by English mathematics logician David Seetapun in the 1990s.
During the past two decades, countless internationally famous mathematicians have made efforts to solve the problem but without any results while Liu's findings solved the unresolved open question and provided a negative answer to Seetapun's conjecture.
Liu first found out about this conjecture in August 2010. After reading many papers on the issue, he was suddenly struck with an idea that could solve the problem. He finished the paper in a night and sent it to the Journal of Symbolic Logic, an internationally authoritative academic journal on mathematical logic, under his penname Liu Jiayi.
The CSU has given Liu special approval for successive postgraduate and doctoral programs of study. The university plans to give him special programs to help him make greater contributions to science.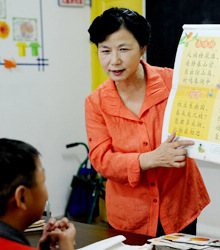 (XINHUA)
Huang Xiangqiong, a retired librarian, has moved many Chinese by voluntarily offering motherly love at a welfare house in Nanping, a city of southeast China's Fujian Province.
After retiring from her job as a college librarian in 2002, Huang has been a volunteer at the welfare house since 2004. She teaches reading, writing, and sports to disabled children.
Yang lives in the welfare house and thus neglects her family. "I don't come here for money. Compared with my family, children of the welfare house need me more. I should offer mother-like love to them, because they are motherless. As long as they are happy, I am happy too," said Huang.
"China called on the U.S. Government, Congress and various communities to firmly oppose the wrong doing of pressuring the yuan exchange rate by way of domestic legislation, to resist protectionism, and to resist the politicization of economic and trade issues to safeguard the healthy development of China-U.S. economic and trade relations."
Chinese Foreign Ministry spokesman Ma Zhaoxu, in Beijing on October 12, responding to the U.S. Senate's passing of the Currency Exchange Rate Oversight Reform Act on October 11
"To break the vicious cycle of uncertainty over sovereign debt sustainability and over growth prospects, we need comprehensive solutions now."
European Commission President Jose Manuel Barroso, calling for comprehensive solutions to the euro crisis in Brussels on October 12
"The China-Viet Nam agreement is a positive step in the process of negotiating maritime issues...it will provide important guidelines for the two countries to resolve maritime issues."
Chinese Foreign Ministry spokesman Liu Weimin, speaking at a daily press briefing on October 12 after China signed a six-point agreement with Viet Nam on basic principles guiding the settlement of existing maritime issues between the two countries
"All three countries should unearth the truth regarding the incident as quickly as possible and provide China with timely reports during the investigation."
Chinese Vice Foreign Minister Song Tao, during a talk with envoys from Thailand, Laos and Myanmar on October 13, urging the three nations to intensify their investigation of recent attacks on Chinese ships on the Mekong River that killed 13 Chinese
"The government will provide support to help companies that are trapped in the financial crunch but have the ability to survive these difficulties."
Chen Derong, Vice Governor of Zhejiang Province, on the Chinese Government's financial and fiscal support to the country's small businesses that are suffering from the debt crisis