Wang Cunyu, a noted dental researcher, was elected to membership in the Institute of Medicine (IOM) of the U.S. National Academies. It is the first time that a scientist from the Chinese mainland has been elected to the IOM since 1970s.
Wang, 48, graduated from the Nanjing Medical University and Peking University Health Science Center before pursuing further education in the United States in 1990. Previously a member of the faculty at the University of Michigan, Wang joined the University of California Los Angeles (UCLA) School of Dentistry in 2007. He is now a professor and chair of the division of oral biology and medicine at the UCLA School of Dentistry.
Having published numerous influential medical papers in first-class international academic journals, Wang is considered one of the few top-notch international scholars at the forefront of oral biology.
Established in 1970, the IOM is an independent and non-profit organization that provides authoritative advice on issues of human health and medicine, including oral health. Election to the IOM is considered one of the highest career honors among health care professionals.
| | |
| --- | --- |
| | |
| Sun Chun (CFP) | Na Renhua (CFP) |
This year's Golden Rooster prizes for best actress and actor were awarded respectively to Na Renhua and Sun Chun at the 20th China Golden Rooster and Hundred Flowers Film Festival on October 22, 2011.
Na, 49, began her acting career in 1976. Na was conferred the Best Actress award for her outstanding performance in the movie Mother, which tells the story of mothers living in the grasslands in the Inner Mongolia Autonomous Region and 3,000 orphans coming from the city of Shanghai. The movie shows the selfless love of the mothers who adopted those orphans and took very good care of them.
Sun, 55, has won dozens of prizes for his acting in TV series and movies. He was conferred with the Best Actor award for the espionage movie Qiu Xi, in which he played a villain.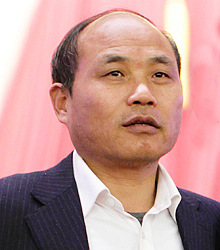 (CFP)
Chen Fei, head of an environmental protection organization in east China's Zhejiang Province, received the Mother River Prize for his contribution in helping clean the Nanxi River in Yongjia County of the province.
The prize, awarded jointly by eight government departments, is given biannually to prominent contributors to environmental protection in China.
In 2005, after realizing that plastic bags are very bad for the environment, Chen gave each member in his village a basket for them to go shopping as an alternative. He also invested more than 400,000 yuan ($62,960) to give out more than 30,000 baskets in 23 provinces in China. In 2007, he established the Green Environment Protection Volunteers' Association in Yongjia and the association now has more than 700 members. Chen voluntarily helps clean the 37-km length of the Nanxi River and has been organizing volunteers to clean trash alongside the river every week for several years. To date, the pollution near the Nanxi River has been greatly reduced due to Chen's hard work.
"It is in the interests of various parties concerned to improve North Korea's ties with South Korea and the United States, enhance dialogues and contacts, and safeguard peace and stability on the Korean Peninsula."
Chinese Vice Premier Li Keqiang, at the welcoming banquet held by the North Korean Premier Choe Yong Rim in Pyongyang, capital of North Korea, on October 23
"China needs to widen the reform of government-run for-profit cultural organizations, by introducing market-oriented modern corporate systems. The goal of reform is to cultivate qualified market entities from government-run commercial cultural organizations and establish a modern and influential cultural industry system."
Chinese Minister of Culture Cai Wu, during an interview with Xinhua News Agency in Beijing on October 22
"China will work actively, through peaceful, open, scientific development, to expand international cooperation, take part in international affairs, honor its due international responsibilities and obligations, and play a constructive role in the UN."
Chinese State Councilor Dai Bingguo, at a reception commemorating the 40th Anniversary of the restoration of the lawful seat of China in the United Nations in Beijing on October 25
"We want a much clearer expression on what the European Central Bank (ECB) wants from its own point of view and then [we] will comment on that. We do not want a misunderstanding that politicians expect something from the ECB."
German Chancellor Angela Merkel, insisting that the EU governments should not decide for the ECB on its role in tackling eurozone debt crisis when responding to media in Berlin on October 25
"We are not anticipating any cutbacks in this region. We are going to strengthen our presence in the Pacific."
U.S. Defense Secretary Leon Panetta, telling a gathering of U.S. and Japanese forces at Yokota Air Base outside Tokyo on October 25 that the U.S. military will maintain a strong posture in the Pacific despite looming defence spending cuts at home