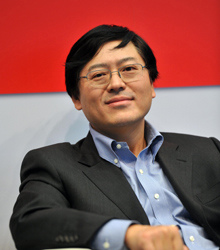 (CFP)
Yang Yuanqing, CEO of the Lenovo Group Ltd., was appointed Board Chairman of Lenovo, the world's second-largest PC maker with a market share of 13.5 percent, according to its 2011 second fiscal quarter report. Yang took over the post from founder of the company Liu Chuanzhi, who will become honorary chairman of the group. Yang will assume the dual roles of chairman and CEO.
Yang, 47, has been working for Lenovo since 1989. After becoming its president and CEO in 2001, Yang made great contributions to Lenovo's deeper internationalization, such as building the brand in the international market and acquiring IBM's Personal Computing Division in 2005. Yang served as Lenovo's chairman from 2005 to 2009. In February 2009, Liu returned as chairman to turn the company around after the global economic downturn.
Lenovo, originally known as Legend, rose from a small start-up to become the leading PC company in China and then a global company.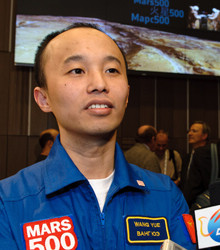 (XINHUA)
Chinese space researcher Wang Yue, one of the six volunteers for the 520-day Mars-500 test project, stepped out of a spaceship mock-up on November 4 to share his experience with the public.
The Mars-500 experiment, humankind's first simulated flight to Mars, aims at providing feedback for a potential future trip to Mars and to study the astronauts' psychology and physical state and work capabilities in a simulated Mars mission. The experiment is a large-scale international effort organized by Russia with participation from a number of countries.
During the "Mars trip," Wang, along with other volunteers, conducted 105 experiments, collecting data for research in physiology, psychology and microbiology, and offering evidence for deeper study in aerospace medicine.
"The experiment was very successful. My colleagues and I have stood the challenge and have a better knowledge for human beings' ultimate capacity in an isolated environment," said Wang.
Wang, 29, received his bachelor's degree in Preventative Medicine at Nanjing Medical College in 2005 and his master's degree in Physiology at the Astronaut Center of China in 2008. He is now an assistant astronaut trainer at the China Astronaut Research and Training Center.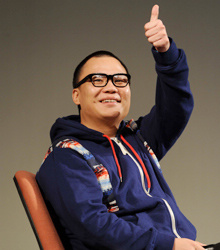 (CFP)
The film Kora by Chinese director Du Jiayi was awarded the Best Artistic Contribution Award at the 24th Tokyo International Film Festival (TIFF) held in Tokyo, Japan, on October 30. This is the only Chinese film recognized at the festival this year.
Du is active in show business as an actor, host, playwright, producer and director. Having not received any professional training in acting, Du became famous for his role in the movie Shower (1999) and later was chosen for the leading role for the movie Wheat (2009). In 2008, the movie Forever Enthralled produced by Du hit screen and caused a sensation. Kora is Du's directorial debut, demonstrating his longlasting enthusiasm for the movie industry.
"Our exchanges should be focused on high-level and innovative talents, offering cooperative opportunities on a larger scale and a wider scope for them to achieve breakthroughs in common fields."
Chinese Vice Premier Zhang Dejiang, at the opening ceremony for the 2011 Conference on the International Exchange of Professionals held on November 4 in Shenzhen, south China's Guangdong Province
"China is against setting an artificial time limit for the reform or pushing through any solution over which member states still have serious disputes. Gamesmanship or playing on words will lead us nowhere."
Wang Min, Chinese Deputy Permanent Representative to the UN, speaking at a General Assembly plenary meeting on the reform of the Security Council at the UN Headquarters in New York City on November 8
"Both India and Pakistan are important countries in South Asia. Their improving bilateral relations are vital for the area's peace, stability, and development."
Chinese Foreign Ministry spokesman Hong Lei, speaking at a press briefing in Beijing on November 3 while addressing Pakistan's decision to grant Most Favored Nation status to India
"We will work with the new government only if it makes clear and written commitments…It is possible that the sixth tranche of loans to Greece would be issued during November."
Olli Rehn, the Economic and Monetary Affairs Commissioner of the EU, calling upon the incoming coalition government of Greece to reaffirm the indebted nation's commitment to implementing the terms of a second international bailout, at a joint press conference following a meeting of finance ministers of the EU single-currency area in Brussels, Belgium, on November 7
"We need to focus on getting the firewall in place. It is all very well saying we've got the firewall but we need to convincingly show the world that the firewall exists and it has sufficient resources in it."
British Chancellor of the Exchequer George Osborne, calling on the eurozone to get "a convincing firewall" in place to prevent the debt crisis from spreading, on arriving in Brussels for a meeting of finance ministers of the EU on November 8
"If the IAEA is turned into a tool at the hands of the United States against Iranians, it will discredit itself."
Ayatollah Seyyed Ahmad Khatami, a senior member of Iran's Assembly of Experts, speaking on November 7 before the release of an IAEA report on Iran's nuclear program