Wolf Dad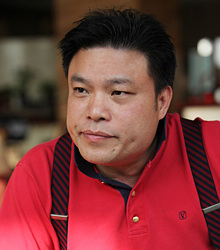 (CFP)
Following the roars of "tiger mom" Amy Chua, Xiao Baiyou, a Chinese businessman, has recently stirred controversy on parenting in China by promoting his "wolf dad" approach in his book That's Why They Go to Peking University. The book touts how his "sticks make a great man" philosophy managed to send three of his four children to the prestigious university. Xiao's book has become a bestseller since being published on June 1.
Xiao claims to have spent 90 percent of his time and energy in parenting. With absolute authority at home, Xiao controls nearly every aspect of his children's lives, from cartoons, snacks, and pocket money to extracurricular activities and their friends. When Xiao's children were in preschool, they spent days reciting Chinese classics ranging from poetry to philosophy. If they failed to meet Xiao's requirements, they would be harshly beaten by their dad with a feather duster. The children could only go to bed after finishing all of their homework. Any violations of Xiao's rules resulted in physical punishment.
Xiao's methods have been challenged by many children, parents and education experts in the country. Some lawyers even warn that the approach may breach China's violence and child abuse laws.
Most Beautiful Nurse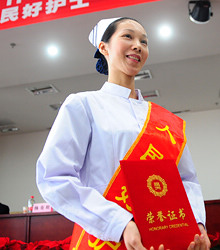 (XINHUA)
Dubbed "the most beautiful nurse" by netizens, Xiao Fang, a nurse working in the Hubei Zhongshan Hospital, touched many Chinese because she bravely saved a stranger's life with artificial respiration in the street of Wuhan, capital city of Hubei Province.
On November 10, Wang Sufen, a woman in Wuhan, suddenly passed out because a piece of steamed bread got stuck in her throat. Xiao, 33, heard people screaming for help and immediately rushed out. Xiao first exercised cardio-respiratory resuscitation for one minute but there was no response. She then gave artificial respiration to Wang three times. Several minutes later, Xiao got the piece of steamed bread out of Wang's throat and Wang's heartbeat and breathing resumed. After being given effective first aid, Wang's life was saved.
Xiao's altruism was recorded by passers-by and uploaded to the Internet, winning applause from countless people in China.
"I just did what a nurse should do under that circumstance," said Xiao. "As a nurse, this is my first instinct. At that time, I didn't think of anything else but saving her life, which is just like what I do when I work."
Corrupt Official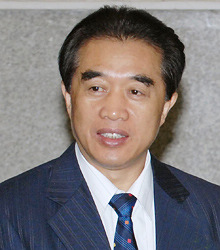 (XINHUA)
Zhang Jingli, former deputy director of the State Food and Drug Administration (SFDA), has been charged with bribery, making false accusations and illegal operations. He was on trial in Beijing on November 20, 2011. Zhang pled guilty to some of the accusations at the court.
Zhang, 56, is accused of accepting bribes of more than 1.18 million yuan ($185,732) and gaining illicit income of more than 23 million yuan ($3.6 million) through illegally selling books he wrote from 2005 to 2010. He was also accused of asking others to make false accusations against other officials by sending more than 1,300 letters to the CPC Central Commission for Discipline Inspection.
"I don't want to discuss this issue at the summit, however, leaders of some countries mentioned China on the issue. It's impolite not to make a return for what one receives. So, I am willing to reiterate China's stance."
Chinese Premier Wen Jiabao, stressing that the East Asia Summit was not the right forum to discuss the South China Sea issue, in Bali, Indonesia, on November 19
"An unbalanced recovery would be better than a balanced recession, in light of the current grim condition of the global economy."
Chinese Vice Premier Wang Qishan, during the 22nd session of the Sino-U.S. Joint Commission on Commerce and Trade in Chengdu, Sichuan Province on November 21
"I and my government will be doing all that we can to place Europe at the heart of our activities."
Italian Prime Minister Mario Monti, saying all commitments made by the previous administration would be respected, at a joint news conference with European Commission President Jose Manuel Barroso at the EU headquarters in Brussels, Belgium, on November 22
"Many countries want Iranian crude and we are supplying them with their needed oil, so we are not afraid of not selling it to Europeans."
Managing Director of National Iranian Oil Company Ahmad Ghalebani in Teheran on November 22, in reaction to French officials' remarks on boycotting Iran's crude oil as a new step to expand sanctions on Iran
"Our economic potential and current conditions won't let reckless experiments, which will negatively affect the welfare of the people. The policy of our state has always been serving the people, and no one may deviate from this principle."
Belarusian President Alexander Lukashenko, warning that he would not allow shock therapy in his country in Minsk, Belarus, on November 22