Unique Comic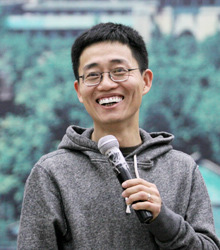 (CFP)
Joe Wong, a Chinese American, rose to fame for his unique comedy performance on The Late Show With David Letterman on CBS in 2009 and at the annual dinner of the Radio and Television Correspondents Association in Washington, D.C. in 2010. Wong promoted his autobiography in China in November, attracting the media's attention again.
Wong was born to a rural family from Jilin Province in 1970. He majored in chemistry at Jilin University from 1986 to 1990 and went to the United States for a doctoral degree in 1994. Though Wong worked as a biochemistry researcher in America after graduation, he began telling jokes at comedy shows in 2001. At the beginning, Wong spoke English with a strong Chinese accent when he performed solo comedy for English-speaking audiences. He then became more and more popular in both America and China becaouse of his hard work and wit on comedy shows.
"Everyone has a unique voice. Find your voice and practice it," said Wong in his new book.
Retained Champion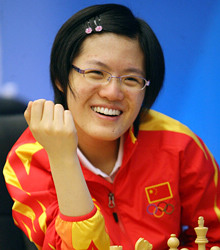 (FILE)
Chinese chess player Hou Yifan successfully defended her Women's World Chess Championship title in Tirana, Capital of Albania, when she drew the eighth game of a match against Indian challenger Humpy Koneru on November 24, 2011.
Hou, 17, won last year's Women's World Chess Championship in Antakya, Turkey, making her the youngest world chess champion.
Born to an ordinary family in Jiangsu Province, Hou started to play chess at 5 and showed astonishing talent at the game. At the age of 9, she was selected for the national chess team of China. Hou has won numerous awards and titles, including the Women's World Chess Championship (2010 and 2011) and the Chess Champion of Guangzhou Asian Games (2010). She said her dream is to overtake Hungarian chess player Judit Polgar, the only woman ranked among the world's top 10.
Warned Boss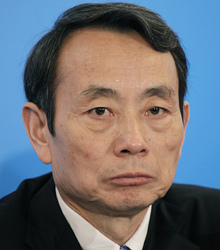 (CFP)
Jiang Jiemin, Board Chairman of China National Petroleum Corp. (CNPC), China's largest oil and gas producer and supplier, received a stern warning from the State Council of China on November 24 due to his leading responsibility in a series of serious fire accidents at CNPC's subsidiary in Dalian Harbor, northeast China's Liaoning Province, from 2010 to 2011.
There were four severe oil blasts and fire accidents at CNPC's Dalian Oil Dock in the past 17 months, which led to heavy losses and casualties. The first and most serious accident which occurred on July 16, 2010, and caused a large oil spill and polluted nearby seawater. The accident killed a firefighter, a worker and injured two others. It caused an estimated 223 million yuan ($35 million) in economic losses.
Jiang, 56, served as vice governor of northwest China's Qinghai Province from 2000 to 2004. He became the chairman of PetroChina Co. Ltd. in May 2007 and was appointed as board chairman of CNPC in November 2011.
"In many sectors, the treatment provided to foreign businesses is still better than that for Chinese domestic companies. If there was anything the Chinese Government could improve, it could be market access."
Chinese Vice Premier Wang Qishan, responding to complaints from foreign companies about the investment environment in China, in Beijing on November 29
"What European countries really need is the capacity to form blood, rather than blood itself. So it is high time to ask whether European countries can be more open to investment from Chinese firms."
Wang Yiming, Vice President of the Academy of Macroeconomic Research under the National Development and Reform Commission of China, speaking at the Europe China Forum in Brussels, Belgium, on November 29
"We have no time to lose. I very much look forward to reaching agreement on granting China market economy status without waiting until the last hours."
Joaquin Almunia, EU Competition Commissioner, at a forum on China-EU relations titled Europe and China: Rivals or Strategic Partners?, in Brussels, Belgium, on November 29
"Germany stands firmly behind its partners in the EU and has already contributed enormously by tapping its own resources. However, we also have our own debt to deal with."
Steffen Seibert, spokesman for German Chancellor Angela Merkel, at a regular government news conference in Berlin on November 28, rejecting the repeated calls for more financial support to resolve the eurozone debt crisis
"We have planned exercises (in the region), which have nothing to do with Syria."
Russian Chief of the General Staff Nikolai Makarov, telling reporters in Yekaterinburg on November 29 that the dispatch of Russian navy warships to the Mediterranean Sea was a part of scheduled exercises
"NATO is confident the transition process will succeed…Beyond 2014 NATO aims for a strong and lasting partnership between Afghanistan and its international partners. The end of transition is a stage in a shared journey, not the end of it."
NATO civilian representative spokesman Dominic Medley, in a joint weekly press briefing in Kabul, Afghanistan, on November 29