Best Venture Capitalist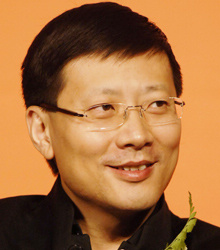 (CFP)
Shen Nanpeng (Neil Shen), one of the founders and managing partners of Sequoia Capital China, ranked first on the 2011 Top Venture Capitalists in China by the Chinese edition of Forbes magazine. This is the second time in a row that Shen was champion on the list.
Shen, 42, received a bachelor's degree from Shanghai Jiaotong University in 1988 and a master's degree from the School of Management at Yale University in 1992. After working for more than eight years in several prestigious companies in the investment banking industry in New York and Hong Kong, in 1999, Shen founded Ctrip.com, China's leading travel service enterprise that provides over 50 million registered members with comprehensive services including hotel reservations, flight ticketing, packaged tours and corporate travel management. He served as Ctrip's CFO from 2000 to 2005 and its president from 2003 to 2005. In August 2005, Shen founded Sequoia Capital China with Zhang Fan, another outstanding venture capitalist.
Brave Altruist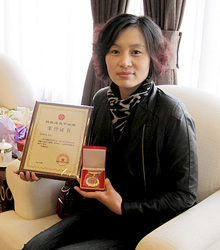 (FILE)
Lu Mingyu, a 37-year-old worker in Wendeng, Shandong Province, has moved many Chinese with her selfless deeds of donating hemopoietic stem cells twice to a leucocythemia patient.
In May 2010, Lu registered as a volunteer when the Red Cross in Wendeng recruited voluntary donors of hemopoietic stem cells. In 2011, Lu was informed that her blood matched with a leucocythemia patient in Suzhou, Jiangsu Province. She donated her hemopoietic stem cells to the patient, becoming the first one in the city of Wendeng, on April 12, 2011. In September 2011 when Lu's family was making plans for the upcoming National Day holiday, she was informed that the patient's immunity declined and her life was in danger. Lu donated her lymphocyte in October and saved the woman's life in time.
"It's totally worthy to use my pain and body to save a women's life. The behavior itself brings enormous happiness for me. If there is a chance, I believe many would do the same as I did," she said.
New Energy Hero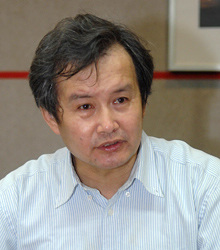 (XINHUA)
Chinese solar-power entrepreneur Huang Ming received the 2011 Right Livelihood Award, also known as the Alternative Nobel Prize, in Stockholm, Sweden on December 5.
"Huang Ming is a global solar entrepreneur showing how business can help overcome the energy and climate crisis," said Jacob von Uexkull, founder of the Right Livelihood Award at the award ceremony.
The first Chinese citizen to receive the prize, Huang founded Himin Solar in 1995 and has been a pioneer in the field of solar energy.
According to the award jury, the Solar Valley that Huang set up in Dezhou, east China's Shandong Province, is a global example for solar as a realistic alternative to fossil fuel and nuclear energy.
Founded in 1980, the Right Livelihood Awards are presented annually to honor and support those offering practical and exemplary answers to the most urgent challenges facing the world today.
"China is willing to bear the obligations of a legally binding commitment matched with China's economic development and capabilities based on the principle of common but differentiated responsibilities, fairness and environmental integrity."
Xie Zhenhua, Vice Chairman of the National Development and Reform Commission of China, who led a Chinese delegation to the UN Climate Change Conference, said at a meeting in Durban, South Africa, on December 5
"The argument that China should rescue Europe does not stand, as reserves are not managed that way. Foreign reserves aren't domestic income or money that can be disposed of by the premier or finance minister."
Chinese Vice Foreign Minister Fu Ying, at the Lanting forum held by the Ministry of Foreign Affairs of China in Beijing on December 2
"The U.S. has always asked China to be transparent about its strategy. It is the U.S. that should make its intentions clear."
Major General Luo Yuan, from the People's Liberation Army Academy of Military Science of China, in an interview with China Daily reporters during a meeting between high-ranking military officers from China and the United States in Beijing on December 6
"We want to make sure that the imbalances which led to the situation in the euro zone today cannot happen again. Therefore we want a new treaty, to make clear to the peoples of Europe, members of Europe and members of the euro zone, that things cannot continue as they are."
French President Nicolas Sarkozy, telling a news conference after a meeting with German Chancellor Angela Merkel in Paris, France on December 5 that the two countries agreed on a series of reforms aimed at changing the EU treaty to impose tough control of euro zone budgets
"It (the new budget) will include, among other initiatives, a new system of loan guarantees which will enable banks to resume lending and a new microfinance scheme which will help people to start their own businesses. This will allow small firms to take on one or even two employees."
Irish Prime Minister Enda Kenny, calling for tougher measures for next year's budget in a televised address to the nation in Dublin, Ireland on December 5