Outstanding Athlete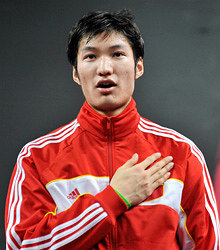 (XINHUA)
Chinese fencer Lei Sheng was rated one of the 10 best athletes of 2012 by Xinhua News Agency. The 28-year-old beat Alaaeldin Abouelkassem of Egypt 15-13 to win gold in the men's foil event at the 2012 London Olympics, grabbing the first ever such medal for the Chinese team.
Best Actress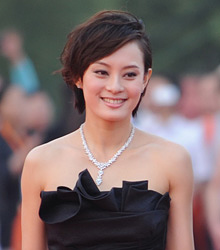 (XINHUA)
Chinese star Sun Li won the best actress award for her outstanding performance in the TV series The Legend of Zhenhuan at the National TV Drama Awards Ceremony on December 31, 2012. It was the fourth such award Sun won last year for starring in the program. The drama centers on the growth of Zhenhuan, played by Sun, from a simple girl to a resourceful imperial concubine. It has won high acclaim from audiences for its truthful and moving representation of imperial life.
"People should enjoy equal political, economic and cultural rights, regardless of whether they live in cities or in the countryside."
Xie Chuntao, a professor with the Party School of CPC Central Committee, responding to new rules of some provinces concerning migrant workers' children taking college entrance exams, on December 30, 2012, in Beijing
"Ideas of morality are influenced by religious beliefs. In our survey, fewer than 13 percent of people had religious beliefs and most of them were in the high-income group."
Wu Jianping, a professor with the China Institute of Industrial Relations, responding to a survey on the religious life of local people in Beijing. The study shows fewer than four in every 100 people have a clear understanding of social morality
"Economic rebound is still weak as December Purchasing Managers' Index (PMI) data remains the same as during the previous month. Export conditions are still not good."
Zhang Liqun, an analyst with the Development Research Center of the State Council, in an interview in Beijing on January 1, 2013, warning that China's economic situation is still less than optimal even though its PMI for the manufacturing sector stayed above 50 percent for three consecutive months
"Someone wants to profit from the Diaoyu Islands issue, and bully people by flaunting powerful connections. All of it is futile."
Yang Yujun, spokesman for the Chinese Defense Ministry, in a news briefing in Beijing on December 27, referring to the U.S. National Defense Authorization Act for Fiscal Year 2013, which contains controversial sections related to the Diaoyu Islands and arms sales to Taiwan
"The European sovereign debt crisis shows us how important this balance is. The reforms we have agreed to are beginning to take effect. But we still need a lot of patience. The crisis is far from over."
German Chancellor Angela Merkel, in a taped address broadcasted on December 31, 2012, in Berlin, noting that the three-year-long crisis shows how important it is to strike a balance between prosperity and solidarity