Publicizing Family Assets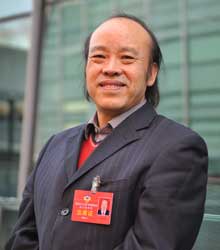 (XINHUA)
Fan Songqing, Deputy Secretary General of the Guangzhou Committee of the Chinese People's Political Consultative Conference, south China's Guangdong Province, who proposed that governmental officials declare their family assets, has reignited public debate over the issue. Calling on Guangzhou to first implement the policy, Fan recently publicized his own family assets, the first to do so in the country.
He said the current official asset declaration policy is imperfect, only requiring officials to declare their salaries and service income and not their family assets and non-service income. Fan added that publicizing such information is necessary for effective supervision.
Soccer Chief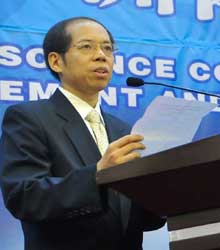 (XINHUA)
Zhang Jian, 47, former Director of Policy and Regulation at China's General Administration of Sport, formally replaced Wei Di as the Chinese soccer chief on January 25.
Zhang has accompanied Cai Zhenhua, Vice Minister of the General Administration of Sport, on a visit to Japan to research soccer, and then went to South America to do soccer-related research. He also delivered a speech on the problems facing Chinese soccer at a sports forum last May.
"The idea of 'getting some people rich first' was put forward by former Chinese leader Deng Xiaoping. It's the right path, but lagging political reforms have led to income inequality."
Huang Zongliang, a Peking University politics professor, speaking to Xinhua News Agency on January 27
"If the country's grain output will not speed up, a possible food shortage will threaten the progress of urbanization."
Chen Xiwen, Deputy Director of the Leading Group on Rural Work under the Central Committee of Communist Party of China, warning on January 26. Although China produced 159 million additional tons of grain last year compared to 2003, the country's grain imports hit a record high of 72.3 million tons last year
"I suggest the government set up regulations and policies to classify wasting food as a crime."
Yuan Longping, an academician of the Chinese Academy of Engineering and a hybrid rice expert, speaking to the media on January 23. According to research by China Agricultural University, 8 million tons of food protein and 3 million tons of fat were wasted in China during 2007 and 2008
"More students are becoming interested in China every year. If you put the number of scholars studying Chinese and the country's GDP on a graph, they match perfectly."
Guy S. Alitto, a professor at the University of Chicago, speaking to China Daily on January 24. According to a report from the National Research Center of Overseas Sinology in Beijing, in 1963 there were 33 people in the United States with a doctorate in Chinese studies. However, by 1993, there were more than 10,000 China specialists working for the government or universities, or in business and the media
"I'm so thrilled when I meet someone who can understand my dialect."
Deng Chengying, 55, from Jingzhou, Hubei Province, who moved to Shanghai to look after her grandson, relating the difficulties of adapting to a new environment on January 26. In China, grandparents are migrating from their homes to take care of their grandchildren