KMT Honorary Chairman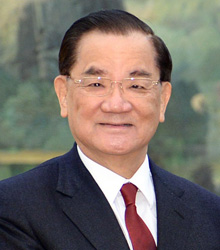 (XINHUA)
Lien Chan, Honorary Chairman of the Kuomintang (KMT), along with a delegation from Taiwan, visited the mainland from February 24 to 27. Top leaders of the Communist Party of China (CPC) Xi Jinping, Hu Jintao and Jia Qinglin met Lien during his stay in Beijing. The trip was aimed at strengthening cross-Straits ties.
From April 26 to May 3, 2005, Lien, then KMT Chairman, led a Party delegation to visit the mainland, the first by a top KMT official since 1949.
During that trip, Hu, then General Secretary of the CPC Central Committee, met Lien on April 29, marking the first meeting between top leaders of the two parties in 60 years.
Oscar Winning Director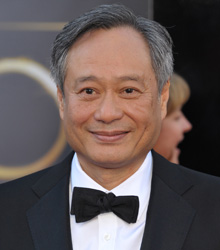 (XINHUA)
Chinese director Ang Lee won the Oscar Award for Best Director for his 3D movie Life of Pi on February 24 at the 85th Academy Awards.
The movie won three other awards including those for original score, cinematography and stunning visual effects.
Hailing from Taiwan, the 59-year-old filmmaker won the Oscar Award for Best Foreign Language Film in 2001 for Crouching Tiger, Hidden Dragon and another for Best Director in 2006 for Brokeback Mountain. He is the first Asian filmmaker to win the Oscar for Best Director.
"If the brothers are of the same mind, their sharpness can cut through metal."
Xi Jinping, General Secretary of the Central Committee of the Communist Party of China, speaking at a meeting with visiting Honorary Chairman of the Kuomintang Lien Chan, on February 25, suggesting the two sides can overcome any difficulty if they work together
"Although the whole industry is still mired in gloom, we still plan to raise workers' salaries by 10 percent this year."
Tian Chengjie, Vice President of Silverman Holdings Ltd., a textile company in Zibo of Shandong Province, speaking to China Daily on February 26. The country's labor force aged between 17 and 59 shrank by 3.5 million last year, forcing many low-cost manufacturers to raise salaries to retain employees
"A lack of transparency and high procurement prices will invite public suspicion."
Tian He, a researcher with the Chinese Academy of Social Sciences who led a survey of government procurement prices, on February 25. The study showed that nearly 80 percent of government procurement was purchased at a price much higher than market figures
"Local governments need political incentives and fiscal support if they are to turn the country's 260 million migrants into urban citizens."
Feng Kui, a researcher at the China Center for Urban Development under the National Development and Reform Commission, speaking on February 27