First Spokeswoman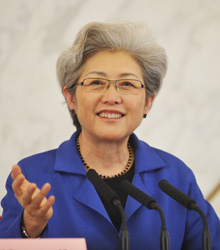 (WEI YAO)
Fu Ying, China's Vice Foreign Minister, was named spokeswoman for the first session of the 12th National People's Congress (NPC) on March 4.
Fu, the first spokeswoman in the history of the country's top legislature, chaired a 75-minute NPC news conference on that day.
Her debut as the NPC spokeswoman won favorable reactions from the public. Netizens' comments ranged from her stylish silver hair to her radiant smile and wise response to questions.
Fu, 60, joined the Foreign Ministry in 1978 and has been ambassador to the Philippines, Britain and Australia. In 2010, she was promoted to vice foreign minister.
Young Deputy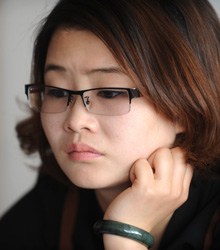 (XINHUA)
Tie Feiyan, a road toll collector in southwest China's Yunnan Province, is a deputy to the
ongoing NPC session.
Born in 1992, she was dubbed by netizens "the most beautiful girl born after 1990," because she rescued people from drowning in 2010 and has adopted an abandoned infant.
She presents proposals on left-behind and migrant children studying in cities at the session.
"We can see that migrant workers' wages are growing, that's why they feel happier about life. However, the social participation situation is not getting any better."
Hu Ping, a professor of psychology at Renmin University of China, responding to a survey jointly conducted by the university and Job.gzh.com, which said more than half of polled migrant workers constantly have negative feelings, including loneliness, isolation, and worthlessness
"To sell products to developed countries, developing countries not only have to ensure high technology and good quality, but also face foreign customers' inherent preference for native products, which has posed the main obstacles for WeChat (voice messaging service developed by Tencent) in entering European and U.S. markets."
Zhang Xiaolong, Vice President of Tencent, speaking on February 28
"Without agents, writers' domestic copyright authorization is sometimes a mess, as their works are often published by several different groups, which is harmful in utilizing their talents to the best, not to speak of publishing works abroad".
Liu Feng, editor in chief of Yilin Press, speaking of China's urgent need for literary agents, who negotiate between writers and publishers
"I'm very honored to assume such an important role at a crucial time for Chinese football."
David Beckham, speaking in response to his being invited to become ambassador for the Chinese Super League as the nation's soccer recovers from scandals