Newly Appointed University President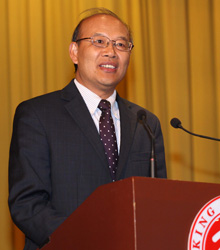 (XINHUA)
Wang En'ge was appointed President of Peking University (PKU) on March 22, becoming the 11th PKU President since the founding of the People's Republic of China in 1949.
Wang was born in 1957. After receiving a doctor's degree in physics from PKU in 1990, Wang went to study and work at French and U.S. universities. In 1995, he came back from the United States to work in the Institute of Physics, Chinese Academy of Sciences (CAS). In 2007, Wang was elected academician of the CAS. He served as executive vice president of PKU before the appointment.
A Software Prodigy
Ji Yichao, founder of the Internet company Peak Labs, appeared in this year's Forbes China 30 Under 30 List of top Chinese entrepreneurs under the age of 30.
Ji, 20, became the youngest member of this list. Products of Ji's company include mobile browser Mammoth 5 and Jigsaw, a data visualization toolset. A returnee from last year's 30 Under 30 List, he has already received capital from Sequoia Capital and ZhenFund.
Ji's father is a physics professor from Peking University and his mother is a senior manager of an IT company. Both have given him full support in developing software and starting his company.
"Schools should not only teach math and physics but also offer students real-life lessons about how to love, how to develop a good character and inspire kids to purse true happiness in life."
Li Yinhe, a leading sociologist in China, telling Beijing Morning Post on March 20 that schools should teach students about marriage and relationships
"Sharing rides can help reduce at least 10 percent of the vehicles running on the road. The most important thing is that we have more trust by helping one another, and that is the goal."
Wang Yong, a businessman who has been offering free rides to strangers in Beijing for years, urging daily ride sharing as the city struggles to cope with pollution and increased heavy traffic. Beijing now has 5.2 million vehicles, and the number is expected to reach 6 million by 2015
"China is Africa's old friend, but there are still many cultural differences between their peoples. We hope China's leaders can initiate more cultural exchanges with African countries to help bridge the gap."
Frank Setyi, a businessman from Ghana living in China, expressing the hope on March 23 that Chinese President Xi's visit to Africa will boost cultural exchanges between China and Africa
"Historically, the expansion and influence of Britain and America were largely military and political; in the case of China, it would be economic and cultural."
Martin Jacques, author of the best-seller When China Rules the World, commenting at the Fifth World Forum on China Studies that closed in Shanghai on March 24