Fashion Designer
Ma Ke, chief designer for the domestic Wu Yong brand, achieved recent fame for designing dress for Peng Liyuan, wife of Chinese President Xi Jinping, during her first foreign tour.
Ma has won many costume design awards for her hard work and talent. At the age of 24, she won the title of Top 10 Chinese Fashion Designer. In the following year, she established her own fashion brand, Exception de Mixmind. In 2007, she became the first Chinese designer to release her designs on Paris Haute Couture, publishing her brand Wu Yong.
Genomics Scientist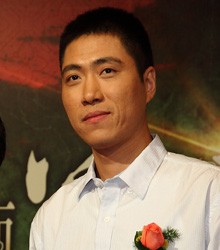 (CFP)
Wang Jun, Director of BGI-Shenzhen (BGI), a leading international genomic organization based in Shenzhen, won You Bring Charm to the World Award on March 30.
Born in 1976, Wang received a doctor's degree from Peking University in 2002. He has been leading BGI genomic and informatics research since 2002, results of which have been published in Nature and Science magazines.
His work has brought hope to cure such ailments as cancer and high blood pressure. In addition, Wang's research can be applied to agriculture and environmental protection.
"People should take good care of their parents and elders while they are alive. We do not suggest people spend too much on funerals and graveyard space purchases."
Lu Ning, Deputy Director of Xiaoshushan Cemetery in Hefei, capital of Anhui Province, speaking to China Daily on March 29
"Cities with poor economic development are blessed with better air conditions."
Ma Zhong, a professor at the School of Environment at Renmin University of China, revealing a report based on research conducted since 2005 in 281 cities
"The smell makes me feel uncomfortable and I'm scared people may drop food or spill a drink on me every time they eat breakfast next to me because it's so crowded."
Wu Yizhong, a regular Shanghai Metro commuter, in response to the Metro's newly released draft on increasing penalties for people eating on trains. The draft is open for public comment until April 30. If approved, all food and drinks will be banned from carriages and platforms
"I still remember when we won that first world championship in 1981. Despite injuring your wrist, you insisted on pushing through the pain to finish all five sets. Your fighting spirit will inspire me forever. I miss you so much. We will be teammates again in the next life."
Lang Ping, a renowned Chinese volleyball player and coach, expressing her sorrow on her microblog at the news that Chen Zhaodi, a former member of the Chinese championship volleyball team, died from cancer at the age of 58 in Beijing on April 1