Sailor Returned Home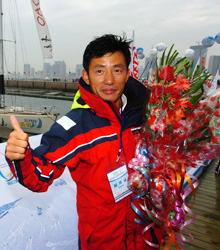 (XINHUA)
Sailor Guo Chuan made it back home on April 5 to become the first Chinese to successfully circumnavigate the globe solo by sea.
Aboard his Class 40 yacht, 48-year-old Guo traveled about 21,600 nautical miles in 138 days before he returned to his hometown Qingdao, where he set off on November 18 last year.
Guo navigated his yacht across the Pacific Ocean and then down to Cape Horn off the coast of South America before crossing into the Atlantic. Additionally , he is the first Chinese national to traverse the Atlantic Ocean by himself as well as take part in the Volvo Around-The-World race.
He received a master's degree in aircraft control from Beijing University of Aeronautics and Astronautics, subsequently working on China's commercial satellite launch projects.
Second Female Astronaut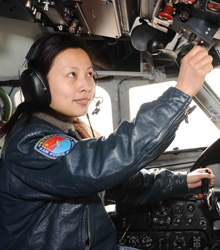 (XINHUA)
Wang Yaping has been appointed the only female astronaut of China's new spacecraft Shenzhou-10, scheduled to blast off in June this year. According to Zhou Jianping, head of the country's manned space program, Wang and two male counterparts will participate in the mission.
The spacecraft was delivered to the launch center in Jiuquan, Gansu Province, on March 31 after passing pre-delivery tests.
Born in 1978 in Yantai, a coastal city in east China's Shandong Province, Wang became a pilot at the age of 17. She can fly four types of planes and has taken part in many military exercises and Wenchuan earthquake relief activities in 2008. She was selected to China's first group of female astronauts in 2009 and was one of the two female candidates for Shenzhou-9 in 2012.
"China is more prepared in handling public health emergencies than a decade ago when it fought severe acute respiratory syndrome (SARS)."
Liang Wannian, Director of the H7N9 influenza prevention and control office under the National Health and Family Planning Commission, speaking at a Beijing press conference on April 8
"Today, parents spoil their children, which makes them more fragile and unable to deal with difficulty. Sometimes a small disappointment can make them take the road to ruin. It's time for education departments, family and society to rethink the issue."
Lin Kunhui, founder of the Life Education and Crisis Intervention Center, a nonprofit organization in Shanghai, speaking to China Daily on April 5
"I know it's bad, but I was in the middle of the street when the light turned red and I could not turn back. Besides, traffic was jammed, so there was no way of missing the chance to cross the road."
Yang Qing, a junior college student in Beijing, explaining her motive for jaywalking. The Beijing Traffic Management Bureau announced on April 8 that people who do not wait for the "green man" signal to cross at intersections will receive on-the-spot fines of 10 yuan ($1.60)
"This is the beauty of hitchhiking—you don't know what will happen the next second, so just let fate lead you. "
Li Shengbo, a 24-year-old undergraduate in Beijing who stopped school for a year to hitchhike around China, sharing his understanding of hitchhiking on April 4
"It is boring and lonely jogging or doing Tai Chi by yourself. But you can chat with your friends while Nordic walking."
Hou Xiaodong, 62, organizer of the Nordic walking group in Beijing Olympic Forest Park, expressing his ideas of Nordic walking on April 4. According to a report from China Nordic Walking Association, the country has around 100,000 Nordic walkers and 20,000 people practice regularly