Rape Victim's Mother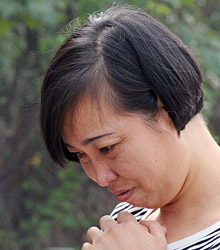 (XINHUA)
Tang Hui, a woman from south China's Hunan Province who had sued a local re-education through labor commission for putting her into a labor camp, had her request for compensation denied.
The mother had petitioned in front of local government buildings for a harsher punishment for those guilty of raping her daughter and forcing the girl into prostitution. She was then put into a labor camp in 2012. She was sentenced to 18 months in the camp, but was released eight days later amid a public outcry.
Best Actor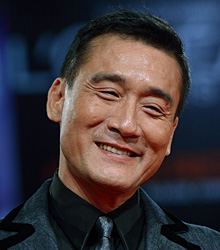 (XINHUA)
Hong Kong actor Tony Leung Ka-fai receives his fourth Best Actor award at the 32nd Hong Kong Film Awards on April 13 for his role as a deputy police commissioner in the Cold War.
Leung has been active in the film industry for more than 25 years. His previous best actor awards came from starring roles in Reign Behind the Curtain (1983), 92 Legendary La Rose Noire (1992) and Election (2005).
In 1991, Leung made his foray into the international film industry by appearing in the French movie The Lover directed by Jean-Jacques Annaud.
"It should be noted that although the spread of infectious diseases such as SARS and the current H7N9 bird flu draws most of the public's attention, the biggest disease burden for Chinese people actually comes from non-communicable and chronic diseases, and the threat is mounting."
Yang Gonghuan, a professor with the Chinese Center for Disease Control and Prevention, speaking at a medical symposium in Beijing on April 15
"Maritime garbage is constantly on the move and is therefore likely to be spread around the world, which is why there is an urgent need for it to be curbed and treated."
Peng Zaiqing, Director of the Maritime Management Bureau of Beihai in Guangxi Zhuang Autonomous Region, highlighting the need to reduce maritime pollution on April 12
"What I have learned most from Tai Chi is philosophical insight, such as the notion of yin and yang, which is a theory stating that things will develop in opposite directions when they become extreme and that people should learn to be moderate."
Jack Ma, founder of Chinese e-commerce giant Alibaba Group, who is actively engaged in spreading Chinese Tai Chi, expressing his understanding of the martial art at an entrepreneur exchange activity held in Beijing on April 12
"I don't speak Chinese, and I absolutely cannot read it, except for the word kungfu, but I don't mind reading subtitles. I can read very fast."
Jonathan Breedveld, a 20-year-old man from the Netherlands, expressing his love for Chinese martial arts TV dramas