Controversial Philanth
(XINHUA)
Chen Guangbiao, CEO of Huangpu Renewable Resources, has immersed himself in relief efforts across Ya'an City, Sichuan Province, ever since disaster struck the region on April 20.
He has provided large-scale machinery, life detection instruments and other necessities to the quake-hit zone along with 300,000 yuan ($47,619) in cash.
Chen, 44, is famous for his high-profile appearances at charity events. After an earthquake struck Yingjiang County of Yunnan Province in March 2011, he donated 230,000 yuan ($35,000) to people there, 200 yuan ($30) per person. A picture of him handing out money to locals subsequently received wide circulation on the Internet. "I want to use my high-profile position to stimulate China's rich to do good," Chen said, responding to criticism.
Brave Volunteer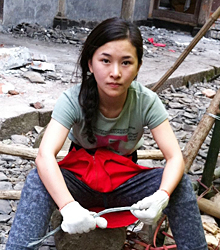 (FILE)
Liao Zhi, a dance teacher from Sichuan Province who lost her 1-year-old daughter and her legs in the 2008 Wenchuan earthquake, arrived in the Ya'an area with a team focused on relief efforts 13 hours after a quake struck the region.
Liao has continued to dance with the help of prosthetic limbs, recently appearing as a contestant on a China Central Television show in April. Audiences have been much impressed by her optimistic attitude toward life.
The dancer said she has gone through disasters herself and knows what people need most, hence her decision to come and help.
"Restricted by weather and geological conditions, only small-scale air rescues can be carried out."
Ye Liejian, a Chinese PLA Air Force helicopter captain from the Chengdu Military Area Command, explaining on April 22 why large-scale air rescue and relief missions were unfeasible after the Ya'an earthquake on April 20
"I was about to be taken to the operating table when the earthquake hit. I was jolted onto the ground and the wall near me collapsed with a crash—it was really scary."
Lu Tao, describing her experience of giving birth to her baby during the earthquake on April 23. Over a dozen babies have been delivered in makeshift tents or even in open air since the Ya'an quake
"I will go to see her as soon as my hands recover."
Zhou Ziyun, an 8-year-old boy from quake-hit Lushan County of Sichuan Province, who was injured while rescuing his 2-year-old sister from the rubble, on April 23
"When I saw a mother holding up an over 50-kg precast slab to save her son, I was moved by the power of maternal love."
Pango princess_ff, a microblogger commenting on the Ya'an earthquake on Weibo via a pseudonym
"As after-quake psychological intervention differs from other such counseling, psychotherapists who haven't received relevant training had better not take up the task and risk causing a negative impact on quake victims."
Sui Shuangge, a psychologist who visited Wenchuan twice after the 2008 earthquake to conduct psychological intervention among local people, offering guidance to psychotherapists in Ya'an on April 21