Veteran Coach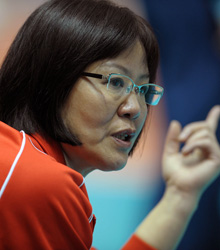 (XINHUA)
Former volleyball star Jenny Lang Ping was appointed to coach the Chinese women's team on April 25.
Lang was a key member of China's most successful volleyball squad. After retiring in the late 1980s, she moved to the United States, studied and worked as an assistant volleyball coach at the University of New Mexico.
She took charge of the Chinese women's team in 1995 and guided them to a silver medal at the 1996 Atlanta Olympics and to second place at the 1998 World Championships in Japan. She resigned from the Chinese team in 1998 for health reasons and then spent six years coaching in Italy. She coached the U.S. national team and led them to silver in the 2008 Olympics in Beijing.
After she returned to China in 2009, Lang was invited to coach the Evergrande club and she is credited with molding an unknown team to a dominant force in the Chinese league.
Top Cross-Straits Negotiator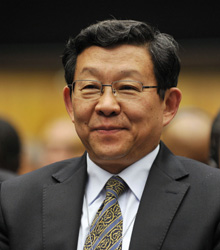 (XINHUA)
Former Commerce Minister Chen Deming was elected president of the mainland-based Association for Relations across the Taiwan Straits, on April 26.
Chen, 64, served as minister of commerce from December 2007 to March 2013. He worked to cushion the economic impact of decreasing exports and found ways to increase domestic demand after the eruption of the world financial crisis.
"More people are seeking psychological support this time than during the Wenchuan earthquake in 2008, thanks to an awareness and better understanding of their psychological needs."
Liu Zhengkui, an associate professor with the Institute of Psychology of the Chinese Academy of Sciences, commenting on psychological relief after the Ya'an earthquake on April 26
"After slowing down for a while, you may find better ways to tackle problems in work and life."
Gao Guoxi, a professor with Fudan University in Shanghai, on April 28. Many Chinese people have become tired of the fast-paced life after years of pursuing speed and efficiency
"We're open to any channel for the return of cultural relics."
Song Xinchao, Deputy Director of the State Administration of Cultural Heritage, on April 26 in response to two imperial bronze sculptures to be returned by the French Pinault family later this year
"Chinese people's sleeping time is not short. However, their sleep quality is quite low."
Mu Yue, President of Horizon Studies and Consulting Company, on April 29. According to the nation's first sleep index, published by the Chinese Medical Doctor Association on March 19, the national average sleep score is 64.3 on a scale of 100