Lu Yong of China kisses the bar after winning the gold
Lu Yong claimed the title of the men's 85kg category on Friday, winning China's eighth weightlifting gold at the Beijing Olympic Games and ending the history that China has never won a gold in the heavyweight categories at the Olympics.
The 22-year-old lifted a total of 394kg, beating two-time world champion and Athens silver medallist Andrei Rybakou of Belarus with bodyweight advantage.
"I just want to have a good rest," said the newly-crowned strongman.
Rybakou broke his own world record of total, bettering it by one kilo.
The competition turned out to be the most fierce one since the Olympic weightlifting events began.
Several medal contenders, close to each other in strength, kept changing their orders of weight to achieve a better result. In the snatch section, Andrei Rybakou of Belarus finished first with 185kg, China's Lu Yong and Vladimir Sedov of Kazakhstan both lifted 180kg. Lu tried to snatch 183kg in his third attempt, but failed.
Lu said he was not worried about the 5 kilos.
"If the lead didn't surpass 10kg I knew I could beat him," he said.
The clean and jerk session is more breath-taking as the competition now is mainly between Lu and Rybakou.
Rybakou successfully jerked 200kg and 204kg and Lu succeeded in his first jerk attempt of 208kg, one kilo less than Rybakou's total achievement.
Rybakou ordered a record-breaking 209kg, and made a good lift.
Lu ordered 214. If he made it, he would defeat the Belarusian as he is lighter than Rybakou in bodyweight.
He lifted it but the jury members ruled out refrees' "good" judgement.
Lu said after the game that his mindset was affected but he managed to concentrate on the last attempt.
"I could only use my third attempt to convince everybody," he said.
He succeeded in the last attempt and got the gold, pointing his finger to the responsive spectators, and shouting "Zhongguo, Jiayou!" (China, Go!) for four times.
Tigran Varban Martirosyan of Armenia got the bronze also because of bodyweight advantage over Sedov.
Martirosyan snatched 177kg, and jerked 203, totaling 380kg. Sedov totaled the same after failing the attempts for 203kg twice.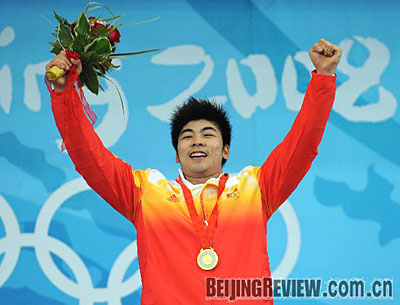 (Xinhua News Agency August 15, 2008)