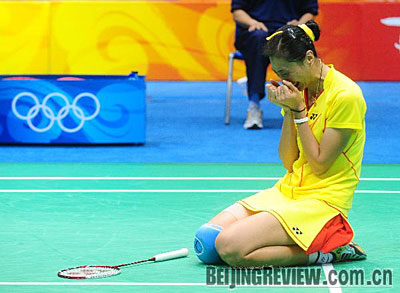 Zhang Ning of China cries in joy after beating compatriot Xie Xingfang in the women's singles final
Defending champion Zhang Ning, 33, won the gold medal of badminton women's singles on Saturday at the Beijing Olympic Games, becoming the first Chinese woman shuttler to win two consecutive Olympic golds in the event.
Zhang won the title by beating world No. 1 Xie Xingfang, Zhang's teammate, at 21-12, 10-21, 21-18.
Zhang burst into tears as the last returning shuttlecock from Xie touched the net and fell to the ground of Xie's half.
Maria Kristin Yulianti of Indonesia, the biggest dark horse, finally clinched the bronze medal, beating Lu Lan of China 11-21, 21-13, 21-15.
Profile of Zhang Ning
Birthday: May 19, 1975
Place of Birth: Liaoning Province
Height: 175 cm
Weight: 64 kg
Personal Best Result: Gold medals of women's singles at the 2004 Athens Olympic Games and 2008 Beijing Olympic Games
(Xinhua News Agency August 16, 2008)